Celtic Tombs and Horse Riding County Clare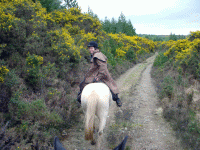 Read about horse riding and history in County Clare, Ireland
by Darley Newman, Equitrekking Host & Producer

After a big Irish breakfast in the quaint nook of a 300-year-old farmhouse in Ireland's County Clare on the Galway & Clare Riding Adventure, we gathered our gear and traveled to a nearby field to catch our horses. I wondered who I'd be riding for this Irish trek. I travel and ride a lot, so I'm constantly challenged with adjusting to new mounts. As I brushed him, I realized my Irish Cob was sweet. Even so, once we mounted, we didn't canter right away. Nicola, our host, let us get used to our horses first.
My stocky Cob's coolest feature was the feathering on his legs, a characteristic of the breed. He felt very sturdy and dependable, yet forward going, as we walked along passing bright yellow gorse, which smells like coconut and decorates the boglands. Nicola explained the process by which people cut peat the old fashioned way, by hand. Looking up the hilly terrain, I could see the different levels where the peat was removed in the lower areas. Way up top it was black, where the peat was actually lying out to dry, after which it could be brought home and used for heat.
The peat fire I sat beside the night before had smelled so nice and earthy. The highlight of the ride through the Slieve Aughty Mountains was carefully trekking off the trail to a megalithic tomb in a grassy area above. These ancient tombs are scattered all over the area. We rode up to take a closer look, hearing the moist grass squish beneath our horse's hooves. Nicola explained that this particular tomb had not been excavated, so the archaeological treasures inside are a mystery-- just one of the many treasures on the trail in ancient Ireland.
Learn about EquitrekkingTravel.com's Galway & Clare Riding Adventure in Ireland, an equestrian vacation that you can enjoy. Learn more about Equitrekking and purchase DVDs.