Celebrating "Derby Day" Shenandoah Country Style!
Learn about an equine-themed Virginia winery where you can celebrate the Triple Crown Races, Shenandoah Country Style!
After spending an unusually cold spring day hosting our annual Judged Trail Ride, it was time to seek out a warm and cozy atmosphere to relax and view the "Run for the Roses" for the evening. Thus, a visit to The Winery at Kindred Pointe seemed like the perfect fit! In 2018, the winery is once again hosting festivities for Derby Day and mixing it up by including Cinco de Mayo. We spent 2017's Derby Day there and here's what we liked.
Located amongst country farms on the back roads of Shenandoah County with views of the mountains in the background, Kindred Pointe stands out for its equine flair, which you can see upon entering the grounds with its unique horse statue water fountain. In honor of Derby Day, roses adorned the horse statues.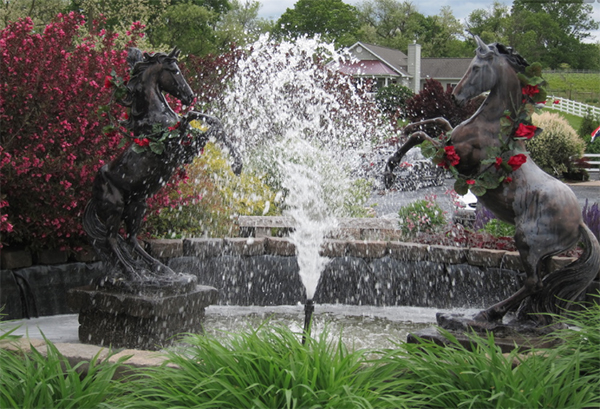 Situated on 58 acres, Kindred Pointe's wine tasting and sales room occupies a renovated horse barn.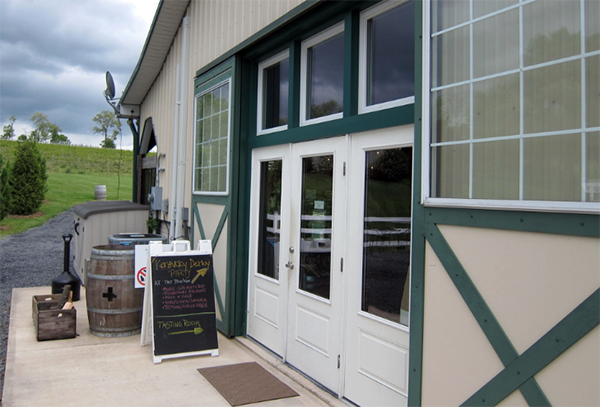 Original outside horse stall doors remain to be seen on the backside of the building where additional outside seating is available and old oak barrels serve as tables. Inside the building you will find a listing of the wine and menu offerings.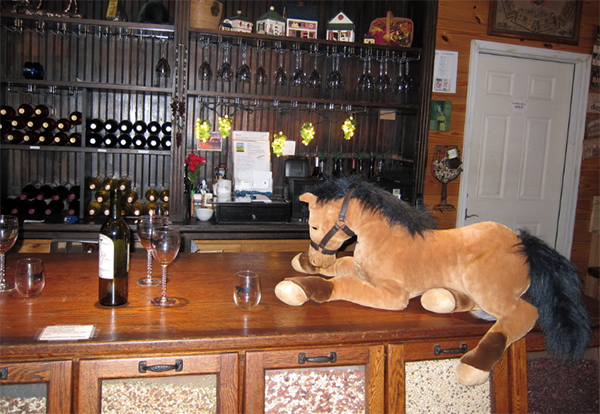 Kindred Pointe's wine selections are displayed on the wine racks. Wine tastings are available. Kindred Pointe has both a red and white wine selection. Souvenir glasses are also available to purchase with wine tasting which, naturally, have a horse depicted on them.
Kindred Pointe also has a separate larger event building for special events or wedding receptions. On this day, in celebration of Derby Day, a local band provided musical entertainment and the culinary class from the local trades and technical school provided food offerings and wine tasting pairings. A Derby hat contest was also held. Back in the main winery tasting room is where guests were able to view the Kentucky Derby race on a large projection screen. On this day, the room became full prior to the start of the race, followed by loud cheers and encouragement once the race began. Kindred Pointe, in keeping the equine enthusiast in mind, will also sponsor a Preakness and Belmont race special wine tasting event in honor of the Triple Crown races.
Another "celebration" was the debut of Kindred Pointe's first ever Rose` wine, appropriately named "Run for the Rose`" for Derby Day. Within the wine tasting room area, there is also a small gift shop.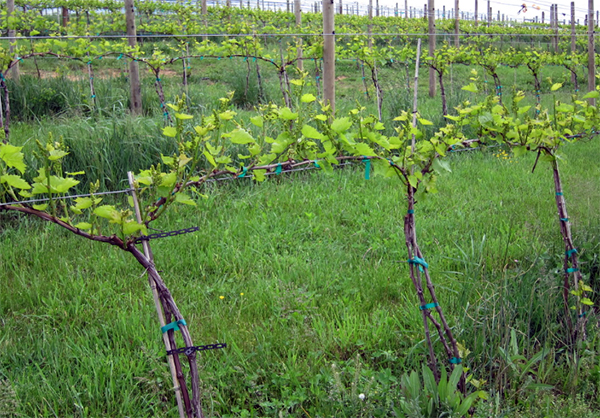 Kindred Pointe grows grapes suited for producing their red wines in their vineyard located on their farm. Grapes for their white wines are grown and acquired separately from another vineyard further south in Virginia. The grapevines in the vineyard can be seen alongside the drive as you enter Kindred Pointe's premises.
During this time of the year, the grapevines are just sprouting green leaves. Vineyards require special care and optimal temperatures such as warm days and cool nights, necessary for healthy and tasty grapes for wine production. An overabundance of rain and humidity can cause the grapes to mold and rot. Birds also love to feed on the mature grapes when not harvested quickly.
It is interesting to see vineyards on the East Coast develop and prosper in the last twenty years in Virginia. One typically thinks of vineyards existing on the West coast, in places such as Napa Valley in California as well as in European countries like France, Spain and Italy. However, Shenandoah County is the driest county east of the Mississippi and valley breezes make it a welcome area for vineyards.
Currently, Shenandoah County boasts eight vineyards with wine tasting rooms and additional vineyards which serve only as grape production for other wineries. Shenandoah County boasts the first vineyard established in 1976 in the Shenandoah Valley. Since its inception, there are currently 280 wineries and vineyards in the state of Virginia. Viticulture is a fast growing venue in this area, especially with tourism and the laid back social atmosphere that is providing a new generation of wine connaissuers as well as attracting a new customer appreciation for wine.
For sure, on this Derby Day, all bets are that you will have an appreciation for locally produced Shenandoah County wines at Kindred Pointe such as we did!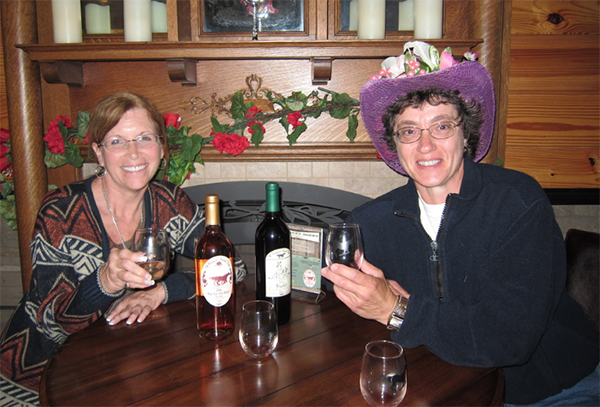 For further information regarding other wineries besides Kindred Pointe found in this area, see Visit Shenendoah's website.

About the Author: Susan St. Amand is a Board Member of the Shenandoah Trail Riding and Horseman's Association and employed with the Virginia Cooperative Extension as a 4-H Youth Program Assistant. She grew up in Northern Maine with horses on a farm and has been a transplant to Virginia for the past 25 years. She enjoys planning horse vacations with friends and has currently completed many rides in Maine, Pennsylvania, New York, West Virginia, Tennessee, North Carolina, as well as Virginia, trailering her own horse.