Cavalia's Odysseo DC Review
I attended the opening night of Cavalia's Odysseo at DC's National Harbor last night and was "wowed" by the performance. Whether you are a horse lover or just like amazing performances, make the trip to the DC area to see this show.
I have traveled the world riding horses and seeing a variety of accomplished equestrians and top-notch equestrian performances and was impressed last night by the the stars of Cavalia's Odysseo–– 64 horses and the talented equestrians, acrobats, musicians and trainers that perform in this equine and acrobatic extravaganza.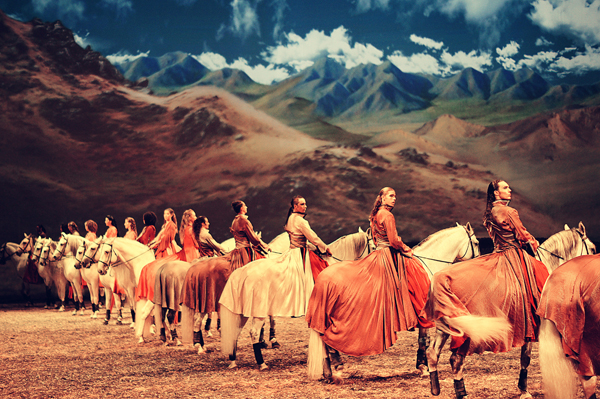 In the first act, riders perform during the Grand Cavalia, Equestrian Carrousel.
The opening night crowd was diverse, including young professionals, groups of friends of all ages, and families with young children. I even saw a couple bring their baby, which at first I thought might be a bad idea, but the child, too, must have been entertained, as he was certainly well behaved. I noted horse folks in my seating area, as they were able to pick out the dressage moves, talking side-pass and using other equestrian lingo.
Cavalia is out of Montreal, Canada, and was founded by Normand Latourelle. Each performance marries equestrian and performing arts with cutting-edge technology, live music and singing, and special effects for a big theatrical experience. Three IMAX screens serve as the stage's backdrop, showcasing beautiful landscapes. Be prepared to see trick riders, dressage, vaulting, jumping, haute école and horses running free on the grand stage, which is larger than an ice hockey ring. Odysseo is the second show from Cavalia, which has also produced "Cavalia: A Magical Encounter Between Human and Horse."
I have a few favorite acts and will give you a few facts that I learned that I thought were really interesting.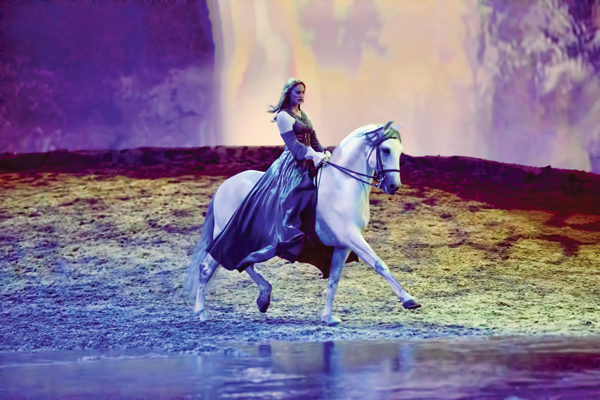 In the second act, watch for Voyageurs, when you may see haute école and horses running free. Lynne Glazer.
My favorite scenes in Cavalia's Odysseo
My heart sped up and quite possibly skipped a beat as the trick riders galloped across the stage, performing stunts that I have definitely not tried... on purpose. Riders did elegant stands on one leg, jumped on and off their horses, and various other acrobatic feats as horses crossed the stage at top speeds. The craziest stunt was when one male rider slid under the belly of his horse and returned to a sitting position in the saddle, as his horse galloped by.
It was also cool to see the roman riding, which is when a rider stands atop a pair of horses, with one foot on each horse. I watched the fluidity of each riders' legs and knees as they moved with the horse's movement.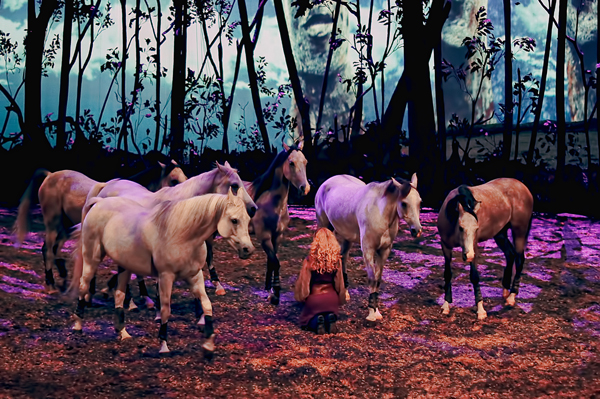 Elise Verdoncq works with horses during Le Sedentaire.
One equestrian and trainer really stood out, Elise Verdoncq. Verdoncq started riding at age six in northern France. From what I've read, Verdoncq decided not to practice law in order to join Cavalia's team over 4 years ago. A lifetime dressage enthusiast and vaulter, Verdoncq is amazing as she works with Arabian horses as they roam free on stage, at Liberty, using her voice and gestures to guide them. You could see the wonderful connection that she had with each horse as they speed up and slowed down. As they moved into a variety of formations, I could see the trust and respect that the horses have for Verdoncq.
The ending is truly spectacular. An underground water system floods the stage with 80,000 gallons of water. Anyone who has galloped a horse on the beach or through water of any kind knows that it can be exhilarating. I felt that exhilaration and was in awe, again, of Elise Verdoncq as she and her stallion completed advanced classical dressage moves that I know are really, really difficult.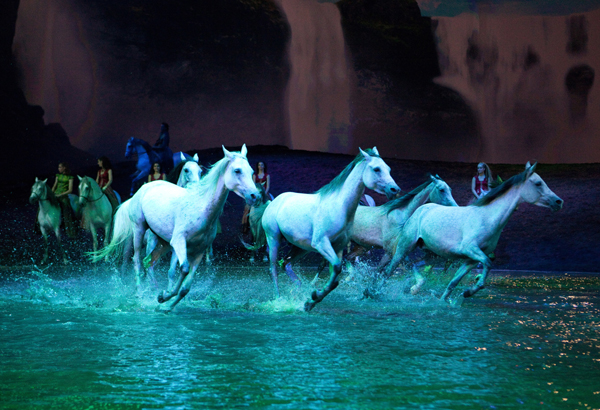 Cavalia's Odyssey Finale with Arabians in Liberty. Francois Bergeron.
Fun Facts from Cavalia's Odysseo
The Big White Top-- Guests at DC's performance will spot the Big White Top from afar. The surface covered by the White Big Top is 106,700 square feet, the size of two NFL football fields and seats approximately 2000 people.
No mares, but lots of stallions! Odysseo stable is comprised of 64 horses representing 11 different breeds. All the horses are male–– stallions and geldings–– and there are a number of stallions in Odysseo. The average age of the horses is 10 with the youngest at 5 and the oldest at 15.

Global horse breeds-- I enjoyed watching the beautiful Andalusians with their flowing manes. There are also Arabians, Appaloosas, Canadian horses, Holsteiners, Lipizzaners, Lusitanos, Warmbloods, Spanish Purebred horses (PRE), Quarter horses, Paint horses, and an Oldenburg horse.

How you can go
The show is two and a half hours, which included a half hour intermission. During intermission, there's a gift shop with cute horse themed gifts on sale, including plush stuffed horses, and wine, beer, popcorn, hot dogs and soft drinks to keep you busy.
Cavalia's Odysseo is Under the White Big Top at The Plateau at National Harbor in Maryland. Tickets are available at www.cavalia.net or by calling 1-866-999-8111.