Cattle Drive Vacations at TX Ranch
An authentic cattle drive vacation challenges teens, adults and seniors of all riding skill levels to head West!
I've driven cattle in New Mexico, Colorado, Uruguay, Texas and beyond, participating in everything from city slicker-type cattle drives–– put on for the benefit of us tourists–– to authentic cattle drives at real working ranches. I tend to prefer the latter, which today, are harder to find. Many ranches have traded horses for trucks, hauling cattle instead of driving them.
In my search for great cattle drives, here's of the more interesting adventures where you can really feel like you're a part of the land and a Western way of life that's harder to find these days.
TX Ranch Cattle Drives
From April to October, travelers with a sense of adventure can saddle up for an authentic no frill, true working ranch experience taking a herd of sometimes hundreds of head of cattle into untouched county on the Montana/ Wyoming border. With a guest capacity of about 18 per week, folks who come to TX Ranch are invited to help out as much or as little as they wish. You can try roping the herd once it's gathered, helping rope a cow for castration or locating cattle in a large area between the Pyor Mountains and Big Horn Canyon.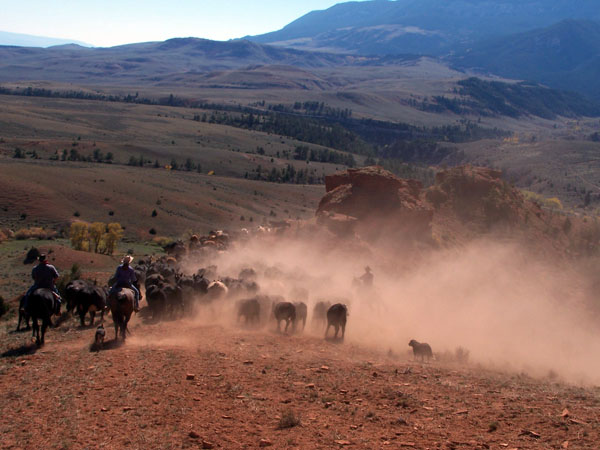 TX Ranch borders the historical "Will James Ranch" and the "Pryor Mountain Wild Horse Range".

When I spoke with Loretta Tillett, whose family homesteaded in the area in the late 1800's and who runs the ranch with her husband Hip, she described how the activties with cattle change from season to season. In late May, you may be driving cattle up to their summer pastures. In late June, guests may be charged with taking cattle to higher, greener country. Branding, doctoring and castrating takes place from July onward, and in August, you may help with getting the cattle ready for weaning.
If you come to TX Ranch, you'll be matched with a horse to meet your riding skills or lack thereof. Most of the horses are Quarter horses. Don't expect to use your cell phone or computer or take legnthy showers. Do expect a journey back in time, where a day in the saddle means a well-rested night's sleep!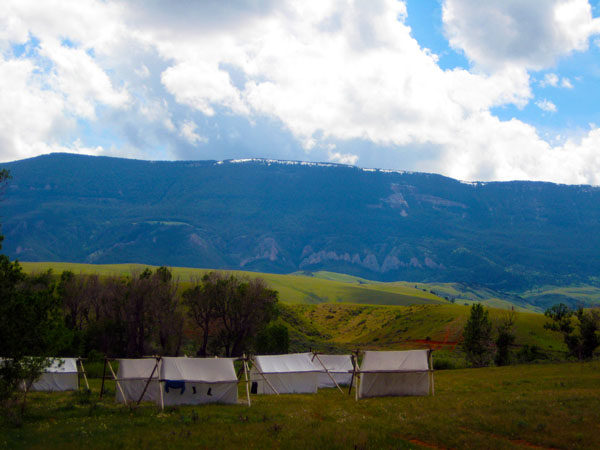 There's a main cabin at the ranch. Guests stay in "homesteader accommodations," large canvas walled tents equipped with cots.
How to Go on TX Ranch's Cattle Drives: Visit the TX Ranch website.

The Equitrekking Vacation Guide catalogs cattle drive vacations, including vacations at TX Ranch. View TX Ranch's page in the Equitrekking Vacation Guide.

Have a cattle drive adventure you'd recommend? Comment below or contact us.


About the author: Darley Newman is and equestrian travel expert and the host and producer of the Emmy-winning travel TV show Equitrekking. She travels the world horse riding and having other cultural adventures with local people. Read Darley's Blog to follow her adventures.