Castle Leslie Riding Vacation in Ireland- Part 1
Part 1 of my "Downton Abbey" experience on horseback at Castle Leslie Estate in Ireland.
Castle Leslie Estate in Glaslough, Ireland is an equestrian's dream vacation destination and a great place for those looking for their own "Downton Abbey" experience. The castle is still inhabited by its eccentric founding family, including Sir John Leslie or "Jack" as he's called, so you can hang out with Irish aristocracy, ride horses and stay in a castle.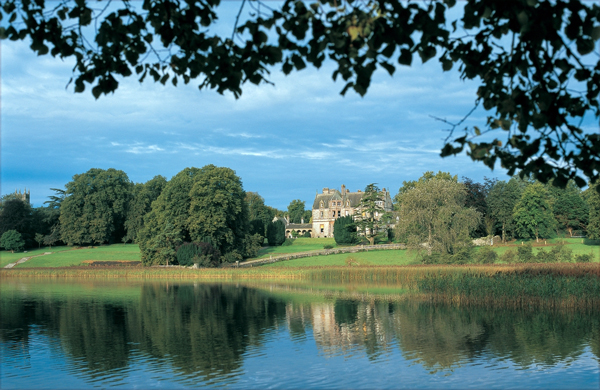 The Leslie Family arrived to Ireland in the 16th Century and bought the Estate at that time.
Castle Leslie Estate Equestrian's Dream
There are over 300 cross country jumps sprinkled throughout the one thousand acre estate, not to mention an indoor arena and lovely Prince, the mechanical horse who made my inner thighs shake after a few minutes of two-point. Of course, this was day ten of my Ireland riding adventures!
Sammy Leslie, an avid equestrian and a member of the Leslie family, was helping me better my form. I found it really helpful. Instead of straining to hear an instructor yell at you as you circle around a ring or are out on the trails battling environmental noises, you get a more intimate critique of what you're doing wrong or right!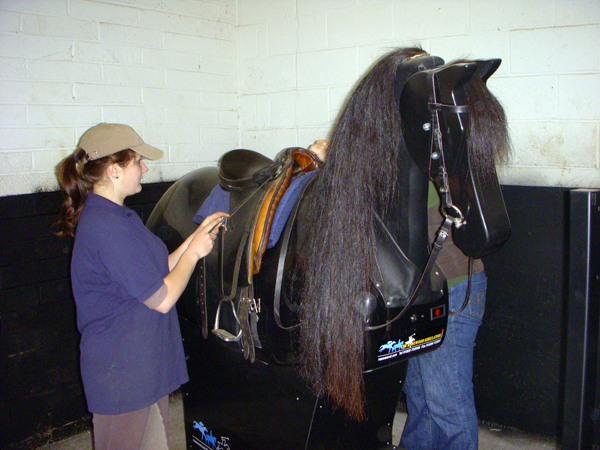 Preparing Prince, the mechanical horse, who will give you quite a workout!
Staying in an Irish Castle
I had arrived to Castle Leslie in the rain, not a huge surprise for Ireland. Our GPS had taken us on a roundabout route so we didn't enter the estate through the main gate, but through the entrance beside the new equestrian center.
We left the car outside of the limestone castle where we'd be staying and entered. Candles lit in the main entrance, and a woman in a plaid jumper greeted us and gave us giant, antique keys to our rooms. I felt like I was in a dramatic period film of sorts, as I walked up the grand stairs with its walls adorned with old sketches and paintings of Leslie family members.
I was staying in The Blue Room with a great view of one of the three estate lakes. It was beautifully appointed with two fireplaces, one in the main room and another in the bathroom situated across from a large Victorian tub. The peacock blue walls were adorned with family artwork. I could already imagine myself reclining in one of the elegant white chairs after a hot bath, staring out of the windows at views of the lake.
My beautiful blue room at Castle Leslie in Ireland. Each of the 20 bedrooms with private bathrooms is individually decorated with priceless family antiques and heirlooms.
My travel companion was up in the Eagle's Nest, which used to be the boyhood room of Sir John Leslie or "Jack" as he's called. Sir John Leslie is in his 90's and still lives in the castle, delighting guests with stories of his interesting life and estate history. He's the fourth of his line to hold the title of Baronet and the cousin of Winston Churchill.
Me and Sir John Norman Ide "Jack" Leslie, 4th Baronet.
I changed into my riding gear and met Sammy Leslie for tea in the drawing room. Sammy Leslie is Sir John Leslie's niece. We enjoyed a snack of scones with homemade preserves and clotted cream. Scrumptious! Sammy explained how she has worked to revitalize the estate, turning it into an equestrian vacation destination.
After refueling, we walked over to the stables where I was paired with a very tall, sturdy Irish horse. We were off to explore the grounds on horseback.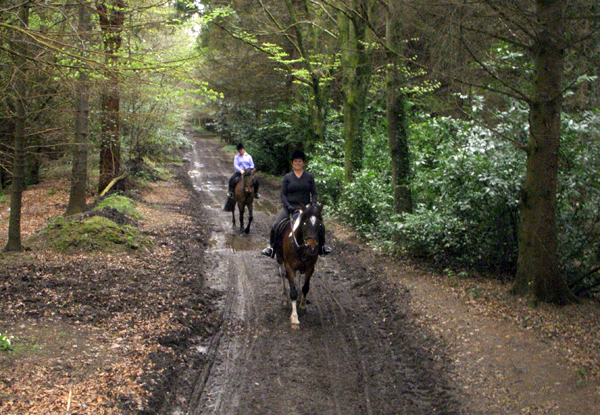 Riding the estate grounds.
We rode through forested trails down a long straightway with jumps at various intervals and up past one of the older gates to the estate. I could smell garlic as we rode, and looked down to see much of the forest floor covered in wild garlic. Smelling it made me think of dinner and how afterwards and after my ten days of riding in Ireland, how much I'd enjoy sleeping in the luxury of eccentric Castle Leslie.
My 17.2 hands high Irish mount at Castle Leslie stables.

Read Part 2 of the Castle Leslie Adventure.
Learn more about riding vacations in Ireland and equestrian vacations at Castle Leslie on EquitrekkingTravel.com. Visit Castle Leslie's page in the Equitrekking Vacation Guide to great ranches and riding vacations. Check out their latest Travel Deals, including "Learn to Ride in Ireland" and "Horse Sport."