Carriage Driving Vacations & Clinics in the USA
Great places to take a carriage driving vacation in the USA. These equestrian learning holidays help beginners and advanced alike, including those looking to excel in Combined Driving Events.
Always wanted to drive a horse-drawn carriage? Want to spend time with horses, but not ride? Many people get into carriage driving simply for the fun of it or because it's a great way to continue on with horses in your later years. Others want to get hands-on driving experience in order to compete in Combined Driving Events. Carriage Driving Vacations and Clinics are a fun and smart way to get introduced to carriage driving, find out if it's a good fit for you and even hook up with your own carriage horse or find yourself a carriage.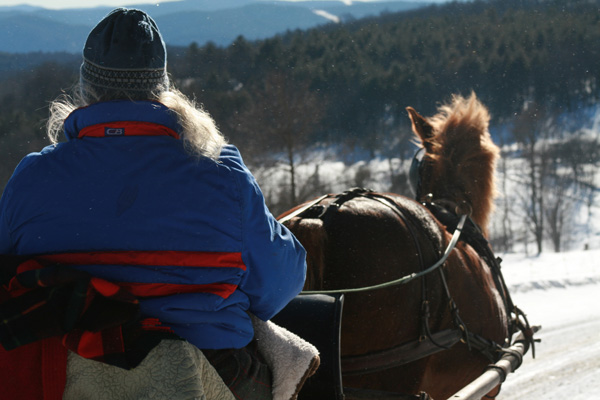 Driving in snowy Vermont with Susan Rogers Carriage Driving at Land's End Farm.
On a carriage driving vacation, you may learn harnessing, hitching and driving horses and more advanced techniques. Below are five great destinations in varied U.S. locales that have been offering carriage driving vacations for many years. Many of these destinations are run by champion drivers.
#1 New England Horseback Riding and Carriage Driving Vacations in Maine
New England Horseback Riding and Carriage Driving Vacations at the Telemark Wilderness Lodge, a historic Adirondack Lodge, near Bethel, Maine has offered Carriage Driving Vacations for over 18 years and also offers an Adult Carriage Driving Camp. You don't have to have any experience in carriage driving for these equestrian learning vacations. Learn about different types of carriages and driving techniques, harnessing and hitching the horse and then head out to drive. The Lodge is surrounded by dirt roads for those who want to explore in a horse drawn carriage.
The Adult Camps are intensive clinics in harnessing, hitching, and driving basics. You'll drive a cones course and perhaps also down the road, in the ring and more. An experienced driver sits beside you and helps you along during the clinics and 3 to 5 day camp. Single travelers and small groups of up to 10 people are welcome to participate and stay in the five bedroom wilderness lodge. Also on offer–– Sled Dog Training, Llama Handling, hiking, swimming, fishing and observing local wildlife.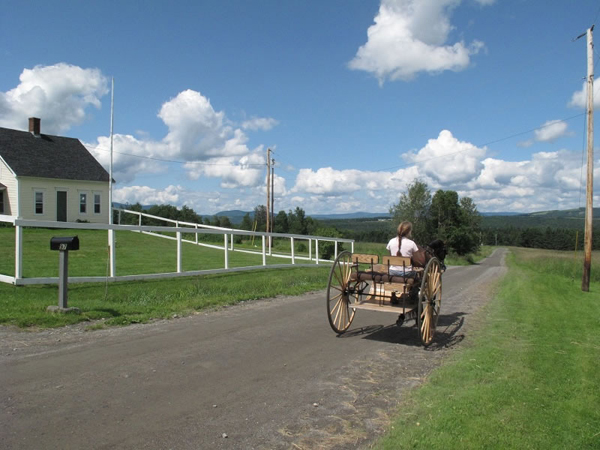 Leonarda Joost driving one of her rescued Standardbred horses, Ernie. Photo credit New England Horseback Riding and Carriage Driving Vacations.
#2 Fraser School of Driving in Montana
The Fraser School of Driving in Deer Lodge, Montana runs a year-round driving school that has welcomed travelers, both novice drivers, commercial carriage drivers and those looking to improve their scores in Combined Driving Events, since 1995. Learn with one of their well-training mounts. Take lessons or schedule a private clinic for yourself or your group. Things you may learn include how to get a better response from the driven horse, all about harness choices, how to select a vehicle, how to help your horse in driving and more.
Owner and teacher Alex Fraser's past students have included Champion US Pairs driver Joe Yoder, students working with the famous Clydesdales and beyond. Alex is a lifelong horseman and also a past competitor in Combined Driving Events (CDE). Alex welcomes travelers to his Driving School for short or long sessions. Drive outside and take in Montana views or in the indoor arena. Stay on-site in the bunk-room eating family style meals, or in a local motel. A fun time of year to be in Deer Lodge and train at the Fraser School of Driving is during the Big Sky Draft Horse Expo, where other drivers can enter with carriage horses of all sizes.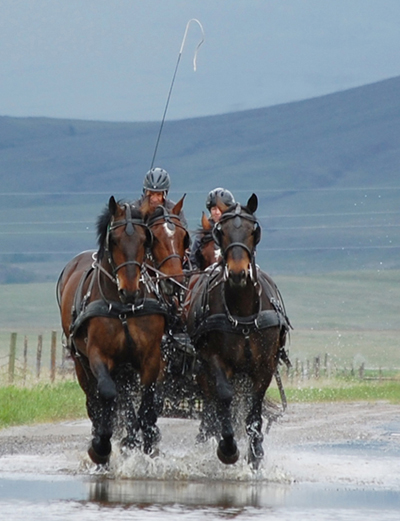 Driving at the Fraser School of Driving in Montana.
#3 Susan Rogers Carriage Driving at Land's End Farm in Vermont
Susan Rogers Carriage Driving at Land's End Farm is another Northeast option for a carriage driving vacation. Located in Proctorsville, Vermont near Woodstock, travelers may visit for lessons and clinics in the indoor arena, outdoor ring or surrounding area. Travel solo or bring your own group of beginners through advanced drivers. Most people bring their own horses for this carriage driving vacation to learn and grow in pleasure driving or CDE conditioning under the tutelage of Susan Rogers, who has been horseback riding, driving and training horses for over 20 years.
Students focus on what they desire to improve, including bending, transitions and rein handling, using road carts of various makes or four wheeled marathon carriages. Susan Rogers stresses safety first and always checks the overall turnout for proper fit and suitability. She competes at the FEI (advanced) level at driving events throughout the eastern US and is long listed with the United States Equestrian Team. Guests stay in a rental home beside the farm or an area hotel or B&B. Land's End provides turnout with run-ins, and/or stalls if desired.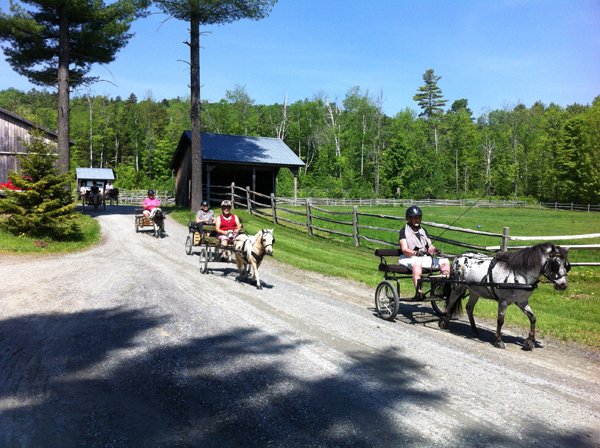 Driving Miniature horses in Vermont with Susan Rogers Carriage Driving at Land's End Farm. Photo from Susan Rogers.
#4 Drive On! with Muffy Seaton in South Carolina
Bring your own horse or ride one of Muffy's ponies on a carriage driving vacation with Drive On! with Muffy Seaton just outside of Aiken, South Carolina. Muffy welcomes everyone from the timid beginner who doesn't know how to harness a horse to the advanced competitor who wants to brush up their dressage test. She welcomes all breeds and sizes, from the smallest mini to the largest draft horse and caters vacations and clinics to suite the participant's desires and goals. She even has a little mini team available for people to learn to drive four in hand.
A professional carriage driving trainer and clinician as well as a pleasure driving and combined driving USEF and ADS judge, Muffy has been National Champion in pony pairs in combined driving four times and is now competing a single large pony. She's been active in the sport for the past 37 years. Guests stay in a house that is fully stocked and furnished that can sleep eight in four bedrooms, right next to the barn which has eight stalls.
The farm has an advanced sized driven dressage ring, hazards, a cones area, trails on site, as well as miles and miles of dirt roads with little traffic on them. The barn has eight rubber matted 12/12 stalls and there are paddocks/pastures, all with run in sheds and board and no climb wire fences. The farm is located are about 20 minutes East of Aiken, SC, called the horsiest town in America! There are tons of things to do in the area other than drive, as well.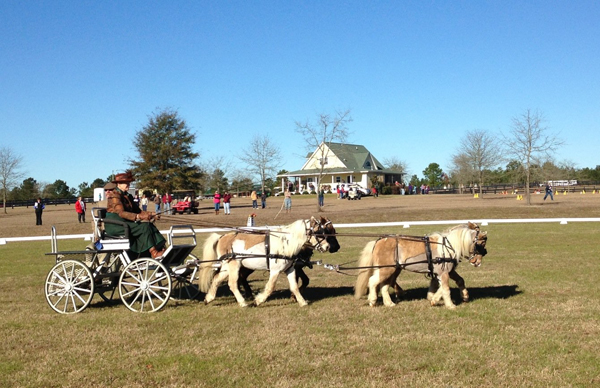 Driving Minis four-in-hand with Drive On! with Muffy Seaton.
#5 Stafford Carriage Driving in Pennsylvania
Suzy Stafford of Stafford Carriage Driving offers carriage driving lessons and clinics for all levels in the rolling hills of Chester Country, Pennsylvania, from April through December, and sunny Ocala, Florida, from January through April. A national and international competitor, Stafford has trained with many world champion drivers and had many championship performances and medal finishes, including World Champion Morgan Carriage Driving in 2013.
Most clinics are organized and hosted by an individual person or local driving club and Suzy will work with small groups as appropriate. Most people do bring their own horses, but on occasion Suzy will have a "lesson horse" that she uses for teaching. Some things that participants may learn include proper safety procedures when hitching and unhitching, a more useful and tactful rein handling, and better show tactics when competing. They may also receive help in progressing a young horse and to further their competitive career to the next level. While Suzy does have accommodations for the equines, owners, for now, make their own housing arrangements nearby.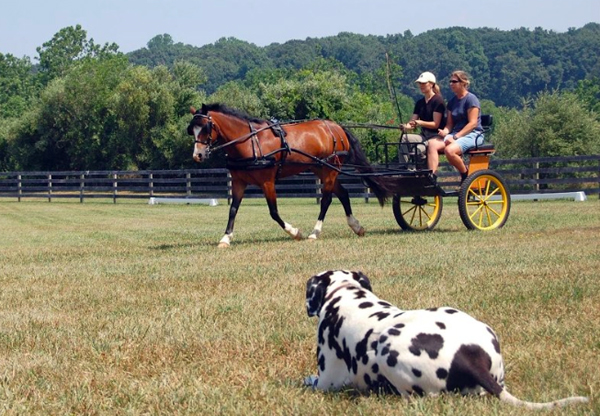 Suzy Stafford driving. Photo Credit Lisa Tossey.
Learn more about great equestrian vacations, including equestrian learning vacations, ranches and horseback riding holidays in the Equitrekking Vacation Guide, EquitrekkingTravel.com and Top20Ranches.com.