Budget-Friendly Dude Ranch Vacations
Take a dude ranch vacation this summer that's easy on the wallet and large on fun!
by Darley Newman
Looking for an affordable ranch vacation? If you've done your research, you know that prices vary widely from under $1,000 per person per week to over $4,000. While many ranches offer all-inclusive weeks, others charge for additional activities and may be in remote locales, which means figuring out the total cost of getting there and what you'll do when you arrive can involve crunching the numbers.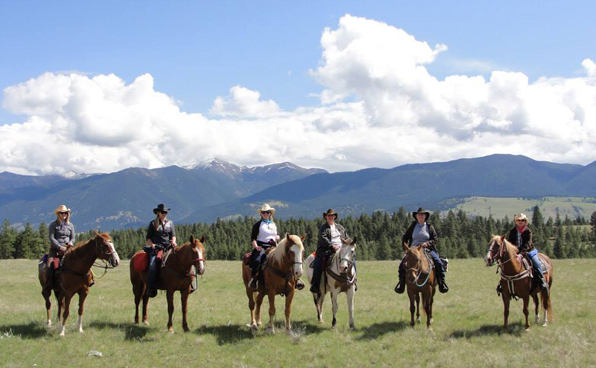 A group ride at Bar W Guest Ranch, an affordable dude ranch in Montana.
With multi-generational travel trending and many families interested in giving their children an experience in nature, it's even more important to find ranches that offer a good value for families and groups. If you're ready for a ranch vacation, check out these inexpensive ranches located throughout North America, where you can ride the great outdoors and take in nature without compromising your bank account.
Sundance Trail Ranch, Colorado. This family-friendly and pet-friendly dude ranch, located only 2 hours from Denver, offers horseback riding, hiking, rock climbing, whitewater rafting, and more in the Colorado Rocky Mountains. Lodge and cabin suites accommodate up to 24 guests with some offering wheelchair accessibility. Hearty western meals are served family style, with homemade breads and desserts. (Sundance Trail Ranch operates as a summer guest ranch and fall, winter and spring bed & breakfast. All-inclusive summer rates for 7-day/ 6-night stay, including lodging, meals, and activities, start at $1,610 per adult. This ranch offers 4-day/3-night stays starting at $970 for adults with lower rates for kids. Airport shuttle service and tips are additional.)
Marble Mountain Ranch, California. This California dude ranch is surrounded by a half a million acres of Northern California's Klamath National Forest, making for plenty of room for adventure. Offering a multi-sport "saddle-paddle" vacation, guests can mix horseback riding with whitewater rafting, fishing, and shooting sports. This guest ranch offers a strong kids program for "Young Buckaroos." Marble Mountain Guest Ranch's location in Somes Bar is close to the scenic Trinity Alps and Russian Wilderness Areas. (5-night/ 6-day all-inclusive package rates
are $1,590 per adult. Gift shop purchases, jet boat tours, and gratuities are not included. The ranch does not charge a single supplement, making it a good choice for single travelers. The ranch also offers shorter 3-night stays during certain times of the year. Before the Memorial Day holiday and after Labor Day, you rent cabins a-la-carte without the all-inclusive full service packages starting at $125 per night double occupancy plus $20 for additional occupants.)
Southern Cross Guest Ranch, Georgia. This year-round family-owned guest ranch and horse farm located about an hour East of Atlanta in Central Georgia has over 200 horses. An unusual feature of this dude ranch, besides its location in Georgia, is that experienced horseback riders can take out a horse from Southern Cross and ride unguided. This Georgia dude ranch gets good reviews from travelers, especially horseback riders, for the riding activities, horses and food. (This ranch offers a variety of rates, ranging from B&B to all-inclusive. The all-inclusive plan includes twice daily horseback riding, three meals, snacks and desserts, lodging, unlimited non-alcoholic beverages, use of mountain bikes, and more starting at $100 per person per night, based on seven nights double-occupancy.)
Bar W Guest Ranch, Montana. This year-round guest ranch nestled at the base of a mountain on Spencer Lake in Whitefish, Montana offers a wide range of warm and cold weather activities including cattle drives, archery, fishing, square dances, dog sledding, snowmobiling and more. With up to 50 guests, Bar W offers Western style accommodations in either lodge or cabin suites, as well as "glamping"—luxury camping. (6-night/ 5-day all-inclusive rates, which include accommodations, meals, and all ranch activities, range from $1,695 to $2,265 during June, July and August. Rates are lower in the fall, winter and spring and 3-night/ 2-day stays are also available. There is a 10% service charge added to the bill upon checkout.)
Elkhorn Ranch, Arizona. This winter season Arizona guest ranch in the Baboquivari Mountains southwest of Tucson, Arizona has been continuously owned and operated by the Miller family since 1945. With only 20 cabins and an average capacity of 32 guests, this intimate desert escape offers birding in Sonoran Desert, a heated swimming pool, tennis court, horseback riding, hiking and special workshops, like digital photography. Elkhorn Ranch's 10,000 acres provide plenty of remote canyon and mountain country to explore, making for a true wilderness experience for the whole family. (Weekly rate is $1,524 per person per week single or double cabin, plus 15% gratuity and tax, with lower rates available for longer stays and additional guests in the same cabin.)
Rancho Los Banos, Mexico. This working cattle ranch and eco-adventure destination on 30,000 acres in northeast Mexico welcomes adventure travelers to experience horse riding, cattle work, biking, hiking, bird watching, kayaking and more. With only 12 to 14 guests at a time, you can bank on personalized attention. Positioned at the foot of the Sierra Madre, the Mexican Rockies, Rancho Los Baños mixes traditional guest ranch activities with sustainable tourism, nature and adventure. The ranch ranges in elevation from 7,400 feet above sea level in the northern border to 3,200 feet in the southern canyon country, which includes the stunning El Cajon Canyon. This guest ranch offers immersion in pristine wilderness and a true off-the-grid experience (no internet or cell phone reception). (Prices are all-inclusive, including transfers from Tucson, Arizona, and start as low as $139 per person per night, double occupancy for a 5-night minimum stay, not including taxes.)
Learn more about great ranch vacations in the Equitrekking Vacation Guide, an online, searchable travel guide to great dude ranches, guest ranches and global horseback riding vacations, our friends at the Dude Ranchers' Association and at Top20Ranches. Check out exclusive ranch and riding vacation travel deals on Equitrekking Travel Deals.