British Columbia Horseback Riding Vacations Photo Journey
Pristine Canadian wilderness, snow capped peaks, old growth forests, rugged glaciers, golden grasslands and secluded lakes... If you're on a horseback riding vacation in British Columbia, this is the type of scenery you might encounter.
The westernmost province of Canada, British Columbia is bordered by the Pacific Ocean to the west and Alaska, the Yukon and the Northwest Territories, Alberta, and to the south by the U.S. states of Washington, Idaho, and Montana. Most of the rugged coastline is uninhabited and the Coast Mountains are well-known for their striking scenery, making this an exceptionally beautiful place for a horseback riding vacation.
In this photo montage, we explore two different areas of British Columbia, Chilko and Cariboo Cowboy Country, showcasing what makes BC such a beautiful place to ride. If you're seeking adventure, immersion with nature and don't want to be without creature comforts, the below BC vacation options may be a good fit for you.

Chilko, The Land of the Blue Waters with Tsylos Park Lodge
Chilko Lake is located in west-central British Columbia on the Chilcotin Plateau. The dramatic mountains at the head of the lake are among the highest in the province. It's in this remote, unspoiled area that riders can experience comfortable lodge accommodations with daily horse riding or head out into the wilderness on a horse pack trip-- both with longtime Tsylos Park Lodge, a Canadian Adventure Vacation and Wilderness Adventure Lodge.
Tsylos (pronounced sigh-loss), was originally established as an area to protect endangered wildlife and promote wilderness adventures. This responsibility to the land is paramount to the McLean Family, who founded Tsylos Park Lodge over 50 years ago.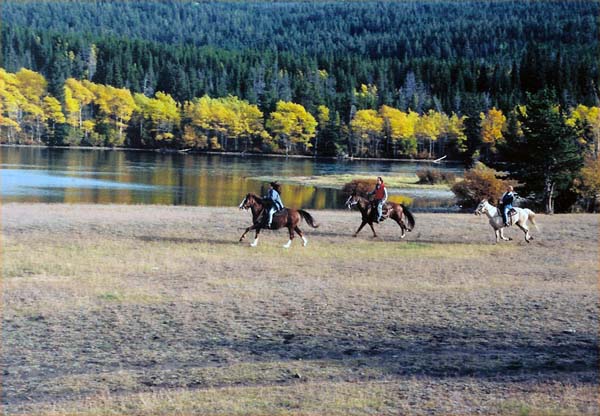 Riders who venture to this part of Canada can experience both open spaces and mountain trails.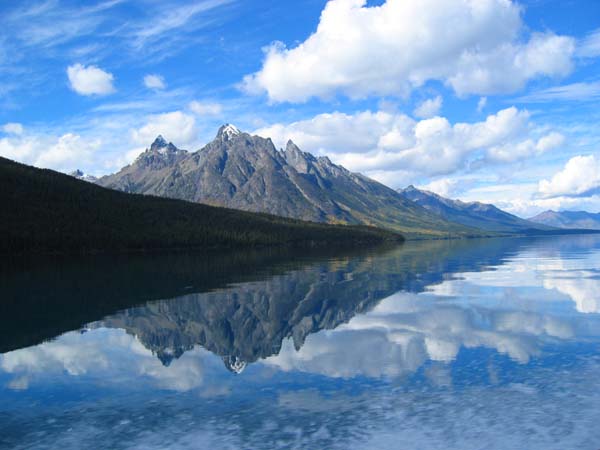 Jagged mountain peaks reflect in the turquoise blue waters of Chilko Lake. Chilko Lake is the largest, natural high-elevation freshwater lake in Canada.
Tsylos Park Lodge is home to many different horse breeds that have adapted to life in this beautiful and rugged area. You may meet Quarter horses, Arabians, Appaloosa, Paint, Draft and Thoroughbreds.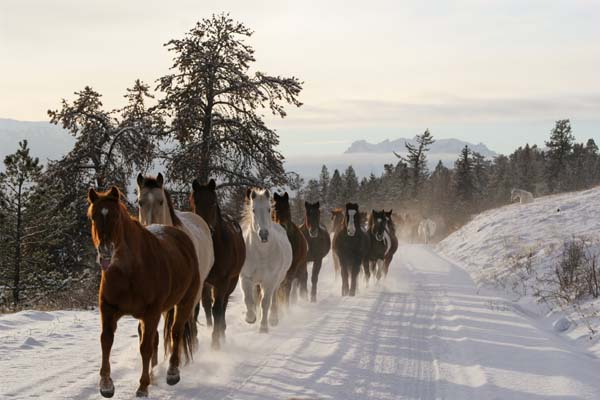 The best way to reach high alpine meadows in the mountains is by horseback. Here, horses take on the snowy trails.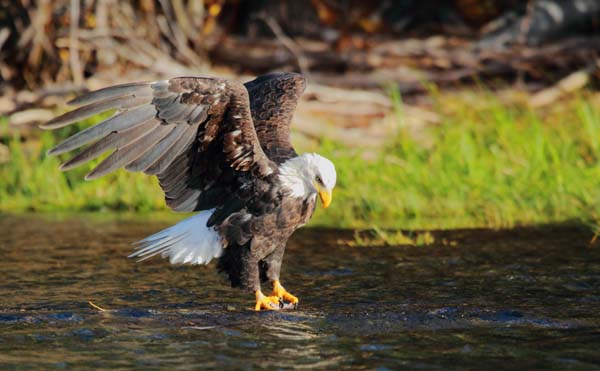 Tsylos Provincial Park is home to black bear, mule deer, moose, mountain goat, California bighorn sheep, grizzly bear, fisher, wolverine and bald eagle.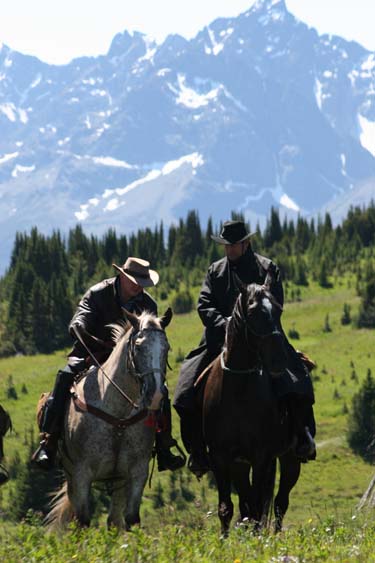 The Chilko area is wild and isolated. On horse pack trips, travelers hike and ride horses by day into the wilderness and enjoy gourmet campfire meals and tented accommodations at a campsite each night.
British Columbia's Cowboy Country with Siwash Lake Ranch
Siwash Lake Ranch is located in south central British Columbia, halfway between the Rocky Mountains and British Columbia's Pacific Coast. Many people combine a visit this luxury guest ranch with a visit to Banff, Lake Louise and Jasper. This BC guest ranch offers the opportunity to ride unguided or guided through the Cariboo region.
The terrain in the foothills of the Cariboo Mountains ranges from deep green forests and valleys to secluded lakes and tranquil grasslands. Ride narrow, wild game and cattle routes through the woods, along wide grassy tracks and to flower filled meadows.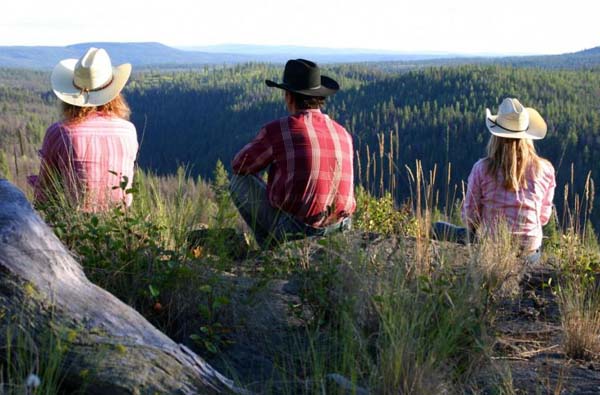 Siwash Lake Ranch surrounded by 80,000 acres of beautiful British Columbia range land.
British Columbia's Cariboo region is known as the Canadian 'Wild West'. In the1800's, prospectors descended on the area during the Cariboo Gold Rush.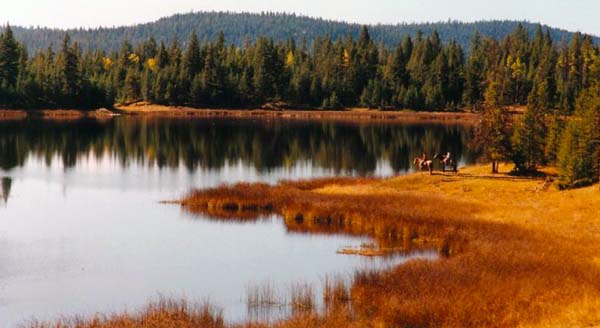 Travelers to this part of Western Canada truly get away from it all, visiting secluded backcountry lakes.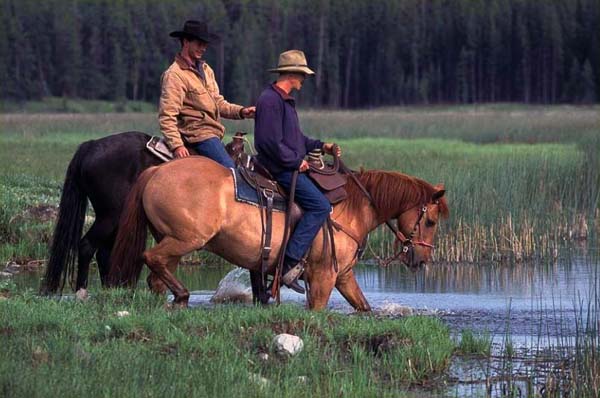 This is cowboy country in Western Canada. Pine laden paths lead to aspen groves, cascading waterfalls and quiet lakes.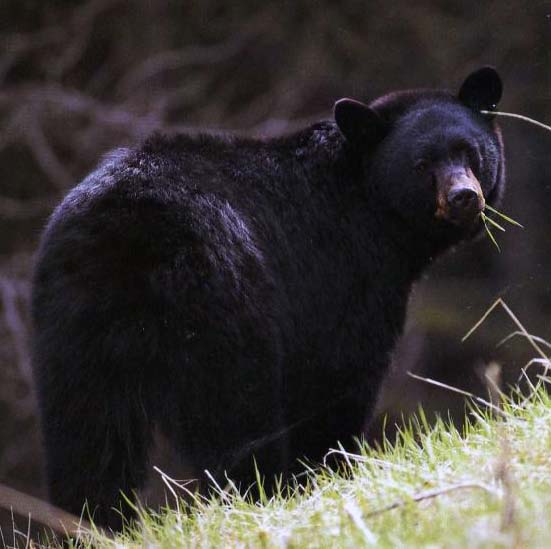 Wildlife thrives among the backcountry and the area's open grasslands, secluded lakes, and river canyons.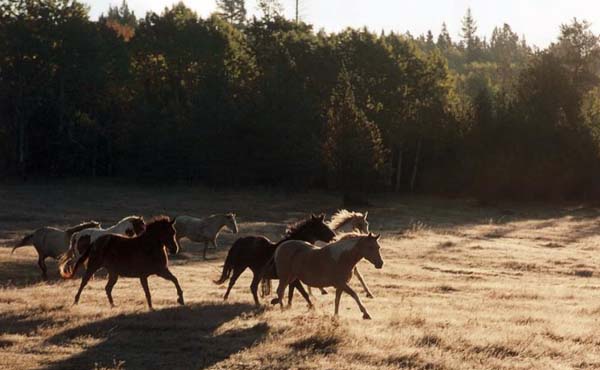 At Siwash Lake Ranch, you'll find a mix of western Quarter horses, Arabians, Paints, Draft Crosses and Appaloosas. Horses and travelers are immersed in the wild, with nature all around.
Learn more about Siwash Lake Ranch and Tsylos Park Lodge. Check out Travel Deals to these and other horseback riding vacations and guest ranches. Search for great horseback riding vacations in the Equitrekking Vacation Guide to great dude ranches, guest ranches, cattle drives and riding holidays.