Bring Your Own Horse Vacations: RV Parks
Looking for a horse-friendly RV park? Check out these great places set up to accommodate travelers with horses across the USA.
by Alexandra Begley
There are horse-friendly RV parks throughout the United States, making it easier for travelers to bring their own horse and ride. Check out the below RV parks that welcome horses in Arizona, North Dakota, New Mexico, South Carolina and California and get riding!
Arizona
The OK Corral in Apache Junction sits just below the dramatic Superstition Mountains in Arizona's East Valley. Rising out of the desert, framed by saguaro cacti, the Superstition Mountains are home to more than just scenic riding trails. Legend has it that Jacob "The Lost Dutchman" Waltz found a mine in the 19th century filled with untold riches and kept its location secret. Many have sought the Lost Dutchman's Mine, some even losing their lives in the search.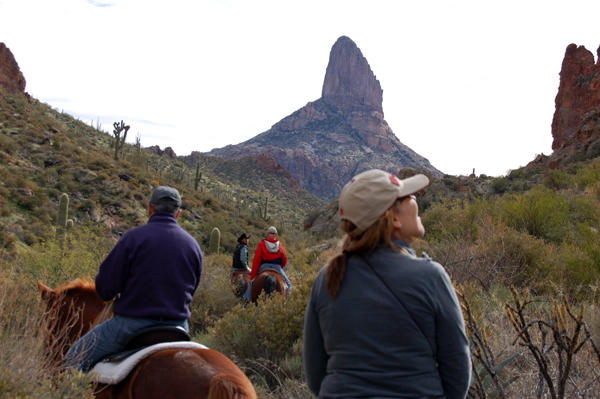 Riders marvel at the dramatic rock formations of the Superstition Mountains.
Whether or not you and your horse are hunting for gold, OK Corral's stables are the perfect starting point for your own desert adventure. Twelve foot by twenty-four foot pipe corrals are available, as are round pens. The RV campsites have water, electricity, and sewage and are available on a $30.00 daily, $185.00 weekly, or $420.00 monthly basis. Be sure to bring proof of current Rhino Influenza vaccinations and a health certificate for your horse.
South Carolina
The ultimate all-in-one horse vacation can be found at Lakeview Plantation in Fairfax, SC. The lodge at Lakeview sleeps 30 (though you can reserve private rooms for smaller parties) and includes a recreation room and a dining hall just steps from an RV park and horse camping facilities.
This bring-your-own horse adventure is all-inclusive because you can explore the trails of Fairfax for a reasonable price and then sign up for one of the exciting "Equestrian Escapes" vacation packages that Lakeview Plantation runs through a trail ride outfitter. Each of the five exciting packages runs for about a month and takes you and your horse to places like the Yellowstone Backcountry in Wyoming, the Gila Wilderness in New Mexico, Rocky Mountain National Park in Colorado, Mount Rushmore in South Dakota and many more. If you are looking for adventure for you and your horse, Lakeview Plantation seems to have a little bit of everything.
California
Stagecoach Trails Horse Camp and RV Resort is a clean, fully-equipped RV resort for you and your horse situated just outside San Diego and surrounded by hundreds of horse-friendly trails in nearby parks like the Anza-Borrego Desert State Park. While summer temperatures can soar to 110, this desert blooms in April and the normally rocky landscape is covered in wildflowers! Stagecoach Trails offers pipe corrals for horses and full hook-up RV spots.
North Dakota
If you find yourself amid the sprawling grasslands of North Dakota, then stopping over at Sheyenne Oaks Horse Camp and RV Park outside of Fargo may be just the change of scenery you need. A horse site with corral included is only $8 per day extra and the surrounding trails wind through hills, trees, and even to a hidden cliff! Going off trail is even encouraged, just watch out for wild turkeys and deer. The closest town to Sheyenne Oaks is Leonard, ND and if you are lucky enough to be there in September you can experience the annual Fall Festival and rodeo!
New Mexico
Gillespie Ranch in scenic Cloudcroft, New Mexico, has 12 RV sites and several large horse pens waiting for you and your ride. The surrounding Sacramento Mountains and Lincoln National Forest are full of surprises like the aging Mexican Canyon Railroad Trestle and the quaint main street of Cloudcroft. Gillespie Ranch's elevation, around 8,000 feet, makes for a mild weather respite from the arid deserts nearby. Because of this the area has become a popular tourist destination. Miles of trails wrap around mountains and they range in difficulty from easy to extreme for anyone up to the challenge. Hunters are welcome and the big game is plentiful–– bears, elk, and mountain lions!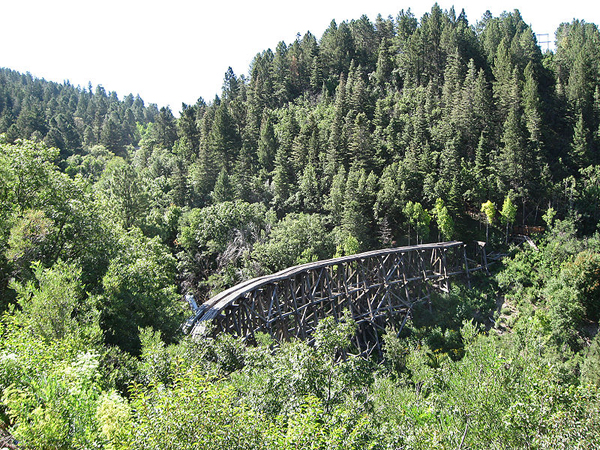 Ride or hike to the historic Mexican Canyon Trestle, built in 1900 by the El Paso and Northeastern Railroad, for expansive views of the Sacramento Mountains.

Did we miss a perfect RV spot? Let us know about it by contacting us or posting on Facebook or Twitter @equitrekking.
Check out more great ranches and riding vacations where you can bring your own horse in the Equitrekking Vacation Guide.
* The above information was correct at the time of this article's publication. Always be sure to call ahead to make sure you have the proper records and permits for your horse and to check on trail closures due to inclement weather.