Bring Your Own Horse Vacations: Camping
Looking for a destination where you and your horse can enjoy trail riding by day and camp out at night? Check out these great places set up to accommodate travelers with horses across the USA.
by Alexandra Begley
Southwest Horse Camps
Texas
Big Bend Ranch State Park is the largest state park in Texas and spans over 300,000 acres of the Chihuahuan Desert. Two hundred years ago, the Comanche Indians passed through the mountains that run through the park, heading north from Mexico. One thousand years before that, the Chisos -- a tribe for whom the park's mountains are named -- left their mark on the land in the form of pictographs, or cave art; handprints, human figures, insects and the like can be spotted on rock surfaces throughout the park.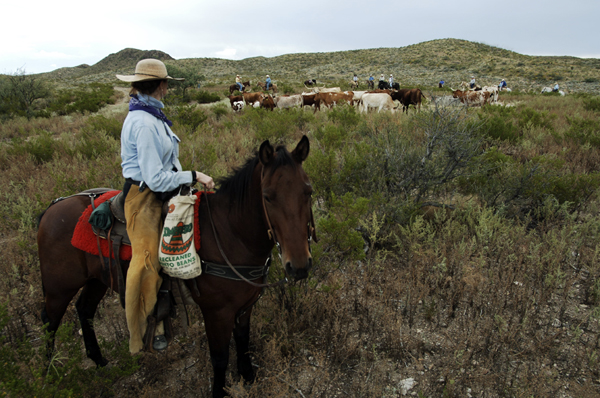 A cattle drive is just one thing you might encounter on your ride through Big Bend Ranch State Park.
Photo Credit: Chase Fountain, © Texas Parks and Wildlife Department.
Six equine campsites are available at different points in the park and most offer corrals and water. There is an extra equestrian fee of $2 per horse, per day and park rangers caution to make sure you have plenty of water and that your horse, and his shoes, are in good shape -- to say the terrain is rugged is an understatement. More horse camping and trails can also be found at the stunning Big Bend National Park. Be sure to make reservations in advance and that you understand all the rules, regulations and requirements necessary for a safe trip. At this link, you'll find more information about riding horses in Texas state parks.
Midwest Horse Camps
Indiana
Midwest Trail Ride and Outpost is well-equipped for all your horse camping needs. According to their site there are 108 campsites with water and electricity, 13 comfy cabins and 385 horse stalls for you and your four-legged friends. Located in Indiana's Hoosier National Forest, Midwest Trail Ride supplies a much-needed break from civilization, while still offering the comforts of a warm shower and cabins with heating and air conditioning! Several guided rides and overnight trips are offered, but not required, to help you enjoy the forest.
Northwest Horse Camps
Oregon
Two hours outside of Portland and just off the scenic 101 coastal highway is Nehalem Bay State Park. For a relatively small park (it covers only four miles of coastline) there are abundant amenities and activities. Seventeen "primitive" horse campsites are available along the beach for prime beach and forest exploration. The site boasts 18 yurts! Perhaps the most unique aspect of this state park is that it has its own airstrip for fly-in camping! Whether you fly, ride, or drive in, Nehalem is a favorite on the Oregon coast for horse enthusiasts.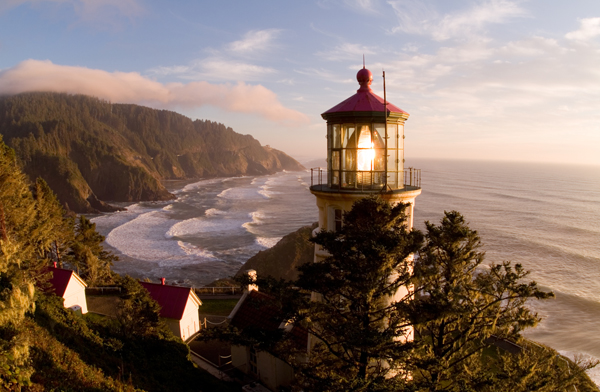 The Heceta Head Lighthouse is a must-see attraction when camping in Siuslaw National Forest.
Photo Credit: Oregon Parks and Recreation Department
A bit farther south you will find the stunning Heceta Head Lighthouse and not far from that there is horse camping in the Siuslaw National Forest and the Oregon Dunes National Recreation Area. While the lighthouse can't be accessed by horseback, you can definitely spend a night in it! Some rooms are even rumored to be haunted by a very tidy ghost. If you don't want to spend the night with spirits you and your horse can set up camp a few miles away at the Oregon Dunes National Recreation Area. The Wild Mare Campground is the best place to set up camp because it offers access to many horse-only areas, as well as access to the massive dunes that have been sculpted by years of coastal weather.
California
The Anza-Borrego Desert State Park is just two hours from San Diego and three hours from Los Angeles. Because this is the largest state park in California (and the second largest in the United States), Anza-Borrego boasts an impressive list of must-see attractions: 110 miles of nature trails for you and your horse, 28 mountain summits and peaks, an archeological center, petroglyphs and pictographs!
Known for its stunning array of desert flora, at certain times of the year the mountainsides are carpeted in vivid colors. Lucky riders may spot the elusive desert bighorn sheep that the park is named for -- borrego is the Spanish term for them. On top of everything else, the area is well known for producing some of the best fossil finds in history. Everything from whale bones to mammoth remains have been uncovered in the park, many of them containing clues to help unlock the climatological history of the region.
There is also a designated site just for horse campers: the Vern Whittaker Horse Camp. It offers 10 sites, 40 corrals, and solar-powered showers. With all those amenities and hundreds of miles of trails, this park is the ultimate camping destination for you and your horse.

Many state and national parks offer horse camping so be sure to check beforehand. Rules and regulations may have changed between your trip and the time this was published, so always call first.
Have you had an unforgettable camping experience with your horse? Let us know about it by contacting us or posting on Facebook or Twitter @equitrekking.
Check out more great ranches and riding vacations where you can bring your own horse in the Equitrekking Vacation Guide.