Bring Your Own Horse Vacations: Cabins
Want to get out of town with your horse but don't want to leave all the comforts of home behind? Check out these great cabin sites for horse camping.
There are several cabin sites that allow horses as well, so you can bring your horse on vacation. Check out great horse camping escapes in North Carolina, Indiana, Wisconsin and California and start planning your horse vacation.
by Alexandra Begley
Horses graze in the pasture below Turkey Creek's picturesque red barn in North Carolina's Pisgah National Forest. Photo Credit: Linda Schmersahl
North Carolina
If you don't feel like roughing it, Turkey Creek Cabins in North Carolina's Pisgah National Forest has two fully-furnished cabins for your use. Each cabin is outfitted with a kitchen, bathroom, washer/dryer, and satellite television. A picturesque red barn is available for your horses. With five stalls, two pastures and 155 acres of land, Turkey Creek Cabins are a home away from home for you and all your pets (all are welcome). The riding options are numerous with the Great Smoky Mountains National Park only 20 minutes away (which offers its own guided trail rides and camping) and the stunning Max Patch outlook area ten miles away. For non-horse related entertainment, it might be important to note that the Biltmore Estate in Asheville is a 40-minute drive from Turkey Creek and Dollywood is only an hour away.
Indiana
Midwest Trail Ride and Outpost is well-equipped for all your horse camping needs. According to their site there are 108 campsites with water and electricity, 13 comfy cabins and 385 horse stalls for you and your four-legged friends. Located in Indiana's Hoosier National Forest, Midwest Trail Ride supplies a much-needed break from civilization, while still offering the comforts of a warm shower and cabins with heating and air conditioning! Several guided rides and overnight trips are offered, but not required, to help you enjoy the forest.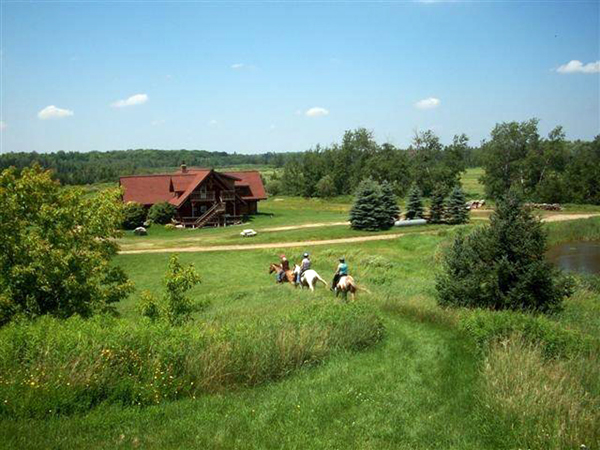 Horses ride towards the White Pine Inn at Palmquist Farm. Photo Credit: Helen Palmquist
Wisconsin
In Brantwood, Wisconsin, Palmquist Farm's motto is "Providing great Finnish hospitality since 1949" and part of that Finnish charm is an authentic, wood-fired sauna. Enjoying some steam sounds like a great way to relax after a day in the saddle, which is exactly Palmquist's specialty. With five stunning inns and cabins from which to choose and a newly renovated barn for your horse, you'll be enjoying the sights of the Chequamegon-Nicolet National Forest on horseback comfortably. A Finnish breakfast and dinner are provided so you can spend the day exploring the trails fueled by the owner's home-cooked meals. While some cabins are rustic and homey, the White Pine Inn is a stunning getaway. Horses have a long history at Palmquist Farm, and you may even get to see some of their Belgian draft horses at work.
California
Looking for a remote cabin high in the southern Sierras? Always dreamed of spending the night in a teepee? Then Piggly Pines is worth a look. The cabins have modern furnishings and state-of-the-art kitchens. You and your horse can wander Aspen-lined trails on your own or in a group. One unique feature of Piggly Pines is the onsite saddlery, where they make custom saddles. This means visitors can go home with a one-of-a-kind souvenir. This particular spot is truly off the grid -- there is no cell phone service -- which can be perfect for some, but not for everyone.

Did we miss a perfect cabin spot? Let us know about it by contacting us or posting on Facebook or Twitter @equitrekking.
Check out more great ranches and riding vacations where you can bring your own horse in the Equitrekking Vacation Guide.
* The above information was correct at the time of this article's publication. Always be sure to call ahead to make sure you have the proper records and permits for your horse and to check on trail closures due to inclement weather.