Bring Your Own Horse: Bed, Barn, and Breakfast
For riders looking for the charm of a B&B with the added bonus of exploring a new area on your own horse, here are a few options for your next weekend getaway.
by Alexandra Begley
California B&B's for Horse Lovers
The Enchanted April Inn in Pilot Hill, California is about as elegant as B&Bs get! Pristine pastures surround the estate which itself is engulfed by the hills of Coloma Valley, once the heart of California's "Gold Country." The inn oozes old-world charm and offers amenities like outdoor massages, retreats, and easy access to local vineyards. Your horses, and dogs, are welcome and will probably enjoy the estate as much as you will. The bucolic countryside is the perfect backdrop for an equestrian escape. Ride miles of the Sierra Nevada range or hack your horse in the facility's arena. The Enchanted April Inn is a luxurious treat for you and your horse: you both work hard, you've earned it!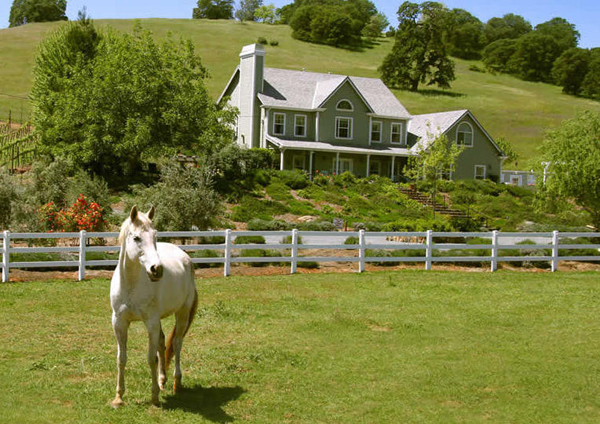 Turnout for your horses is available in these picturesque pastures in front of the Enchanted April Inn. Photo credit Wowizowi Productions.
Just a few miles west, perched along the scenic Highway One -- which runs along the Pacific Coast from Orange County all the way up to Leggett, CA -- is Point Reyes Country Inn and Stables. The inn has several rooms, each with a private balcony or garden, as well as two cottages overlooking Tomales Bay. There are also rooms above the stables for proximity to the horses. Horses stay at Point Reyes Country Inn for just an extra $10-$15 per night. Many visitors who've brought their horses to the B&B have returned again year after year.
Point Reyes National Seashore is only ten minutes from the bed and breakfast and has 150 miles of beach and backcountry trails for you and your horse. Wildlife encounters are very common, especially on the beach where sea otters and elephant seals are often seen basking in the sunlight. The one requirement enforced by the rangers is that you keep your horse on a weed-free diet for a few days before visiting the park.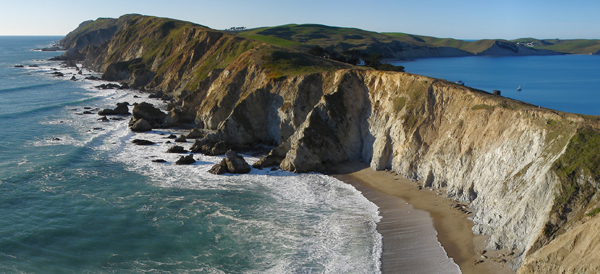 Chimney Rock is just one of the many breathtaking sights that Point Reyes National Seashore has to offer. Photograph by Miguel Vieira.
An Ohio B&B that welcomes horses
Looking for a Midwestern oasis and don't want to leave your horse behind? The charming Wild Horses Bed and Breakfast in Bolivar, OH, has several cute cabins that all overlook the property's expansive pasture. Each cabin as a hot tub -- among other delightful comforts -- so guests can relax and watch their horse enjoy some downtime. The B&B is close to the historic Erie Canal Towpath where you can find 84 miles of trails. If you don't feel like leaving the 120 acre property, you can explore their own private trails at your leisure. Your horses can enjoy the freedom of the enclosed pasture or the comfort of the quaint stone barn.
The cozy stone barn at Wild Horses Bed and Breakfast welcomes your four-legged friend!
Kentucky B&B in Bluegrass Country
Kentucky is horse country, there's no doubt about that. There's always a show or a race going on, so what better place to bring your horse with you on vacation? Bluegrass Country Estates in LaGrange has 8 gorgeous stalls in their onsite barn and plenty of pastures to keep your horses happy and steel building frames to promote the greatest structural integrity. If you're itching to get out there and experience the bluegrass beauty, Bluegrass Country Estates has 25 miles of private trails on the property. The humans get treated well, too, with five comfortable, private rooms that all have access to a pool, hot tub, patio, and workout room. Add a little excitement during your stay by signing up for the "Murder Mystery" package!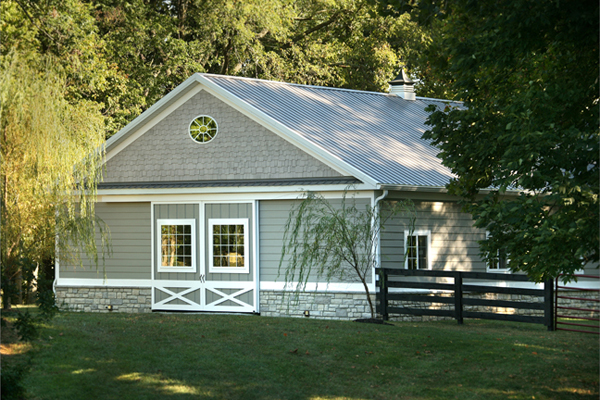 Bluegrass Country Estates has 25 miles of private riding trails and a beautiful 8-stall barn for guests.
Virginia's Black Horse Inn
Virginia also has a long equine history, especially if you're looking to do a bit of fox-hunting. The Black Horse Inn in Warrenton is a statuesque mansion overlooking acres and acres of pristine Virginia countryside. Originally built in the 1850s, the lavishly-decorated 9-bedroom inn is steeped in Civil War history. The stable has eight stalls that cost about $55 per night, but the equine events and activities in the area are plentiful. Just a short drive away is Great Meadow where polo and steeplechase races are held. And when you aren't partaking in equestrian events you can enjoy the fruits of Virginia wine country!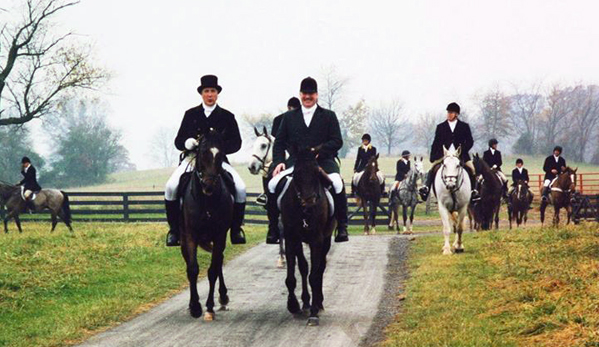 Join a hunt in Virginia. Photo from Black Horse Inn.
Colorado Vacations with your Horse
The Tudor Rose Bed and Breakfast and Chalets in Salida is located just south of the San Isabel National Forest and just east of Mt. Aetna. With its historic downtown streets and proximity to plentiful hiking, biking, and skiing trails, Salida is an outdoor lovers dream. For the traditional Bed and Breakfast experience, book one of the inn's 6 bedrooms. For something better suited for the whole family, each of the Tudor Rose chalets house up to 6 people and boast air conditioning, a full kitchen, and a cozy atmosphere. Horses are welcome to one of four spacious stalls in the barn and all the pasture and paddock time they want for a small daily fee.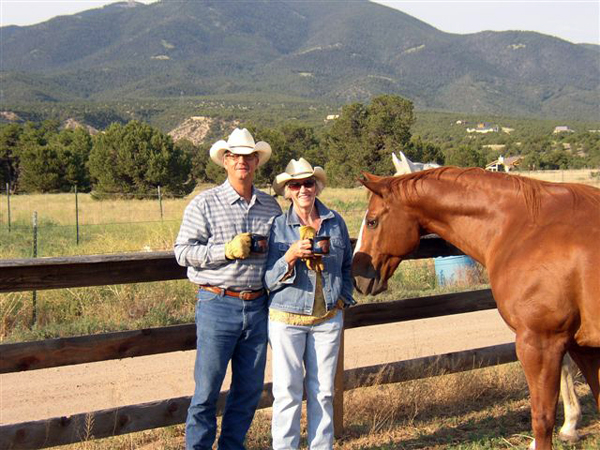 Guests of The Tudor Rose Bed and Breakfast and Chalets that have visited over 25 times over the last 19 years.
A Tennessee Farmstay
Shelbyville is the heart of Tennessee Walking Horse country. Each year for the last 75 years, the Tennessee Walking Horse National Celebration is held there for 11 days in late summer. Even if your horse isn't a "walker" they are still welcome at Clearview Horse Farm. This is a working horse farm with an indoor show arena, several well-equipped barns, and plenty of classes and lessons and trails for guests. Each room is equestrian themed so horse-crazy travelers will feel right at home! If you need it, there is also the option of having someone hack your horse for you!
North Carolina Horse B&B
Tanglewood Farm B&B in Southern Pines is an equestrian oasis. With nearby training facilities fit for the pros, this B&B might be just the getaway riders need to take their eventing training to the next level. The bevy of equestrian-related events surrounding Southern Pines includes steeplechase and shows at the Carolina Horse Park. And for those who may not want to spend their vacations jumping into water obstacles, the Walthour-Moss Foundation across the street hosts 4,000 acres of pine-shaded riding trails. Then again, guests can face a different type of water obstacle at the legendary Pinehurst golf course. Rooms at Tanglewood Farm, like the "Horse and Hound Suite," run for about $100-$125 depending on the weekday, with special offers popping up often. Adding a stall is $35 and includes shavings and access to the dressage ring and jumping field.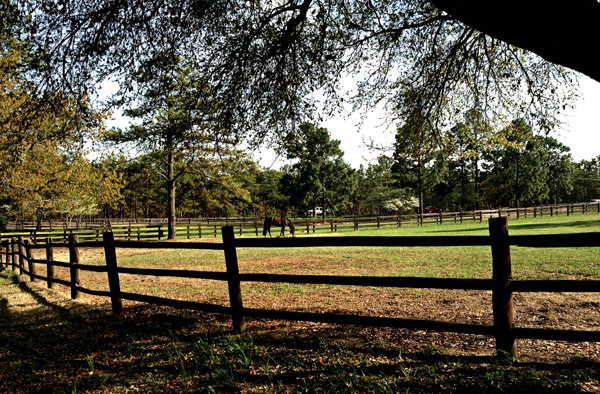 Tanglewood Farm's horse facility used to be a US Olympic team training center and is now operating primarily as an eventing training facility.

Have you stayed in a Bed, Barn and Breakfast that you think we should cover? Tell us about it by contacting us or posting on Facebook or Twitter @equitrekking.
Check out more great ranches and riding vacations where you can bring your own horse in the Equitrekking Vacation Guide.