Bombproofing Bahamut Part II
"Training Can Be Fun." My horse training tips and desensitizing exercises.
A helpful training technique for your ex-racehorse is "bombproofing," or "sacking out," which is a series of desensitizing exercises.
Working with my OTTB, off the track Thoroughbred, Bahamut can be challenging at times. What I'm learning in the retraining of my OTTB, is to use techniques from a variety of resources. Since horses are individuals, one school of thought doesn't hold all the answers. I've become more open to new training ideas and I've become more intuitive on how to handle his reactions to situations.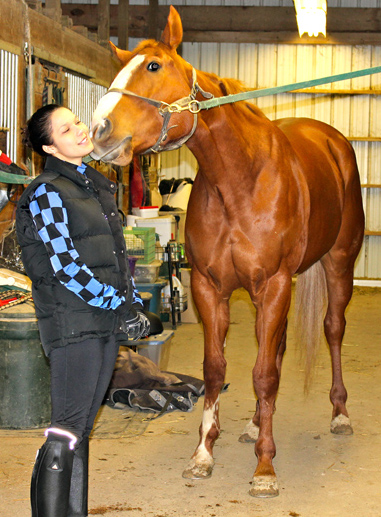 Raina and Bahamut ©Edgar Paucar
by Raina Paucar
I've been working with Bahamut on relaxation around various objects. For this session I used an old yoga ball and worked in an enclosed space, the indoor arena. I presented the yoga ball to him. Bahamut's first response to the yoga ball was that he "spooked," or had a flight response to it. He was very confused by it and wanted to back away from it. It was certainly another monster that was going to eat him.
I then unhooked his lead rope and let him loose in the indoor arena. He trotted off to the opposite end of the arena. I began to kick-around and play with the ball myself. Bahamut watched my interaction with the ball with a cautious eye.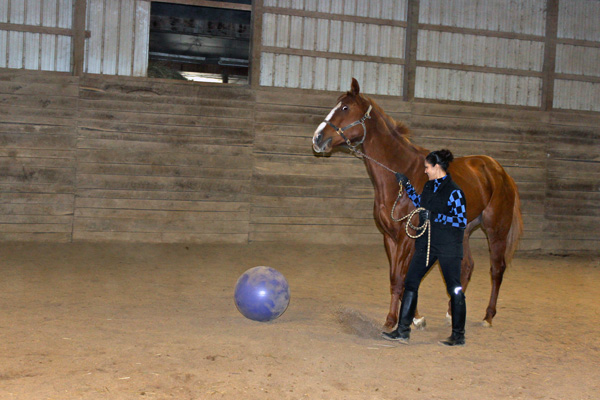 Bahamut displaying fear of the yoga ball ©Edgar Paucar
I slowly started rolling the ball towards him, in small steps and pausing every now and to check on his reaction. He wasn't moving away, so I continued following the same pattern of movement.
Finally, I was right in front of him with the ball. I picked it up and presented it to him. He let out his trademark snort and started to shake his head up and down. I hooked his lead rope back onto his halter and placed the ball back on the ground. I asserted no pressure on the lead rope and gave him control of his head as I rolled the ball away from him.
He began to follow the ball. Once he got up to it and sniffed it on his own, I picked it up and lightly held it against his shoulder. He stood still, so I continued by rolling the ball all over his body. Still, no reaction. I began to gently bounce the ball off his body, and he had no reaction. I rewarded him with several pats and praise.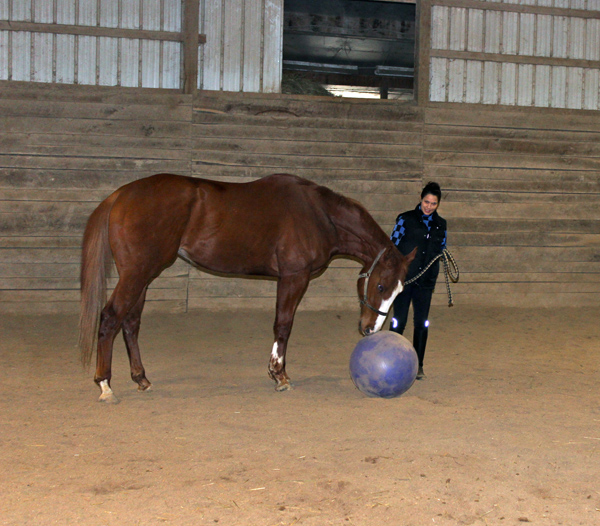 Relaxing with the yoga ball ©Edgar Paucar
I placed a bridle on him and rode him around the arena, with the yoga ball still present. I walked him over to the ball, and he had a very playful attitude towards it. This behavior was even more than I had expected of him. We walked and lightly trotted, circling the ball, and did some exercises moving towards the ball. Bahamut was a complete gentlemen and positively responded to everything I asked him to do.
Bahamut chasing after the ball ©Edgar Paucar
Grabbing the ball ©Edgar Paucar
After cooling out him out, I had made my way around his body with the ball once again. He was perfectly calm and still.This was an amazing training session. He was rewarded with pats, scratches and of course, his favorite treat, peppermints.
Here are some tips for desensitizing:
Start with simple objects
Work in an enclosed area
Move slowly
Be gentle
Repeat process until no reaction
Praise and reward
These horsemen have some great training techniques for horses and equestrians of any level:
JulieGoodnight.com Julie Goodnight
Downunderhorsemanship.com Clinton Anderson
Johnlyons.mybigcommerce.com John Lyons
Parellinaturalhorsetraining.com Parelli
Montyroberts.com Monty Roberts
Infohorse.com Ed Thornton
Here are some books I'm reading concerning "Bombproofing" horses and horsemanship:
The Art of Horsemanship by Xenophon
Bombproof Your Horse
by SGT. Rick Pelicano and Lauren Tjaden
Better Than Bombproof
by SGT. Rick Pelicano and Eliza McGraw
Considering adopting your own ex-racehorse? Here are some great rescue organizations with horses looking for their new home:
Read Part 1 and Part 3 of Bombproofing Bahamut.
---
About the Author: Raina Paucar is an adventure loving equestrian and female jockey. She likes to ride and compete in many disciplines, explore new places, read great books, gadget hoard, play games, take pictures and write. She currently exercises racehorses and works with her own off-the-track-Thoroughbred (OTTB). Her career in media focuses on equestrian lifestyle. You can add her to your Google+ circles, subscribe on Facebook and follow on Twitter.