A Bit to Bitless Bridle Journey
How I've used a bitless bridle to retrain three adorable off the track Thoroughbred geldings, reaching new heights as an equestrian.
by Juliette Ober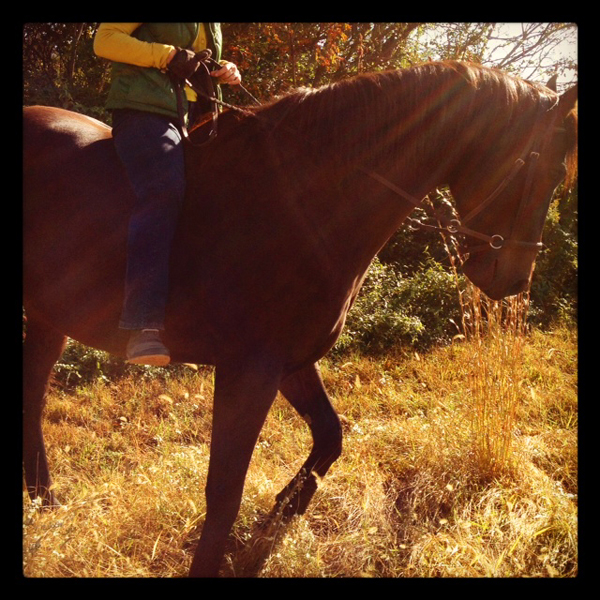 Me on sweet Pie, off-track-Thoroughbred, Sly Pioneer, bitless and bareback on a sunny autumn day, October 2012.
Photo by Sandra Renninger
My adrenaline is flowing and I am giddy with afterglow because I just got back from another amazing ride on Pie, one of my three young off-track-Thoroughbreds. On today's chilly, February hour-long ramble he took me through our woods then behind a local community theatre building, beside a mechanic's garage, and back through a field with seven bounding deer - the whole trip punctuated by a horizontal snow squall. And this was Thursday, trash and auto-auction day!
Our 40 acre farm, out in the middle of nowhere in 1957 when it was purchased, has been hemmed on two sides by suburbia, the Pennsylvania Turnpike on the south border, and a loud, active automobile auction directly opposite. On today's ride, trash trucks sputtered and the car auctioneers gurgled on speakers, but through it all, young Pie kept his cool. He, and my two other rescued ex-racehorses give me safe rides everyday, yet since they left the track, none have ever held a bit in their mouth. Instead, I used a bitless bridle to retrain them to be riding horses. This bridle has allowed me to reach new heights as an equestrian and share a blissful adventure with three adorable off the track Thoroughbred (OTTB) geldings.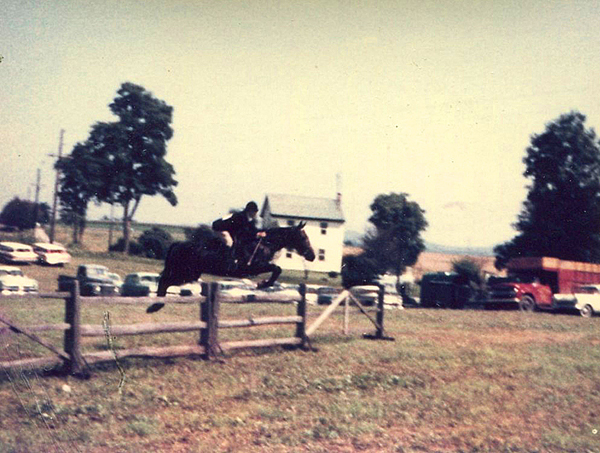 Mom aboard Prize List on an outside course circa 1961.
Photo by Benjamin Shelly
Although my history with bits has been diverse, my current bitless successes make me think bits are a thing of the past. My mother showed hunters and jumpers in the late fifties and early sixties and her old photos tell of many bitting options, some rather severe.
Likewise, the school horses at the local show barn of my 1970's youth were outfitted in varying types of bits; some simple snaffles, some not so simple, especially in the hands of inexperienced beginners. Pictures of me taken early in my riding career sadly illustrate how I relied on the bit to balance my body and fear. Ugh! And I wasn't alone.
Fledgling and seasoned riders both have been known to use the bit as a shortcut around the difficult task of learning subtle cues an advanced rider gives instinctively. Thankfully, progressive lesson barns and riding schools today are starting students in bitless bridles. With a bitless bridle, beginning riders can learn to use their seat and hands independently without damaging the mouth of the priceless, precious school horse.
My first horse, Penny Lane, used a plain snaffle for most shows but needed a twisted wire and sometimes a Pelham when hunted because she could get strong. She never refused a fence and was a light-hearted jumper, but she had a tendency to go heavy on her forehand and often would trip, stumble and even fall. She fell on me at the canter in a cindered ring as we rounded a turn.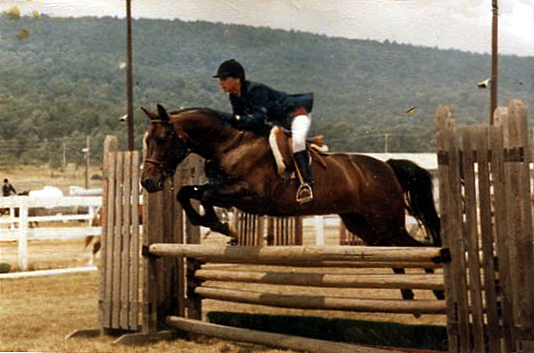 Me aboard my mare, Penny Lane, in a CPJHSA show at Penn National, 1981. Happily balanced with soft hands.
Photo by Equus Studio
Because of this unsafe situation we worked with a dressage trainer throughout my middle school years. When I finally learned to sit deeper and correctly use my seat and legs, my smart little mare pulled herself up and balanced evenly. No more racing, no more tripping. My young brain realized that all the momentum that previously was focused forward by me and my inexperienced style of riding had been wrongly countered or "fixed" by increasing the severity of her bit. Our new balance made me wonder if I needed a bit at all.
I started to ride this mare outside the ring over our trails and fields in just her halter with two lead ropes tied together as reins. If only there had been a bitless bridle! Penny Lane passed away in 2000 - she lived 31 happy years - and after 1983 she never had a bit in her mouth.

Off-track-Thoroughbred, Baja, on a cold Novermber day, 2007.
Photo by Brian Ober
In August of 2007 I started exercising an off-track-Thoroughbred gelding, Baja, every weekday morning. His usual bridle had a heavy snaffle with a slow twist and sharp, acute edges. Using my seat and legs properly made me again question if the bit was necessary at all with this horse or any horse. And as the days got colder, I became increasingly uncomfortable putting that piece of icy metal in Baja's mouth. By December, I was hanging his bridle over my dashboard with the heat cranked to warm the bit, haunted by that line from A Horse's Prayer that says, "Never put a frosty bit in my mouth, first warm it by holding it a moment in your hands."
In the afternoons, I was riding a buckskin Quarter Horse for some friends. This was my first experience with a western headstall. The owners assured me the bit was not painful to the horse, but it resembled giant forceps and was completely off-putting to me. The mare was three years old and the plan was for me to lightly exercise her at the walk and trot each day. I decided to ride using her halter with reins attached and it worked out perfectly. She listened to my seat and even "halt" was easy with just a shifting of my body weight. I began to seriously wonder how much my own competency as a rider seemed to make the bit redundant. Was the correct use of seat, legs, and brain more important to the outcome of a ride than the bit?
An internet search on the topic led me to Dr. Cook's Bitless Bridle website with many positive reviews. I ordered one for Baja and was relieved and happy from our very first ride. We walked, trotted, cantered, jumped and went out over the fields in the bitless bridle. The QH mare was equally responsive and safe in the bitless. The bridle was available in leather and a man-made Beta, and in English and western styles. I chose the English leather which closely resembles traditional English bridles. The throat latch area is replaced by two cross-under straps that attach to the reins. Here, slight pressure can be applied for stopping and directional asks.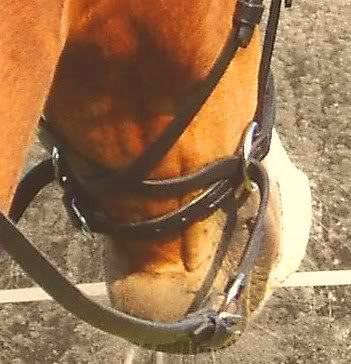 Dr. Cook's Bitless Bridle cross-under straps
Photo from Dr. Cook's Bitless Bridle website.
When I ordered my bridles the website was still in its infancy, but now there are fabulous photographs and first hand accounts that demonstrate how versatile and helpful this bridle is for all disciplines, all horses. And, happily, today, there are many manufacturers of bitless bridles on the market with equally positive reviews.
Transitioning from a bit to a bitless bridle was not difficult. Obviously, horses and riders are all different, but my own experience has been that this bridle allows me to do what I do best. I am better able to express subtle asks to the horse without a bit. In the past, I am certain that the "too big" nature of the bit often overpowered my true intentions. I believe the bitless bridle makes me ride well because there is no way to force or cheat around the communication. Centered and balanced riding with the body, seat, and subtle muscles in the legs becomes habitual because there are no shortcuts.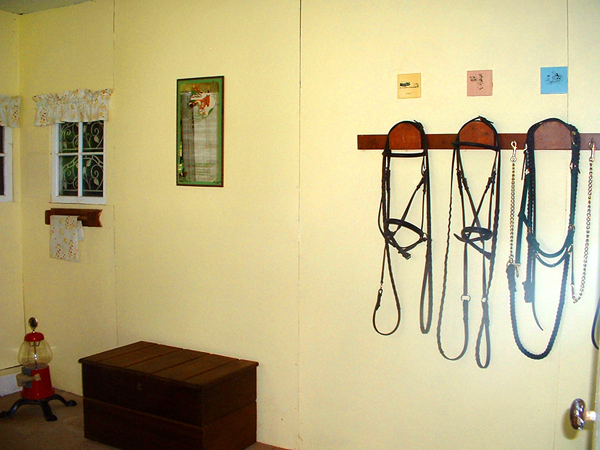 A view of our tack room these days…bitless bridles but no bits in sight!
Photo by Juliette Ober
When I travel to other barns, I always take my bitless bridle. I respect an owner's hesitation and never force the bitless on anyone. If a horse is having obvious difficulties, however, it seems to me a perfect time to gently offer the bridle as a possible solution.
This past winter I had the opportunity to introduce the bitless bridle to a nine year old Chestnut Appendix gelding in St. Petersburg, Florida. In the first minutes of our initial ride, Chaunson, was throwing his head repeatedly, eliciting "He sure has an attitude!" from onlookers. Learning that this was typical behavior for him, although different bits and bridles had been used, I hopped off and asked the owner if we could try the bitless bridle.
In the bitless Chaunson's head jerking stopped and his body softened under me. He was able to hear the subtle cues from my seat and legs. It might be that some bits, possibly all, inhibit our communication with horses. This bridle allows the horse to focus on our asks without the unnecessary interference in their mouth. I did not bring a saddle on this trip yet was able to safely ride Chaunson bitless and bareback for 56 days all over the streets and equestrian parks in the area. I believe the bitless bridle was the main reason for our success together as a horse and rider team.

Me on the gorgeous Chaunson, St. Petersburg, Florida, December 2012.
Photo by Barbara Vishio
Back on my farm in Pennsylvania my three rescued and retired ex-racers spoil me each day with equally safe rides in their bitless bridles. Since their arrival in February of 2009 my goal has been to ride without a bit, every single day, in all weather, without an indoor, without lunging and without a round pen - and without dying!
Together my boys and I hack out through woods and fields, streets and neighborhoods. We encounter all the usual "scary monsters" that young Thoroughbreds find unnerving. Ground hogs rustle in the underbrush, birds fly out from nowhere, and like today, trash trucks bang and snort on nearby roads. Pie was only three years old when he came, Sovereign was four, but in these bridles the horses have always been amazingly sensible. I believe they are able to trust and understand my requests without breaking concentration and focus.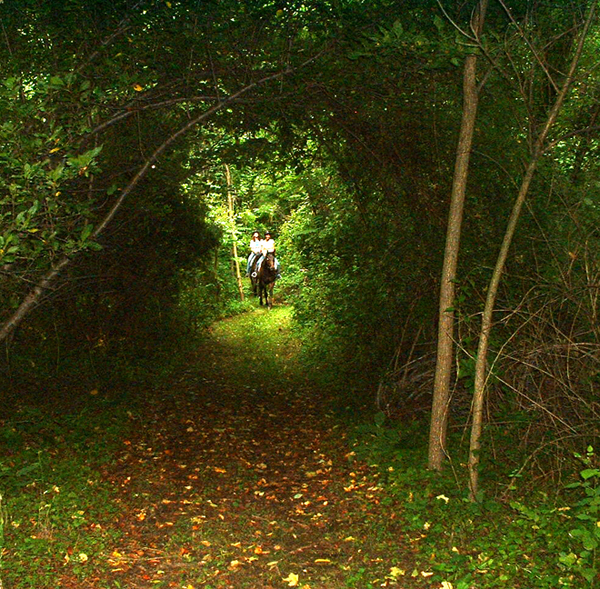 My husband, Brian, and I make our way on OTTBs, Pie and Sovereign, in the "Secret Garden" of our woods. The bitless bridle allows Brian, a beginner rider, to have a safe ride and additionally protects Sovereign's mouth from Brian's inexperienced hands.
Photo by Maizie Ober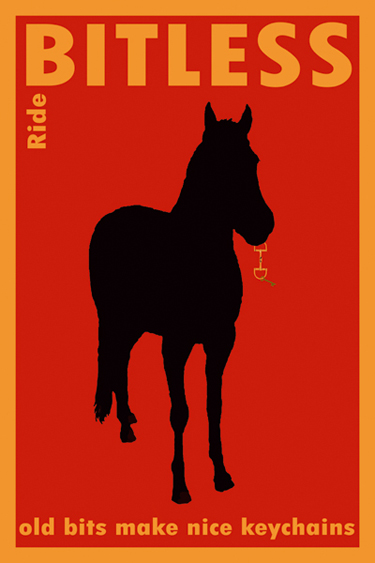 Ride Bitless poster designed by Juliette Ober.
I never thought riding young off-track-Thoroughbreds could be this effortless. My daily horse joy is unbelievable and surely part of that success comes directly from the bitless bridle. My riding style is able to be one of balance and gentle requests and the horses respond in kind by giving me relaxed, calm rides every single day.

About the Author: Juliette Ober retrains off-track-Thoroughbreds (OTTB) to be safe riding horses on her Pennsylvania farm. She rides her three rescued Thoroughbred geldings daily in a bitless bridle and usually bareback. When not at the barn, Juliette enjoys long distance running with husband, Brian, and daughter, Maizie. Her Thoroughbred retraining blog www.honeysucklefaire.com chronicles her bitless adventures. More stories about Juliette's style of riding can be read at www.foundinthefog.com.