Hawaii's Big Island- Waimea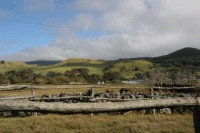 Today, we shot some footage around Waimea on the Big Island. This is the farm/ranch area of the Big Island. It's on the Northwestern part of the island and has a great history with giant ranches like Parker Ranch sprawling out over flat and rolling grasslands. We'll be back to Waimea to film later in the week and to ride at Parker Ranch.

We poked around to Holualoa, a funky, artsy town in Kona Coffee country. I enjoyed a Kona Coffee at a local café and explored a ukulele shop. Kona is the only area of the United States where coffee is grown. It takes just the right conditions, which the small area of Kona has, for the coffee to grow. We also did some environmentally friendly graffiti, using white coral on the lava fields. People have been leaving their mark here for decades. You'll have to watch the Big Island episode to see what we spelled.
Darley Newman is the host of the Emmy Award-winning Public Television series Equitrekking®, which takes viewers on horseback riding vacations around the world. Equitrekking is broadcast on PBS stations and on international networks in over 30 countries.

Watch the Equitrekking video promos and purchase Equitrekking DVDs in our Store. Learn about equestrian vacations and book an equestrian vacation at EquitrekkingTravel.com