Hawaii's Big Island- Outrigger Canoeing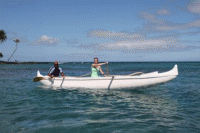 I was out on the open seas today, using a paddle to navigate our long, white outrigger canoe with Umi, a beach boy at the Fairmont Orchid who loves outrigger canoeing. The Fairmont Orchid is a beautiful resort on the Kohala Coast. The waters are clear here. The ocean breeze blows, and it is a paradise with very good banana mango smoothies. It is also not too far from Waipio or Waimea, so a good place to use as a jumping off point to visit both, if you manage to leave the resort.

I've been snorkeling in these waters over the past few days. There is a sanctuary here for sea turtles, who you can easily spot while snorkeling and canoeing. Umi showed me the proper technique for rowing, as well as how to push off and jump in the canoe. We were off.

An outrigger canoe is different from a regular canoe, as it has an outrigger, which allows it to be more stable in the water. Long ago, the Polynesians traveled in these canoes and today in Hawaii, outrigger canoe races are popular.

Umi told me that he could stay out at sea canoeing all day, but I, on the other hand, would need to rest my arms a bit. We saw several sea turtles, one of whom swam under our canoe. I enjoyed seeing the sea life and learning about Umi's culture through the canoe.
Darley Newman is the host of the Emmy Award-winning Public Television series Equitrekking®, which takes viewers on horseback riding vacations around the world. Equitrekking is broadcast on PBS stations and on international networks in over 30 countries.

Watch the Equitrekking video promos and purchase Equitrekking DVDs in our Store. Learn about equestrian vacations and book an equestrian vacation at EquitrekkingTravel.com