Best Places to Trail Ride on Oahu Island in Hawaii
Have you ever dreamed of horseback riding through a tropical paradise? Equitrekking contributor Stacey Chepren gives her recommendations on the best places to trail ride in the beautiful Aloha State.
I was fortunate enough to not only live in Hawaii for close to four years but also to bring my "Horse of a Lifetime" to Hawaii with me. The island of Oahu has many trails to enjoy, as well as the obvious beach riding, which is mandatory in Hawaii. Below, I've listed some of my favorite places for an equestrian adventure in the Paradise of the Pacific.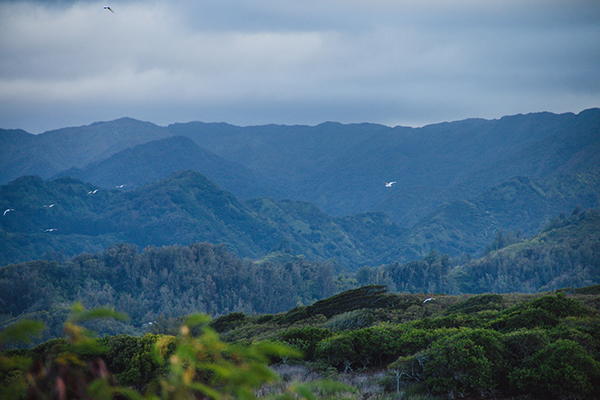 Scenic view of Oahu, Hawaii at Gunstock Ranch. Photo courtesy Gunstock Ranch.
Some of the best trail riding on Oahu is at Gunstock Ranch, in Laie. The ranch has access to miles of beautiful trails in the mountains, as well as beach riding directly across the street. On these trails, you will find guava trees, avocado trees, waterfalls, and ancient Hawaiian ruins. The views from some of the ridges on the trails allow for a panoramic view of the beach across from the ranch. If you didn't bring your horse to Hawaii, Gunstock Ranch does offer trail rides on their horses.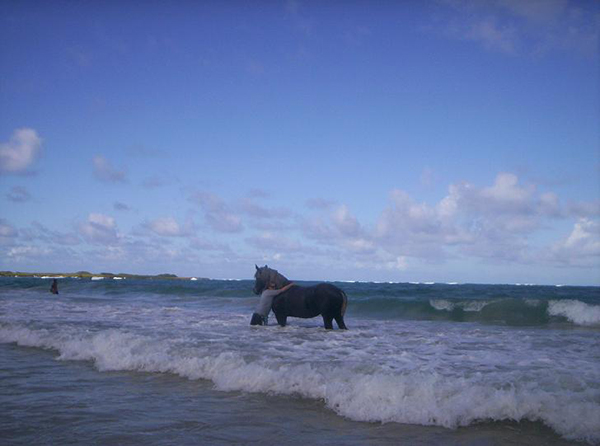 The author hugs her horse in the ocean at Laie Beach in Oahu, Hawaii. Photo by Stacey Chepren.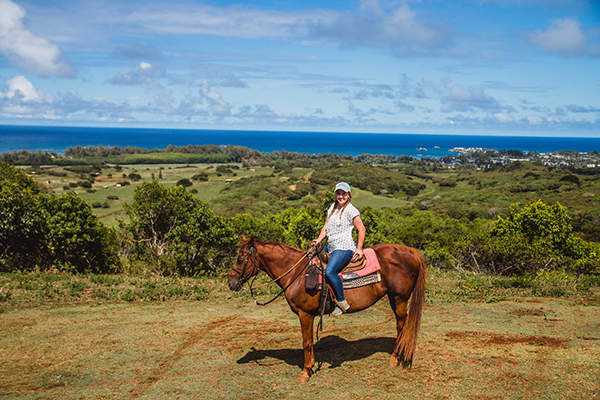 The view from the trail ride at Gunstock Ranch. Photo courtesy Gunstock Ranch.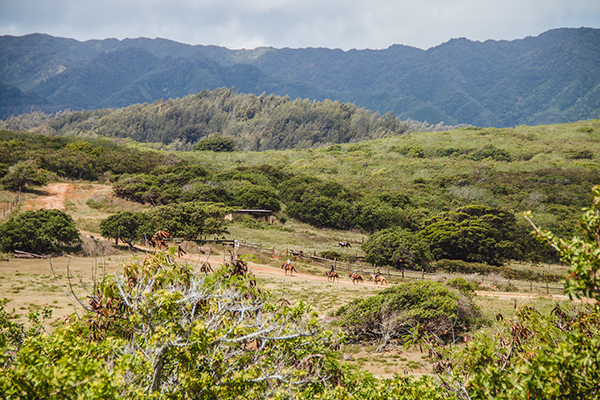 Riders can enjoy some unbelievable island views throughout the ranch. Photo courtesy Gunstock Ranch.
Another beautiful place to board and ride is Dillingham Ranch on the North Shore of Oahu. While Dillingham Ranch does not have many trails, they are home to Sea Horse Training, which is a great place to take a lesson or two and get some riding in while on the island. Dillingham has a large sand arena with jumps, several large pastures, fields to ride, as well as a full-size dressage arena.
The Hawaii Polo Club is across the street from Dillingham Ranch. Their polo field is on the beach and the games are not to be missed! Polo at Hawaii Polo includes live music, food, drinks, and even skydivers that land on the field during the mid-game break. In addition to a regular polo schedule, they offer polo lessons and beach trail rides.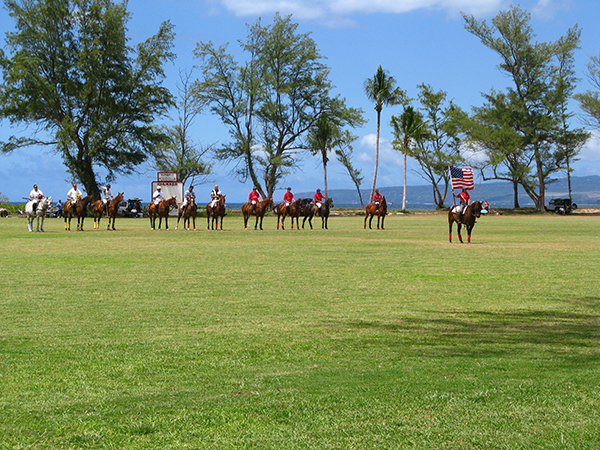 Take a break from trail riding and catch a polo match at the Hawaii Polo Club. Photo by Stacey Chepren.
Koa Ridge Ranch is a facility that offers some of the most scenic pastures on the island. It is located on the slopes of the Ko'olau Mountains. In addition to open pasture and dirt roads to ride, the property backs up to trails that go along the ridges of the Ko'olau Mountains. These ridge trails are rugged and look down into the picturesque canyons.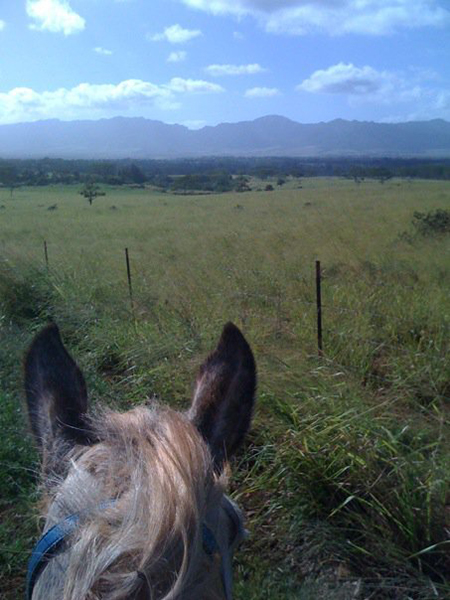 Stunning mountain views on horseback at Koa Ridge Ranch. Photo by Stacey Chepren.
Emerald green canyons as far as the eye can see at Koa Ridge Ranch. Photo by Stacey Chepren.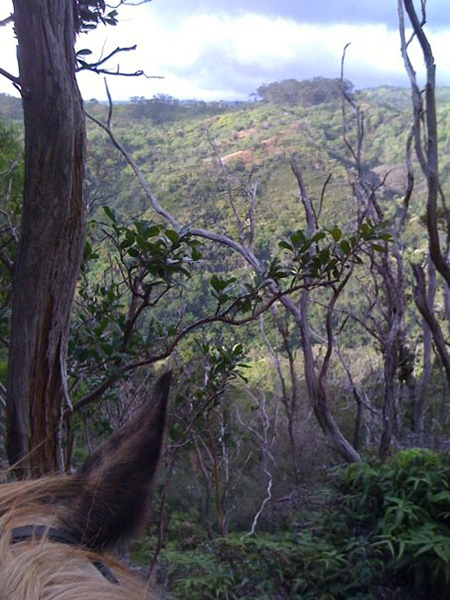 The view of the canyons from horseback at Koa Ridge Ranch. Photo by Stacey Chepren.
Kualoa Ranch is another beautiful ranch on the edge of Kaneohe Bay that offers guided trail rides with their horses. These trail rides take you through miles of beautiful, preserved Hawaiian paradise, as well as sites you may recognize from various movies that have been filmed on the ranch.

About the Author: Stacey Chepren is the owner of The Jumping Percheron and writer of The Jumping Percheron blog. She has been fortunate to travel the country with her horses for over ten years and experience riding in many unique areas. Follow her adventures at www.jumpingpercheron.blogspot.com. Facebook: The Jumping Percheron Instagram: @jumpingpercheron