Best Dude Ranches for Teenagers
Top dude ranches to satisfy even your most cynical teen with special programs including horse riding, ropes courses, archery and more for your family ranch vacation.
Would your teenager find spending a week in nature, riding horses and playing games at a dude ranch "cheesy?" Many dude ranches have special programs aimed at inspiring teens and keeping them interested while on a family ranch vacation. Offering traditional ranch activities like hiking and horseback riding mixed with modern adventure experiences, including whitewater rafting, ropes courses and overnight wilderness camping, ranches are taking on the challenge of satisfying even the most cynical of teens.
The below dude ranches offer special programs just for teens, making them a great choice for families.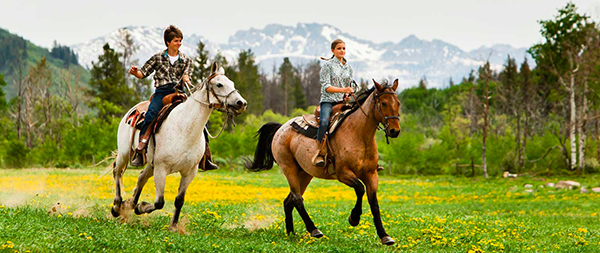 Teens riding horses at The Home Ranch in Colorado.
Colorado Trails Ranch in Durango, Colorado
With a myriad of things to do for all ages, Colorado Trails Ranch's teen program offers enticing adventures specifically for teen guests. Power tubing, archery, riflery, fishing and cattle drives give teens the chance to try something new with fellow teen guests. Special excursions include day trips to Mesa Verde and water sports on Vallecito Lake. Depending on the schedule, families meet in the evenings for outdoor cookouts and spend some days riding together, perhaps on the breakfast trail ride or an all day trail ride with lunch on the trails.
The Home Ranch in Clark, Colorado
Featured in the first edition of "1,000 Places to See Before You Die," this upscale Colorado ranch offers all-inclusive vacations for families. Teens can look forward to a special adventure vacation, with innovative dude ranch activities including kayaking, rock climbing, whitewater rafting, barrel racing, boat building, and pool parties. Over 100 ranch horses take teens and adults to explore the over a million surrounding acres of national forest and wilderness. Counselors supervise kids and teens daily from 8:30am to 9pm and overnight camp-outs, giving parents and teens the flexibility to enjoy time together and apart. With Colorado inspired gourmet cuisine, this ranch is a good pick for food-loving families.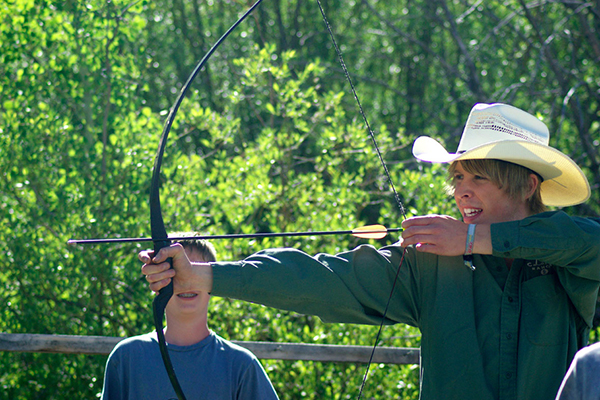 Teens can catch at bit of the "Hunger Games" craze learning archery at C Lazy U Ranch in Colorado.
Rainbow Trout Ranch in Antonito, Colorado
Teens leads teens at Rainbow Trout Ranch, where a flexible program includes activities at the ranch, like horseback riding, Frisbee Golf and hiking, and off-site adventures, including visiting the Colorado Gator Farm and National Sand Dunes Monument. The ranch, located two hours north of Santa Fe and three hours from Durango in Southern Colorado, is focused on families during the summer and mostly adult travelers in the fall. The owners, who have three children themselves, let their own children act as activity testers, helping to make sure kids and teens remain engaged and have fun at the ranch. Rainbow Trout Ranch prides itself on the transformative experience the ranch can have on teens, showing them new ways to have fun with horses in nature.
C Lazy U Ranch in Granby, Colorado
The longtime teen ranch program at C Lazy U mixes confidence building activities like horseback riding lessons, volleyball, ropes courses and whitewater rafting with fun campouts, hikes and other off-site excursions. Counselors supervise kids and teens, allowing adults to relax and enjoy their time at the ranch. C Lazy U works to balance time apart with time together, ensuring a fun family ranch vacation. This luxury ranch, open year-round, also welcomes teens for winter fun with activities including horseback riding, cross country skiing, hockey on a Zamboni-groomed pond, private on-property snowcat skiing, ice skating, tubing and the C Lazy U Luge.
Being disconnected from technology and connecting with siblings, dad, mom and even grandma and with nature is why many families with teens choose a dude ranch vacation. While many ranches do have wi-fi, many do not have mobile service, meaning teens can't text, something that many teens find horrifying and parents find exciting upon first arriving to the ranch. Be prepared and choose carefully to make sure your teen enjoys what can be a life-changing vacation.

Learn more about great dude ranches, guest ranches and horseback riding vacations in the Equitrekking Vacation Guide and Top20Ranches.com.