Belize Rainforest Riding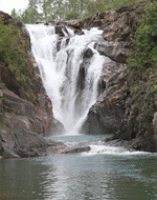 I suggest that you wear all terrain boots if you venture to ride in Belize or any rainforest area. They can be good for a lot of riding travel adventures where you may have to do some hiking, like down the slippery rocks that lead to Big Rock Falls in Belize. I was riding in the Mountain Pine Ridge Forest Reserve with Blancaneaux Lodge, an eco-friendly resort owned by famed director Francis Ford Coppola. My docile horse was bred at Blancaneaux's stables, a tidy area surrounded by vibrant tropical flowers. Beside the stables, an intricate organic garden houses purple cabbage, plump tomatoes, fresh basil and other fresh ingredients you may find in your meal at Blancaneaux.

Nearby, we visited Maya ruins and caves that the Maya believed led to the underworld- Xibalba. A pine beetle had decimated the pine forest that we ventured through on horseback, my guide explained, as I navigated by a tree stump. I hadn't expected to see a pine forest in Belize, a small Central American country south of Mexico. Even more surprising was the waterfall, a hidden gem in the woods. I was hot and sweaty when we arrived, but that still didn't prepare me for the cold waters.

I took the plunge, striping off my clothes and jumping into the cool pool of water. I followed my guide, swimming over to the waterfall. I did not, however, follow him up the rocks to a natural diving board, where he leaped off from up high, causing my heart to skip several beats. Rather, I splashed under the waterfall, cool for now, in the forests of Belize.
Learn more about horseback riding vacations and equestrian travel for you and your non-riding companion and book a trip at EquitrekkingTravel.com.