Beach Riding in Connemara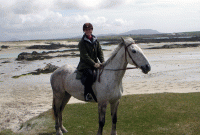 The beach riding day on the Connemara Trail is not always this fast, Willie said as we galloped full speed ahead on the beautiful beaches in Connmeara, Ireland's Wild West. I was riding with a lively group from Switzerland who'd been riding with legendary horseman Willie Leahy every year for more than ten years. It was a really experienced group of riders, who were also a little wild!

Beach day is when travelers with Willie get to let loose after riding for two days in the mountains, picking their way slowly through the rugged terrain. My group wasn't holding back, as we lined up at the end of one beach and then sprinted the length, careful to stop before hitting the rock wall at the other end. The beaches in this part of Connemara are arranged in coves. We would canter and gallop along one beach and then progress over bright green grassy dunes dodging sheep, or dip briefly into the ocean to get to the next area for faster riding. The clear water is spectacular to ride through, especially on a sturdy Connemara Pony.

If you're galloping on the beach, you'll probably have a wide grin on your face. If you're riding in a group like my Swiss crew and want to smile, keep the lead. At one point, a little girl passed me on her pony and kicked up a mound of wet sand, which swiftly flew into my mouth. We all got sanded at one point or another as we galloped up and down the beaches. It made our lunchtime picnic of sandwiches and hot tea taste even better, but what doesn't taste good when you're riding horses on the beach in Ireland!
Book an equestrian vacation in Ireland with EquitrekkingTravel.com, which features exceptional horseback riding vacations.