Baiting Hollow Farm Vineyard, a unique Long Island horse rescue
Looking past the modern formula of horse rescue, one woman's realization brings a new aroma to Long Island Wine Country.
by Angela Calabro
From arroyos to vineyards, every ranch, sanctuary, and farm that I visit is filled with gorgeous landscapes that hold the beauty of the natural world and have pushed people to travel to continue to discover new destinations for thousands of years. The rolling hills, mountains, pine forests, and rivers that make up the physical location give each visitor the shock and awe factor that these places command, but it's the people who built them and the stories of how they came to be the shepherds of these realized dreams that is the real story.
Being back in my hometown on Long Island, New York I wasn't sure if I would be able to find the next wild mustang sanctuary within driving distance, but what I discovered was that sometimes what you need to find and what you think you need to find may be two different things.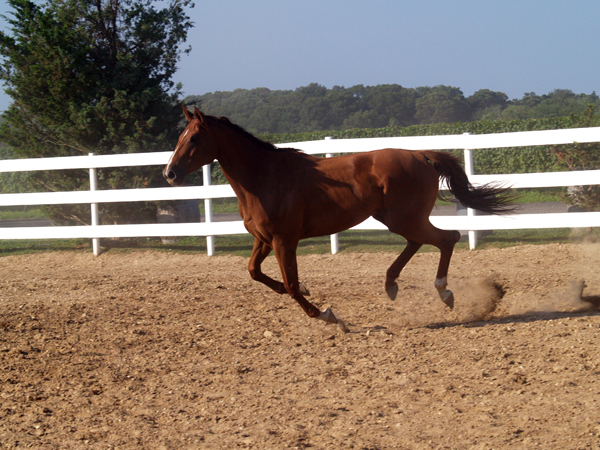 One of Baiting Hollow's rescued horses. Photo credit Baiting Hollow Farm Vineyard.
A while back I had heard about a vineyard in the heart of Long Island wine country–– yes there actually is a thriving wine industry here–– that was rescuing horses. My interest was immediately peaked. I haven't spent much time at any of the numerous vineyards on Long Island, but I know that having two hugely popular racetracks as well as being close enough to Standardbred country upstate would bring in plenty of horses headed to slaughter. Although I've mostly been educated on the plight of the mustang–– being rounded up inhumanely by helicopter and left to sit in government holding facilities for endless amounts of time–– I am no stranger to the abandonment of domestic horses either.
Baiting Hollow Farm Vineyard on Long Island works to save the horses that are the least likely to be rescued by anyone, be it a rescue or an adoptive buyer. Tango, an 11 year old Paso Fino stallion without much training, was one of these horses. Why would one want to take Tango over a young semi-trained gelding? When I first heard about this unique Long Island horse rescue, I was in complete awe of the woman who started in all, Sharon Rubin Levine. As she recounted her story to me about how she came to run this facility, I wanted to learn more.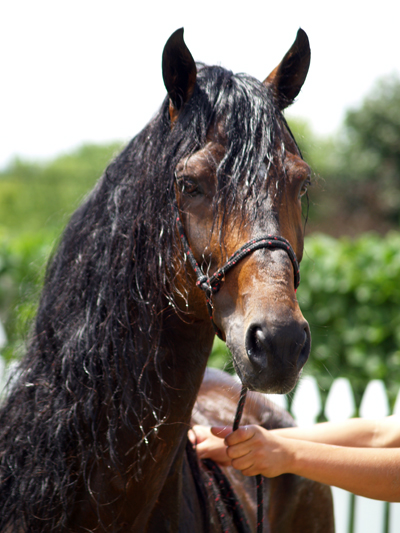 Tango, a rescue at Baiting Hollow Farm Vineyard. Photo credit Baiting Hollow Farm Vineyard.
After meeting Sharon and her two bearded collies, Tori and Kodi, I was introduced to the 28 residents of the farm. Sharon not only rescues the least likely of the lot, but also then supports the horses through her flourishing business–– the vineyard and tasting room that have become so popular over time.
The vineyard started when her father, Sam Rubin, decided he wanted to buy a piece of land in Calverton, New York to have a small organic farm for him and his family who were living in Brooklyn. Over the years, he had heard that grapes were growing well in the area and making lovely wines, so he decided to try them out. After giving out bottles to family and friends and receiving excellent feedback, they started to have more wine than they knew what to do with so they took the next leap into selling it and the vineyard and tasting room blossomed from there. The success of the wine spread and Baiting Hollow Farm Vineyard became hugely popular not only for its wine but its rare commitment to the rescue of horses.

Sam's daughter Sharon became inspired to begin rescuing horses one night when she saw a young foal in a kill pen waiting to go up for auction at the New Holland Feedlot in Pennsylvania. The thought of the foal being killed disturbed Sharon so much that she purchased the foal and two others. She later found out it was not uncommon for foals to be there, and it was also not uncommon for foals to be born there or for pregnant mares to be there as well. Shortly thereafter during the fall of 2007, she began steadily accumulating horses and her rescue took off.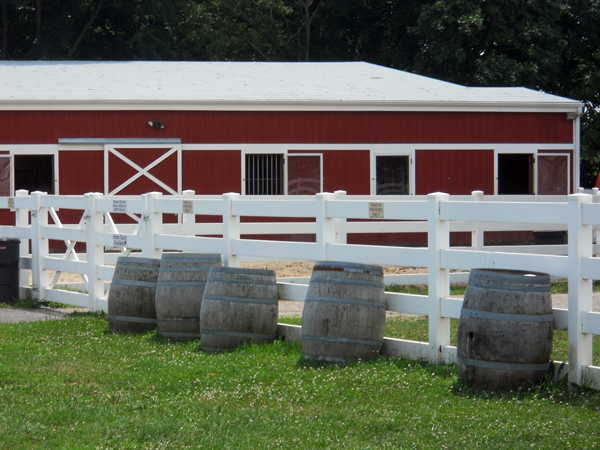 The stables. Photo credit Angela Calabro.
Sharon is an animal enthusiast with a big heart. She could not turn her back on these horses that were so desperately in need of someone to care. She may not have had much of a background with horses, but what she lacked in experience she made up for in dedication and a complete willingness to learn continuously every day.
Sharon wasn't able to save these horses alone, but with the help of her husband, family and several equally enthusiastic employees, she was able to create an environment where each horse has its own outdoor run and their own stall for the bitter winter nights. Making things like this happen are extremely difficult and doing it alone can seem impossible. I've come across incredibly strong and determined women who've made it their life's goal to contribute to the world by making safe havens for all types of horses and animals in need. Sharon is no exception. She was blessed with the additional advantage of having already raised her family, meaning she could now completely focus her attention on the farm and horses in her care. Knowledge and experience are of course beneficial when embarking on a business venture, but to succeed, drive, passion and commitment are what will help move you through even the toughest times.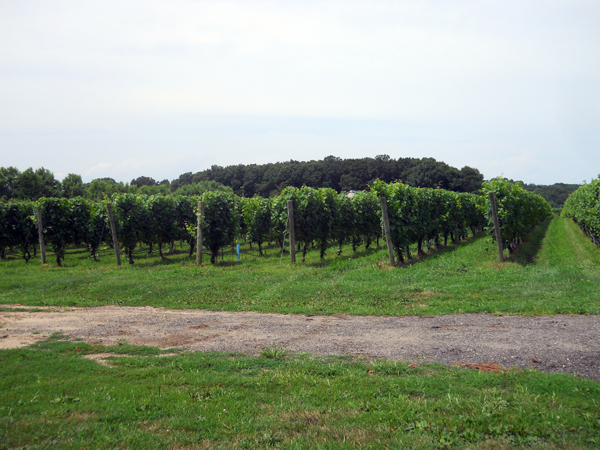 The vineyards. Photo credit Angela Calabro.
Sharon has never lost sight of putting the horses' wellbeing first before everything else. She keeps her numbers manageable by only taking in as many horses as she has stalls and will re-home a horse only after doing a site check of where it is going and where it will go when it is "retired" from its new home. The majority of the horses are adopted and brought to Baiting Hollow Farm Vineyard without Sharon having met them. If the horse is not a retired Thoroughbred, there is no way for anyone to find out reliable information on the rescue. Because of this, when each horse first arrives they all go through the same process.
When asked what she would like to tell horse rescue enthusiasts from age 9 to 99 Sharon said, "…people who feel deeply about the horse slaughter issue and do not contact their legislators and do not spread the word are contributing to the problem. As Edmund Burke stated, 'the only thing necessary for the triumph of evil is for good men to do nothing". It is for that reason that we got into horse rescue. You don't need money or a barn to help horses. You just need to stand up and let your voice be heard.' "
This holds true with everything in life and especially now with horse slaughter coming to be debated again.
Upon arriving at Baiting Hollow Farm Vineyard, each horse is put into quarantine and then is given a few months to adjust to its new home. Sharon and her full time trainer firmly believe that all the horses need to be started at the same level, since assuming things about a horse's training can be dangerous to everyone involved. Each individual horse receives the same veterinarian, dental and hoof care, whether she knows that horse will be at the ranch only a few months or a few years. Once the horses are ready and the trainer and Sharon are comfortable with their level, they begin to pull their own weight.
The vineyard has free live music, food, and wine, and even wine-a-ritas on the weekend that brings in dozens of guests and their children. The horses are not available for rides to the public, but the ponies get geared up for pony rides and even the miniature horses join in and pull tiny carriages and give rides to the littlest of children. The revenue from these types of rides does not bring in nearly enough to offset the feed and care of the ponies and miniature horses but everything helps and educating parents and exposing children to rescued horses at a young age is crucial to the continued success of all rescues.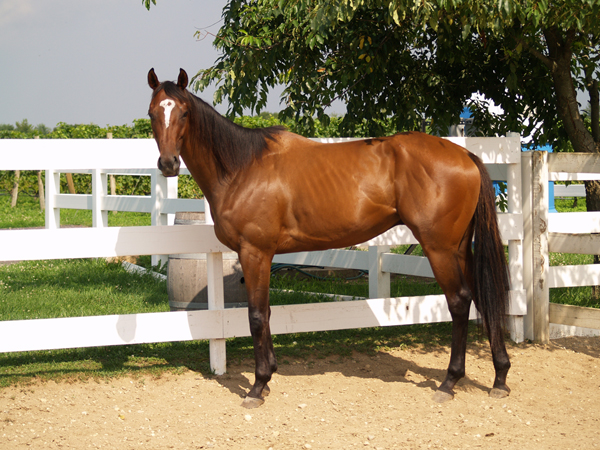 \
Justice the horse. Photo credit Baiting Hollow Farm Vineyard.
No horse rescue is an island. Baiting Hollow Farm Vineyard is lucky to have beautiful grounds and access to food and beverages to fundraise for themselves, but again that is where the story of Sharon and her genuine love for the well-being of the animals in her care pushes her beyond the expectations of the more standard rescues. Of course she uses the vineyard to host fundraisers for her rescue, but she regularly invites other equine rescues in the area to use her facility to host their own fundraisers as well, and she does not charge them to use the farm. Her boundless commitment to generating as much education and revenue for all the horses in need of rescue is astounding and inspiring.
The money produced from the tasting room and wine weekends aids in paying for the horses, but even more than that, they have bottled four types of wines, named for the horses they are helping represent, and 100% of the proceeds go to the rescue of the horses at Baiting Hollow.
The Savannah Rose is a fruity, semisweet rose made from a Cabernet Sauvignon grape. The Sweet Isis is a late harvest Gewürztraminer. The Angel is a buttery dry oak chardonnay, and lastly the Mirage is a dry red blend of Merlot, Cabernet Franc and Cabernet Sauvignon grapes. Their Riesling and Cabernet Franc 2010 seem to be the most popular among the public and over the years they have built a local clientele that help spread the news about what they are doing by word of mouth.
Vineyard guests are able to get relatively close to the horses during their visit to Baiting Hollow Farm Vineyard and tours on the weekends of the farm are available three times a day to educate and bring awareness to the public. The horses come from varied backgrounds with miniatures, blue-eyed ponies, Thoroughbreds, Egyptian Arabians, Paso Finos, Clydesdales and Standarbreds all on the 18 acres that make up the farm.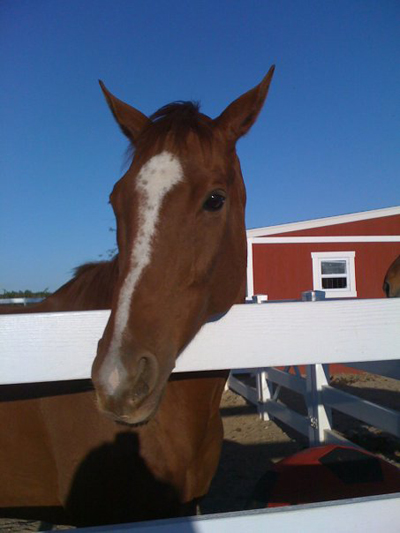 Laredo, a retired Thoroughbred racehorse. Photo credit Baiting Hollow Farm Vineyard.
Justice, a Thoroughbred who was retired from his racing career at 4 years old was owned by a conglomerate of businessmen and women. When one of these owners visited the tasting room and then received a tour, what they saw there and learned about the proper way to respect and treat horses made such an impact that when it was time for Justice to end his career as a racehorse, Sharon was called and asked to take him. The farm was almost at capacity, but Sharon took in Justice and the horse has been a bright example of how even just one person being educated about horses and their value can make all the difference in the life of animal.
Oftentimes, racehorses are owned by conglomerates that have very little knowledge of the horses they own and so when it comes time for the horse to be retired, they simply do what the trainers or managers advise. It is this cycle of ignorance that is so important to break in order to assist as many ex-racehorses as possible.
Another Thoroughbred at Baiting Hollow Farm Vineyard that would have met a horrible fate is Playboy, a 16hh chestnut off-track Thoroughbred that ran one race and had two refusals at the gate. He was immediately put on a truck to go to auction, but the driver decided to stop by Baiting Hollow and ask if they had room for this big gorgeous guy.

At many of the barns where I have volunteered and worked on the East Coast I have heard the same story; my child has outgrown this horse or pony and needs a new one that will continue to enhance my child's riding ability. Now before I go on, I have to say, let's be real people. The probability of your child going on to show at the Olympics, Grand Prix or Rolex is likely small, so why dispose of the horse or pony that helped your child become a rider? These horses that are so often "retired" were at one point your child's companion for many years and, as such, should not be disregarded to be sent to auction and picked up by kill buyers and shipped to slaughter houses hundreds of miles away.

Our racehorses that are run until the ripe old age of about four years are also "retired", making a huge portion of the auction houses filled with Thoroughbreds that many times have had successful racing careers and usually historic pedigrees. Thoroughbreds are lucky though, they have a tattoo written on their inside upper lip so that they can be identified and connected to their racing past. Thoroughbred retraining and re-homing is no easy process as they have been trained to have two gaits, walk and full out gallop, so it's no wonder that they are not often the first choice of many rescue organizations.

There are so many others in the pens as well–– ponies, miniature horses, stallions of all breeds, Standardbreds from the Amish in upstate NY and other more rural areas, as well as the harness racing that is also very popular–– and all of them are in need of our help for a proper retirement or re-training to go on to second careers.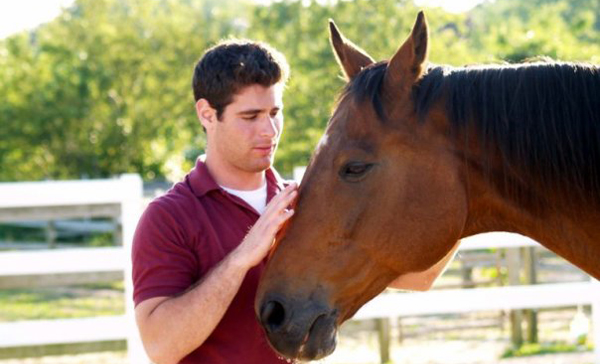 Josh and Sir Galahad, a retired Thoroughbred racehorse and decendant of the legendary "Man of War". Photo credit Baiting Hollow Farm Vineyard.
This is where the human component can make all the difference. It was us who put them in their situations, and it is only us who can take them out.
The horses at Baiting Hollow Farm Vineyard showcase the heart of the caretakers–– the father and daughter team and the rest of the family–– who made it all possible. The places and locations we visit in life are so much more than they initially appear. To get to the core of these places, it is essential to learn as much as we can about whose dream it was to create them and why they started it all. Traveling and seeing new destinations is one of the greatest gifts we have and to be able to meet people from different walks of life who've accomplished their own goals gives us more strength and confidence to complete our own.
How you can go: Learn more about visiting Baiting Hollow Farm Vineyard, located in at 2114 Sound Avenue in Baiting Hollow, NY on Long Island about an hour and half drive from Midtown Manhattan (depending on traffic). When visiting wine country along the North Fork of Long Island, Baiting Hollow Farm Vineyard is the first vineyard you will see on Sound Avenue.