Arizona Border Ride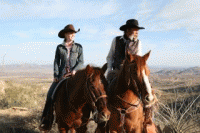 Horses are still the best way to get around a lot of areas of our globe. As I pulled a thorn from my jeans with a resounding ouch and navigated by the prickly bear and saguaro cacti in the high Sonoran Desert, I was glad that I was on horseback. I was also wishing that I had worn my Western chaps.
I was staying at Rancho de la Osa, a three hundred year old ranch near the U.S. Mexico border. The ranch has an interesting history. In the thick adobe walls, there's a cannonball, supposedly left over from a clash with Pancho Villa, a Mexican revolutionary. In the 1600's the area was a mission outpost for Spanish Jesuit Priests. Later, famous guests like Franklin and Eleanor Roosevelt, John Wayne, Joan Crawford and President Lyndon Johnson would visit the ranch.
Near the colorful ranch buildings, I rode with Ron, the head wrangler and a true cowboy. On Ron's sturdy mount Chewy, I navigated the sandy washes and rocky trails around the ranch, which is up against a national wildlife refuge and Native American Reservation., Ron and I actually rode along the giant fence set up on the U.S. border. It's not the most beautiful setting.
There's a lot of trash and clothing littering the desert floor, remnants from people crossing the border, mostly at night. It's not a place that I would want to cross on foot at all, because of the treacherous terrain. It's not until you climb higher, where the fence ends, that the area takes on a different, less hostile feeling. On a high plateau, the panoramic views are spectacular. Ron and I took in the rolling hills of Mexico near sunset and vowed to make it back to the ranch before the sun went down.
Learn more about Equitrekking's episodes on PBS.