Arizona Dude Ranch Vacations- 8 Great Reasons for Winter Fun
Think that dude ranches are only for summer? Think again. Many Arizona dude ranches are open for winter fun in the sun.
While we've visited many Arizona dude ranches ourselves, we also look to the Arizona Dude Ranch Association for advice on great picks for sunny winter ranch vacations. Here are eight stand-out reasons to visit Arizona dude ranches this fall and winter and some of the adventures and special weeks you can enjoy.
1. Fun in the Sun- Beat the winter blues by horseback riding, biking, hiking or lounging by the pool in the Arizona sun.
Team Penning at the Flying E Dude Ranch, located 4 miles west of Wickenburg, near the famous Vulture Peak rock formation and home of historic Vulture Gold Mine.
2. Southwestern Cuisine- Many Arizona dude ranches offer Southwestern food, making them a great choice for foodies.

Southwestern cuisine from Tanque Verde Ranch in Tuscon.
3. History Lessons- Arizona dude ranches have a rich history that you and the whole family can enjoy learning about and experiencing first-hand on horseback rides, hikes and other adventures.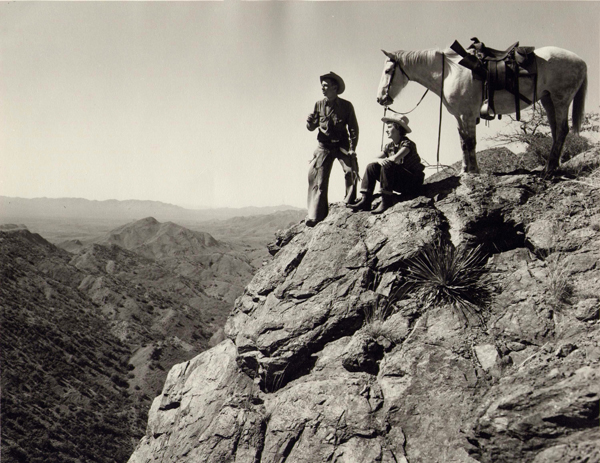 A historic photo from Elkhorn Ranch, which has been continuously owned and operated by the Miller family since 1945.
4. Nature for Zen- Trying for Zen in your office is certainly not the same as achieving it out in nature. That's a truly different, lung filling and eye opening adventure.
Elkhorn Ranch in the Baboquivari Mountains southwest of Tucson is a great place to get into nature and go bird watching.
5. Girlfriend Getaways- Many Arizona dude ranches offer special gal bonding weekends and weeks—girlfriend getaways.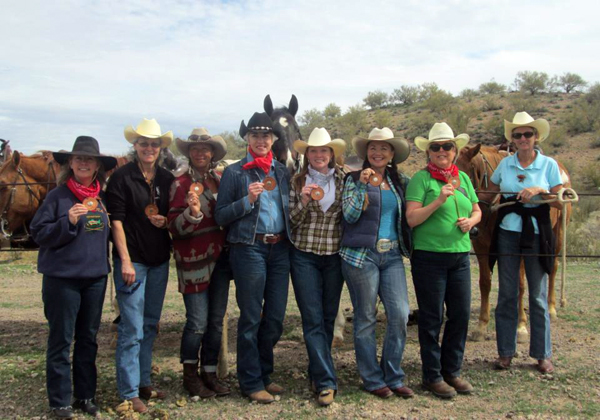 Fun times and rewards during Flying E's Annual "Cowgirl True" Weekend, a girlfriend getaway.
6. Mind, Body and Soul- Some ranches even include spas with massages and other relaxing pampering.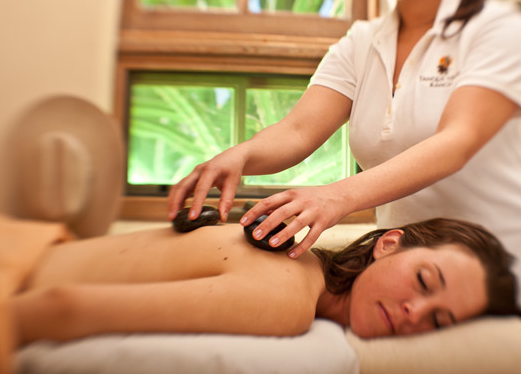 The spa at Tanque Verde Ranch in Tuscon offers hot stone massages.
7. Local Attractions- Shop downtown Tucson from Tanque Verde Ranch, visit Old Tucson Studios or try hot air ballooning from your base at White Stallion Ranch, or explore the 270 acres of an 1881 Western frontier town that is Apache Spirit Ranch.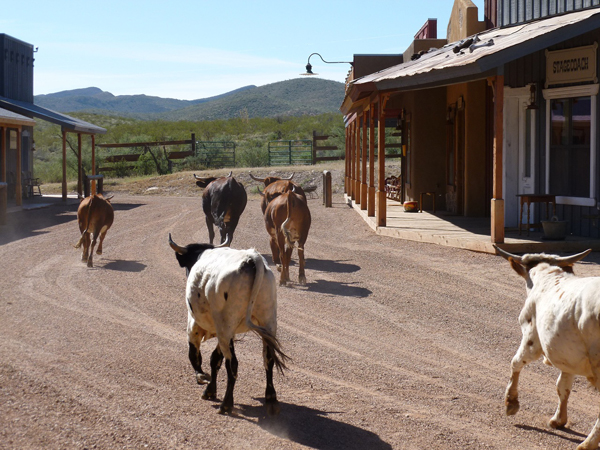 Cattle drive through Apache Spirit Ranch, a guest ranch designed like an Old Western town.
8. Unique Adventures- Learn new skills during Elkhorn Ranch's digital photography or field sketching weeks, learn to talk to animals with Anna Twinney during an in-depth Animal Communication Week at White Stallion Ranch, celebrate Christmas Western style at the Flying E, celebrate 17 years of ownership with Veronica and Richard at Rancho De La Osa and more. Check out more special weeks and unique adventures.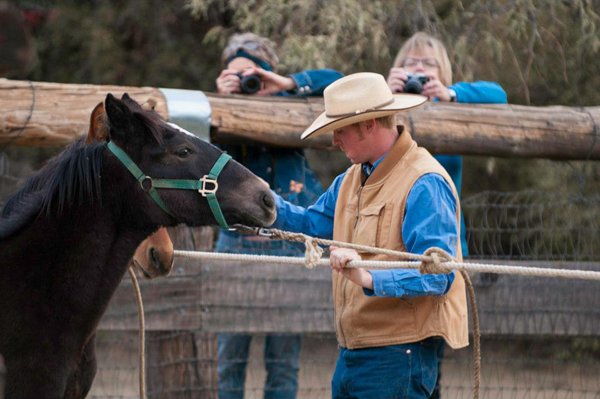 Each year the Elkhorn Ranch hosts a digital camera workshop taught by National Geographic Certified Photo Instructor Stewart Aitchison.

So if you're looking to beat the winter blues, look at these great ranches in Arizona and contact the Arizona Dude Ranchers Association.