Arizona- Tanque Verde Ranch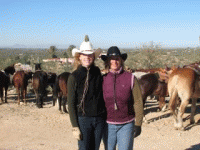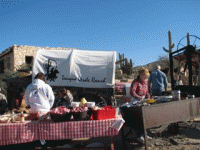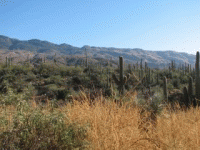 Before we traveled to Bellota Ranch, we spent some time exploring Tucson and stayed at Tanque Verde Ranch in Arizona. We shopped on historic 4th Avenue near the university. With shops like the Salt Crystal Palace, where you can buy salt crystals that have healing powers, and the Hippie Gypsy, it's eclectic and colorful. We ventured one block off 4th to hit a store called Borderlands Outlet Store, which has imported items from Mexico at pretty much the same prices.

If you are staying in Tucson for more than one day, you may want to rent a car. Things are pretty spread out. We traveled by taxi, which was helpful also, as our driver recommended a great lunch spot, Cafe Poca Casa. We wanted a good Southwestern meal. The food was amazing, creative and the restaurant's decor was pretty hip.

Tanque Verde Ranch is a large family oriented ranch with over 100 horses and plenty to do. It rests at the foothills of the Rincon Mountains. We took advantage of the night campfire and the morning breakfast ride.

The vegetation and terrain is different than up at Bellota, which is at a higher elevation. We rode past the giant saguaro cacti on our way to the chuckwagon breakfast of blueberry pancakes, eggs, sausage and hot cider. I rode a white quarter horse named Powder, who was a bit of a character, but sturdy on the rocky trails. There were a few steep inclines, but other than that the ride was a leisurely one, meant to give us a taste of the beautiful desert surroundings. Those desert mornings can be chilly!
Darley Newman is the host of the Emmy Award-winning Public Television series Equitrekking®, which takes viewers on horseback riding vacations around the world. Equitrekking is broadcast on PBS stations and on international networks in over 30 countries.

Watch the Equitrekking video promos and purchase Equitrekking DVDs in our Store. Learn about horse holidays and book an equestrian vacation at EquitrekkingTravel.com