An Argentine Polo Experience
For anyone who enjoys riding horses, swinging a mallet from the back of a polo pony can be an exhilarating experience. Doing so in the pampas of Argentina is even more exciting.
by Gwen Rizzo with photos by Ria Daly

Argentina is well-known for producing top polo talent of both the human and equine kind. Polo is treated as a national sport in Argentina and is widely followed among the locals. The Argentine polo season (October through December) is highlighted by the Triple Crown of Polo—the Tortugas, Hurlingham and Argentine Opens. The Argentine Open is the grand finale of the tournaments and is played on the Palermo fields, owned by the Argentine Army, in the center of Buenos Aires. The final match attracts upwards of 50,000 cheering fans.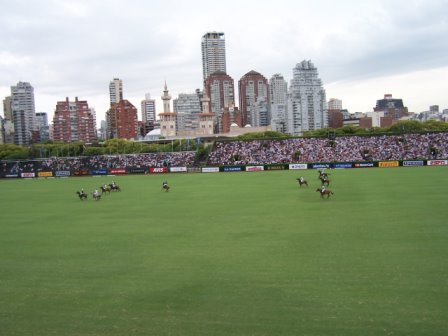 Argentina has become a favorite vacation spot for Americans and Europeans, offering lovely beaches and picturesque mountains and everything in between. The city is rich in history, culture and European-influenced architecture. Outside the city, there is the wine country of Mendoza, famous for its Malbec; the Iguazu falls (Some say these falls make Niagara Falls look like a water faucet); and Patagonia, in Southern Argentina, where visitors can observe whales, sea lions, sea wolves and penguins in their natural habitat.

Several polo players have opened up their estancias to guests looking for a true Argentine polo experience. To make it easier on out-of-towners, most estancias offer packages, which generally include four meals a day (breakfast, lunch, tea and dinner), accommodations, polo lessons and/or practice games. Ground transportation, tickets to polo matches, shopping and sightseeing can usually be arranged for you as well. Avoid renting a car and driving yourself around. It can be confusing, dangerous and more costly than hiring a car and driver. Most estancias will quote you prices in U.S. dollars.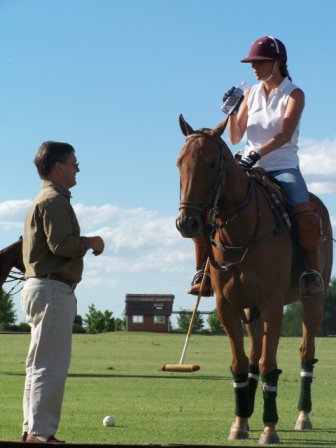 No polo experience is necessary at most estancias, as many will adjust their polo activities to the guests' playing level. Non-riders, preferring to enjoy the surrounding scenery or perhaps read by the pool, are also warmly welcomed. The key to an enjoyable time is to be honest about your riding experience and your expectations. No riding experience is necessary, but it certainly helps to pick up the game faster.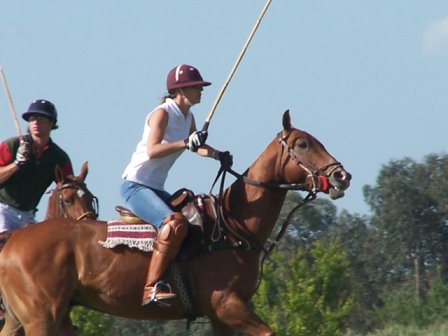 It is advisable to bring your own helmet and a comfortable pair of riding boots. Mallets, horses, tack and grooms will be at the ready when you arrive.

Most estancias will treat their guests to at least one typical argentine barbecue, called an asado. It includes farm-raised meats cooked outside over an open flame. It is generally served with fresh bread and salads. Don't be alarmed if you are offered a drink from a small bowl with a silver straw, being passed around. It is likely yerba matè, a warm, tea-like drink. It is very popular among Argentines and is offered as a friendly way to welcome someone. Some people add sugar, while others drink it without. You take two sips before passing to the next person, but wiping the straw is considered rude.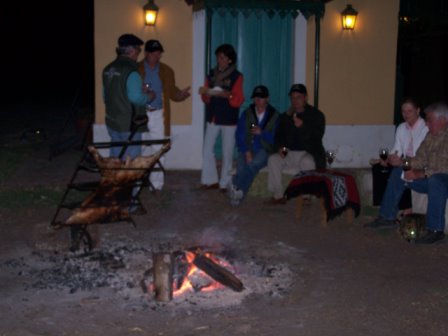 Polo estancias can be found throughout Argentina, but there are plenty of wonderful options within an hour's drive of the city and the airport. Two such options are Estancia el Rocio and La Escondida. Estancia el Rocio is located in San Miguel del Monte about an hour outside Buenos Aires. It is owned by Patrice and Macarena Gravière and managed by Luiz Gimènez Lalor. Juan Jose Alberdi and Miguel Bourdieu, both former international professional players, serve as advisors. The estancia includes several luxury suites, a pool and delicious regional cuisine. Polo programs from beginner to advanced are offered.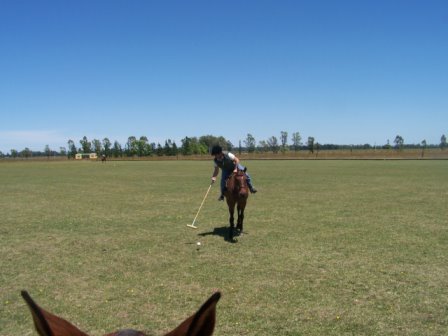 La Escondida is located in Pilar, about 45 minutes outside Buenos Aires. It is owned and operated by Paul Pieres, a member of one of the most famous polo-playing families in Argentina. Accommodations include private rooms and baths, a pool, and traditional Argentine meals. The polo program is designed for maximum enjoyment and improvement at your own pace. Lessons on both a wooden horse and a live horse are offered for beginners. Practices are arranged for more experienced riders.

About the Author

Gwen Rizzo is editor and publisher of POLO Players' Edition magazine, the official magazine of the United States Polo Association. Residing in Wellington, Florida, she is a rated player, and member of the Royal Palm Polo Sports Club in Boca Raton, Florida. She travels to Argentina each year to play and watch polo. Visit POLO Players' Edition to learn more.