An Evening with Arabian Nights in Orlando
Experience equestrian arts and thrilling entertainment at the Arabian Nights dinner show in Orlando, Florida.
by Karen Braschayko

Orlando has been called "the theme park capital of the world." Within in this Central Florida homeland of Disney characters and innumerable outlet malls resides a surprising unicorn jewel, an equine antidote to the concentration of high-tech entertainment options.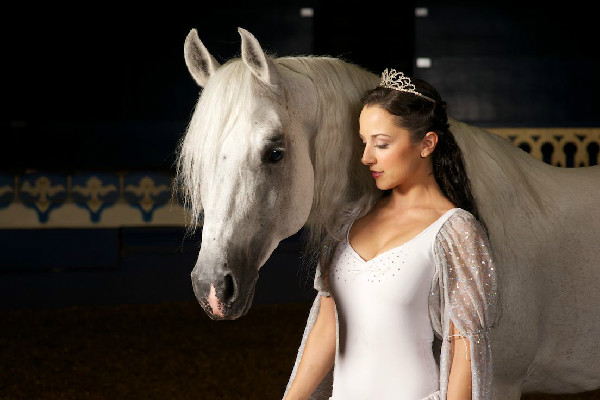 Arabian Nights tells a love story with the help of classical equestrian arts. Photo courtesy of Arabian Nights.
If you find yourself craving the earthier world of horses, just south of Orlando in Kissimmee, Florida, is the equestrian dinner show Arabian Nights. For over 25 years and 9,000 shows, Arabian Nights has been designed to amaze non-equestrians and lifelong horse aficionados alike. With beautiful equines, enthusiastic cast members, an engaging narrative, brilliant costumes and lively music, the dynamic entertainment relies on the partnership between horses and humans. The familiar simplicity of the large arena showcases these dedicated performers of both species who have spent years developing their skills. Both a compelling show and an equestrian arts showcase, Arabian Nights continues Orlando's themes of excitement and fairy tales but with the groundwork of something different – good horsemanship.
A Parade of Equestrian Arts

While visiting Kissimmee for business, I suspected that Arabian Nights would be the show for me, and I was not mistaken. By reputation I knew I'd find quality riding and a family-friendly performance, but I was carried away by the intense energy that did not wane for 90 minutes. I found myself taking photos just so I could remember each of the amazing acts I was seeing. A ticket to the show includes dinner, a choice from five entrees with dessert. A skilled waiter served us throughout the show, making this an ideal, no-fuss process after a busy workday. A gift shop filled with horsey décor and souvenirs is open before and after the program.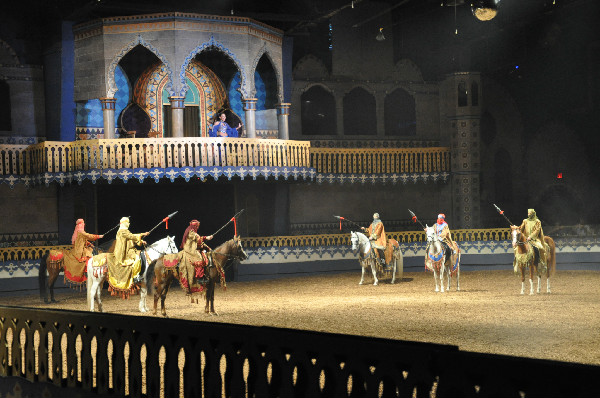 Elements of the fantastical meet the earthy world of horses in the new show at Arabian Nights.
Arabian Nights is currently performing their new show "The Royal Celebration." This is the story of uniting two Bedouin kingdoms through the marriage of Princess Amirah and Prince Raswan. As their wedding preparations are influenced by the magic spells of a sorcerer and a genie, the love story widens to include the horsemanship of many lands, real and fantastical. These nuptials becomes a celebration of several cultures as the narrative weaves together trick riding, Arabians in their desert finery, European quadrille, traditional Spanish Garrocha, the cowboy culture of the Americas, colorful dances from Mexico, Native American lore, chariot races, Gypsy acrobatics, and unicorns. Classical equestrian arts mix with modern lights and sounds to envelop the arena with passion.
The exuberance and skill of the cast – both human and equine – was apparent from the opening number. A galloping horse pulled a performer through the dirt while trick riders raced around the arena. Complex drill movements, high school dressage, square dances on horseback, Roman riding, back flips on a cantering draft, bullwhip stunts, reining maneuvers and a liberty-trained black stallion left no doubt that the relationship between horse and rider was a crucial priority for Arabian Nights. Most spectacularly, an acrobat jumped through a ring of fire and landed again on his large mount. An audience member was also invited to try trick riding, and she successfully stood atop a cantering horse. After the finale, untacked horses were set free in the ring and performers rode the rail so the audience could meet the horses for themselves.

Backstage Pass
Impressed as I was, I wanted to know how this production came together. I wanted to see where these beautiful horses lived and hear how the performers gained their skills.

On the backstage tour, I began to feel even more at home amongst the scents of hay, woodchips and leather. The stable area seemed immediately like any good equestrian center. The box stalls were labeled with the horses' names, vital information and feeding schedule, and a large whiteboard outlined the distribution of tasks. Busier than an average barn but with all of the same care and effort, the love of the creatures they rely on shone through.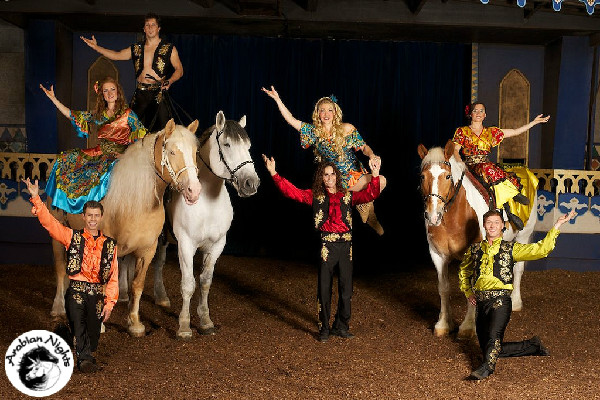 The Arabian Nights cast members have come from many parts of the United States and around the world, making them ready to welcome Orlando's many international visitors.
A cast member named Hannah Peeters led us through the rows of stalls and explained that the performers care for all of the horses themselves. Each performer is assigned three to four horses, and since the cast gets days off, teammates make sure each equine's needs are covered.
"We have two main responsibilities. One is obviously the execution of the show. The other one is the maintenance of the stable and the wellbeing of the horses," said Kacin Mercer, a cast member and primary acrobat of the show.

My coworker, Gabe Henderson, attended Arabian Nights with me, and he was likewise impressed that stable chores round out the performers' responsibilities into a fulltime job. "I loved how the performers took on all roles, from of course performing to cleaning out horse manure after the show," he said.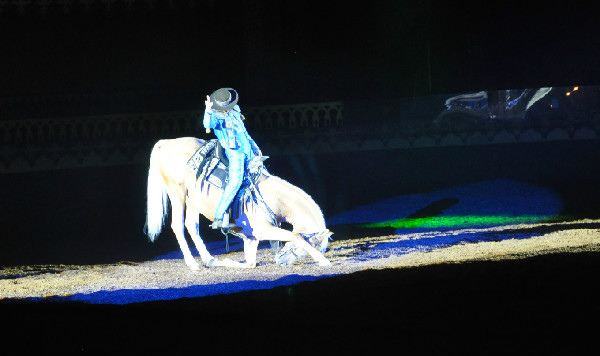 The Garrocha and many other Arabian Nights acts rely on a high level of skill and many years of training.
Performers arrive around noon for the 6 p.m. performance, and they spend about three hours training each day. Besides the 90-minute performance, the rest of their workday is devoted to horse care. As we walked through the stable area afterward, the horse from the Native American act calmly waited for his bath to remove the paint, and dozens of people scurried around putting tack away.
The tack room was organized to the hilt, with hundreds of pieces labeled and ready. Touching the acrobats' riding pads for myself, I could feel their tough surface for shock absorption. A cast member custom makes them. Trick riding saddles, stacks of saddle pads, and rows of bridles stood waiting for tomorrow's show.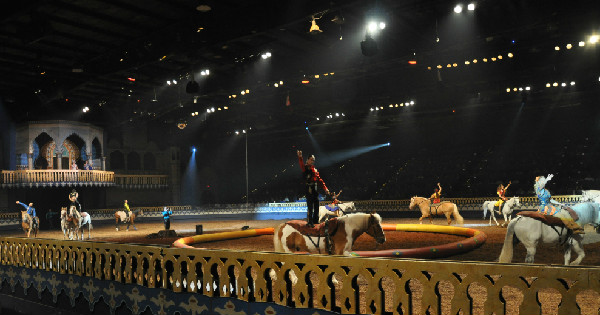 The intense, high-energy Gypsy parade showcases bareback riding and acrobatics with the help of steady draft horses.
The backstage tour added another dimension to the evening and a look at the many parts that come together. Peeters showed us the audiovisual room where the music and lights for the production are controlled and the narrow staircase the princess climbs to her throne. She allowed us to stand on the balcony from which the princess watches the festivities. Horses gallop out of the arena at full speed, and we could see the area the riders have to slow them down. The warm-up ring and turn-out corrals were close by as well. Peeters also showed us the "black hole," a large staging area across the arena where horses are stashed before the show or snuck over during the Gypsy parade. The show clearly relies on the orchestration of planning, teamwork and organization.
An International Blend

Orlando's attractions draw visitors from all over the world. Hotel lobbies are filled with many languages, and in fact I rarely heard anyone speaking English during breakfast at mine. Both the human and equine casts of Arabian Nights reflect this diversity, welcoming residents of other lands to attend and enjoy.

"We do have international cast members, so we can cater to a lot of different languages and international guests who come through," said Kacin Mercer.

Mercer explained that she has heard her coworkers speaking French, Spanish, German, Portuguese, Bulgarian, Hungarian and Russian. "It's so cool for me listening to my peers interacting with these guests. We can cater to so many nationalities," she said.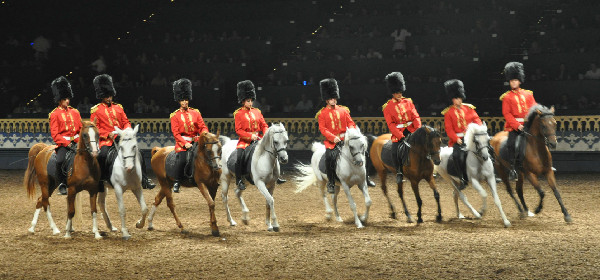 Arabians show off their dressage training and love of performing during the quadrille.
Like the human cast, the horses of Arabian Nights speak many languages of riding, styles of horsemanship and types of breeds. The show has around 60 horses, and 14 breeds perform in each show.
"Something that we definitely are at Arabian Nights is diverse in a lot of different ways, and breed variety is definitely one of those aspects," said Mercer. "The Arabian Horses are the backbone of the show. We have the most of them, and they give us a lot of really awesome qualities for the performance. But then we do have the other breeds to switch up the size, like the draft horses, so we can do acrobatics on them. We have some other breeds in between that are a little more versatile. It's interesting for the audience visually to see not only different kinds of horses but to see the different disciplines that you can do with them."

Quarter Horses, an Irish Sport Horse, a Belgian, Percherons, and a rare American Cream were just some of the breeds I saw lining the aisles during my visit. The gorgeous Palomino Saddlebred has been used as a model for a Breyer horse, Peeters said, and the Arabian black stallion is related to the horse who starred in the movie "The Black Stallion." She explained that black is a rare color for Arabians because black horses are more prone to overheat in the desert. The chariot race relies on a pair of sisters named Brooks and Dunn, Appaloosa-Haflinger crosses, who also perform trick riding.
The black Arabian who performs at liberty is related to the horse who starred in the 1979 film "The Black Stallion."
The show had adopted several American Mustangs, and two remain to perform. "They are milder and not as likely to outsmart us as the Arabians," Peeters said.
The famed Arabians come from the Al-Marah herd and were bred by the late Mrs. Bazy Tankersley, mother of Arabian Nights owner Mark Miller. The Al-Marah breeding farm is currently located in Tucson, Arizona, but in 2014 it will move to Clermont, Florida, under the direction of new owner Miller.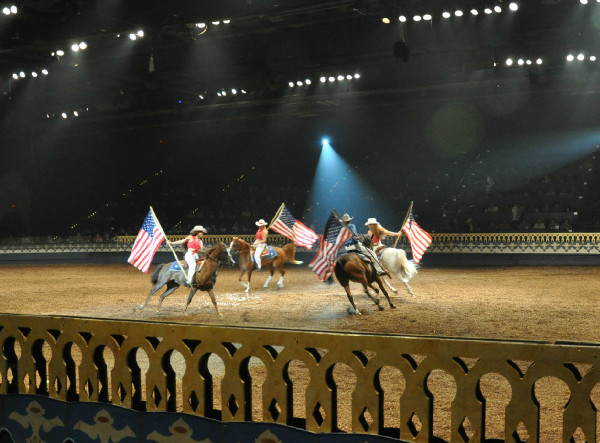 Arabian Nights nods to the American cowboy lifestyle with square dances on horseback.
Mercer explained that working with many breeds of horses widens the riders' skill sets and keeps their workdays interesting. "It's not only fun but good exercise for us as equestrians to work with different kinds of horses. Their temperaments are different, their behavior is different, and their abilities are different," she said.
A Partnership of Excellence

Arabian Nights has a focus that goes even further than entertainment – a preservation of the equine arts. Cooperation between horse and rider, which equestrians know is crucial to the execution of advanced movements, gleamed throughout the performance.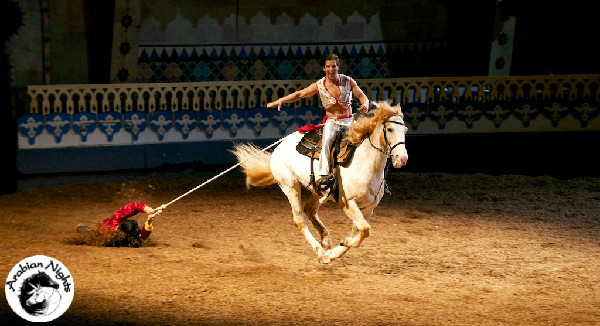 From dragging behind a galloping horse to jumping through a ring of fire, the trick riders of Arabian Nights present many stunts that will impress average equestrians.
Mercer explained how vital the horse-rider relationship is to the show. "We're constantly working on communication with the horses, and we want the horses to succeed. We want them to be able to do the tricks and the skills we ask of them. As the communication between the rider and the horse becomes clearer, you're able to ask them specifically for something and they give it to you right away. Sometimes that happens in the show too, and it's just a huge success. Everybody's happy," she said.
Just as the cast members have about five costume changes and many roles to play, some horses have multiple acts too. Keeping everyone mentally fresh is a main focus of the Arabian Nights staff, so training in new areas and improving their skills is a daily motivation. Challenging the horses and themselves to continue growing and having goals keeps everyone engaged, Mercer said, which equestrians of every level can appreciate. From handling spicier horses to mastering acrobatic tricks, improving is part of daily life. With teammates of renowned reputations in various equestrian arts, the performers can learn from each other as well.

"We're all striving for the next step, trying to learn more acts and become more versatile in the company," said Mercer. "We really work hard at what we do. We spend a lot of time interacting with the horses, practicing with the horses, and training ourselves – our own bodies and our own minds – to accomplish things. So we constantly have a million little goals that we each set for ourselves and for us as a cast every day, and we are constantly working towards them. To accomplish that and then put it on the stage in front of 1,200 strangers and have them applaud you for it, sometimes it's just very powerful for everyone involved. Everybody goes through their daily lives attempting successes and getting them. We just get to do it under the microscope of a lot of people watching us. That's highly satisfying."
Gymnasts ride unicorns to their silks and then ascend above the crowd.
As equestrians, the cast members also know the importance of giving the horses a break. Of the 40 horses living in the stable, it takes about 25 of them to perform the show, so a rotation process provides respite. "In fact they get more time off than I do," joked Mercer.
Beyond physical rest, the cast pays attention to the equines' mental state as well. Peeters had mentioned that she felt that one of her mounts was a bit off during the performance, so she was planning a trail ride to help him regroup. Mercer explained how playtime is essential for horses, that it's good for their brains to get some sunshine, roll around and just be horses. The cast members sometimes ride their mounts around the grounds to explore. Fellow equestrians will appreciate that even these seasoned performing horses have their quirks.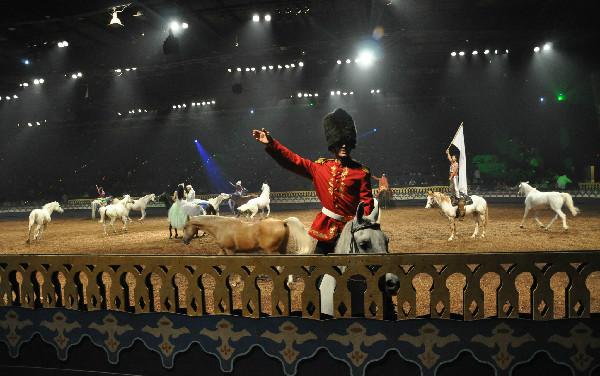 The finale concludes the love story and revisits the amazing tricks riders have performed. After, horses are loose in the arena.
"What's fun is that some of the horses are scared of puddles, just a puddle of rainwater in the parking lot, or a tree, or a car, or something as mundane as that," said Mercer. "They're used to everything that's in the arena. They're used to an audience of 1,200 people screaming at them, but a puddle they can't handle. So we'll play a little game where we try to get them to walk through the puddle, sort of face their fears a little bit and be explorative. We do little things like that just try to open their minds, so it's not just the same old boring business every day."
Careful management allows the show to go on 365 days each year. Though the audience ranges from people who have never touched a horse to lifelong equestrians who own many, the goal is still the same – to inspire.

"There's something about performing that is hugely satisfying, even if your day doesn't go well and you messed up that one thing that you're trying so hard to fix. After the show we interact with the audience, and they come tell us how it's the coolest thing they've ever seen in their lives. 'I can't believe you did that! How did you do that?' they say. And in your mind you're thinking, 'Oh we weren't our best tonight, but I'm so glad you're impressed.' Hearing a few hundred strangers every day say how amazing you are doesn't get old. It reminds you what's really important about the job. The whole point of doing this is to bring joy to people and get them experiencing new things, hopefully thinking about new possibilities for themselves too. Because they come up and they say, 'How is that possible?' And you say, 'Well, maybe some things are possible that you didn't know.'"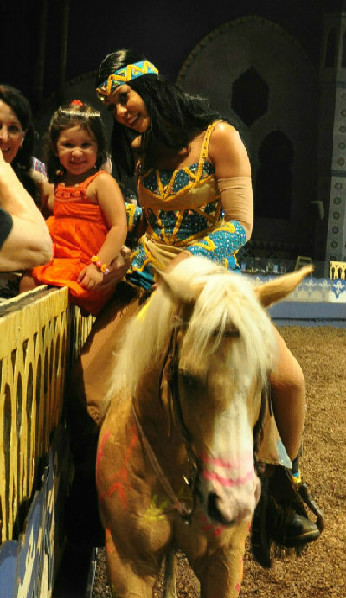 After the show, the audience is welcome to meet the stars of Arabian Nights, both human and horse.
From gorgeous horses in flashing costumes to choreographed lights and spirited music, Arabian Nights is no less entertaining for non-equestrians but leaves a special impression for those who value the relationship between horse and rider. Where else can you see so many breeds, disciplines and styles of horsemanship blended into one performance? With the celebration of horses, dance, fun and many cultures, Arabian Nights provides an experience many will long remember.
How you can go: Arabian Nights is located at 3081 Arabian Nights Boulevard, Kissimmee, Florida. Learn more on at www.arabian-nights.com, or call (407) 239-9223.
Karen Braschayko is a freelance writer and horse lover who lives in Michigan.