An Epic Riding Safari in Botswana's Limpopo Valley
My Botswana horse safari in the Limpopo Valley was the experience of a lifetime.
by Alice Fisher
The guides from Limpopo Valley Horse Safaris met our group of seven at Johannesburg airport and we drove north, crossing into the Tuli Game Reserve at Pont Drift Border Post. The Tuli region is bounded by the Motloutse, the Shashe and the Limpopo rivers in the northeastern corner of Botswana and the southwestern part of Zimbabwe-- "a land of big vistas, big skies, giant trees and great herds of game..."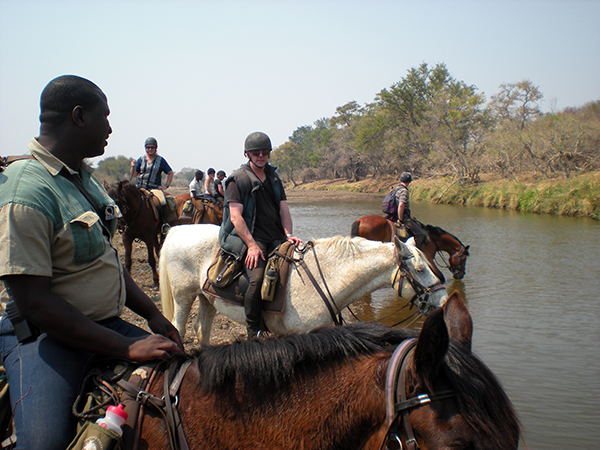 Upon arrival at home base, we changed into riding clothes, met our horses and took a short ride to be sure we were compatible. The next morning we headed out for an epic adventure that would find us for eight days sleeping in tents, eating meals cooked over open fire, climbing on horseback at 6:30am and riding for six to seven hours. We experienced seven campsites: under the shade of a centurion Mashatu tree, on the banks of the Jwala River, at an old tribal court on the banks of the Motloutse River, and satellite campsites in the Reserve.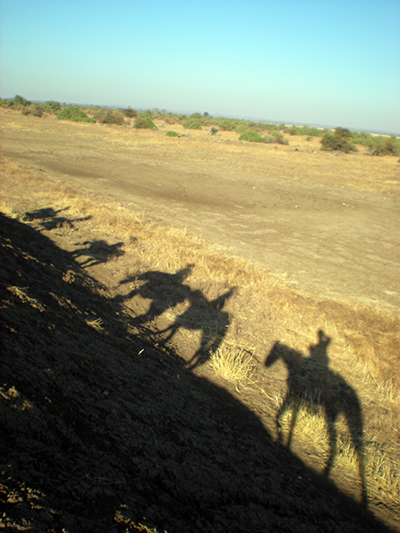 We rode at times along the route Zeederberg transport riders followed a century ago toward Fort Tuli, galloped with wildebeest/zebras/giraffes on the Pitsani plains, rode up and down river banks pass sandstone formations including Solomon's Wall at the confluence of the Limpopo and Motloutse rivers, crossed over basalt ridges and through riverine forests on age old elephant trails and jumped over trees they had knocked down... heaven!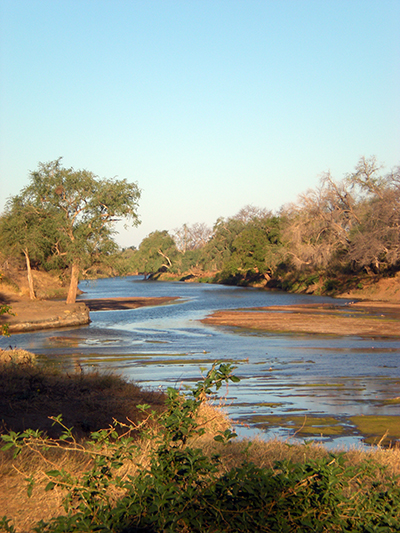 Our daily routine included a mid-morning break when we would tie-up our horses to a tree, have a snack and relax before heading to our next camp. After lunch we had free time to nap, read or take a "bucket shower" before "sundowners" which were usually enjoyed at an archaeological site or after a climb up a rock embankment where we experienced 360 degree views of the reserve and memorable African sunsets.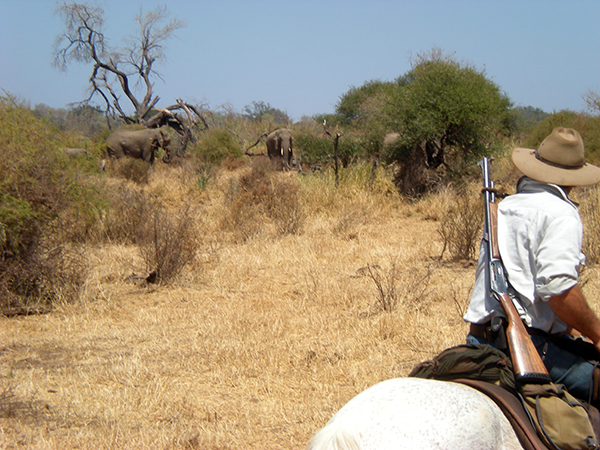 One afternoon we were picked up by reserve rangers and driven to sightings of leopards, lions, cheetahs, animals not usually seen on horseback and certainly not so close-up! Another late afternoon, we hiked into Zimbabwe. Returning to camp after sundowners, we'd find a magical transformation. Lanterns lit pathways to our tents and an elegant table was set for dinner by candlelight and a roaring bonfire. "Good nights" often came early and we'd drift off being serenaded by the "music" of the African bush.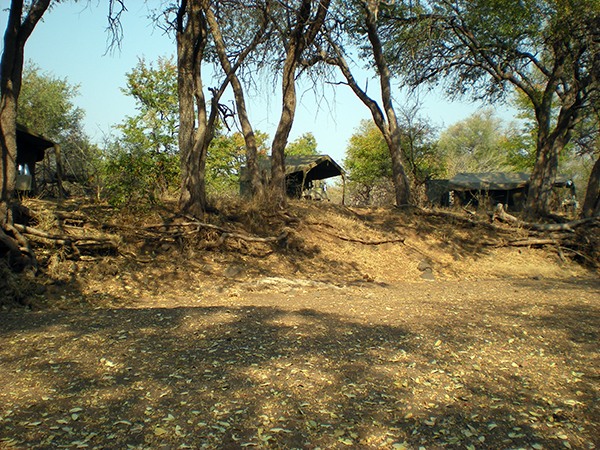 Before starting on the LImpopo Valley horse safari, I stopped over in Capetown for two days. The first day was spent touring the city on bus and foot and wandering around the buildings and grounds on Robben Island where Nelson Mandela was imprisoned. The second, I traveled down the coast to the Cape of Good Hope and Cape Horn. Unfortunately due to high winds and/or fog, the cable car to Table Mountain did not run either day. Capetown deserves a longer visit.
How you can go: Leran more about riding in Africa and the Limpopo horse safari.