Alberta- Homeplace Ranch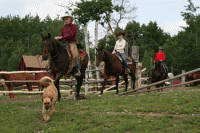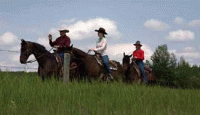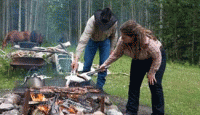 by Darley Newman. Originally published in True West magazine.

The Canadian Pacific Railway's entrance in 1883 and the government's offer of free land to homestead enticed people to settle in the prairie province of Alberta, Canada, with the largest influx of agricultural settlement taking place during 1896-1914. In 1912 one such family homesteaded the ranch that would later be known as Homeplace. Today it is a working guest ranch in the foothills of the Rocky Mountains, near the hamlet of Priddis, population 1,594, about 27 miles southwest of Calgary.

The family of seven's one-room wooden home, though slanted, still stands. It was originally a Chinese laundry in Calgary, before the family broke the building into five pieces and moved it on sleigh bobsleds from Calgary to Homeplace. Hanging on a wall is the street sign from its original location on Calgary's 14th Avenue West. That the cabin still stands is a testament to the ranch's affinity for preserving history.

At each turn of a corner, Mac MaKenny, who purchased Homeplace from the original owners in 1978, has got a story to tell, one rich with imagery from a time long past. He paints word pictures of the hardy people who settled the rolling green hills outside of Calgary.

MaKenny gained the trust of the previous owners when they visited his home. Seeing the care MaKenny had taken with his family photos and heirlooms, they were convinced he was the right person to purchase the ranch.

Rearing horses is in MaKenny's blood. His great-grandfather and grandfather trailed to Alberta from Nebraska to sell horses to settlers in 1903. His mother Ruby grew up in a sod house, ranching west of Ponoka (155 miles north of Priddis). He grew up in Jasper, helping out with the family ranching and outfitting business and its 80 head of horses. At Homeplace, he has more than 40 head of horses all his own.

Once MaKenny takes in a horse, it's his forever. Even after it's outlived its usefulness as a trail horse or polo pony, it stays at the ranch as a retiree. One such horse is now 34 years old, and he stands untethered among the other horses, happy in his retirement.

MaKenny, his partner Susan Lea and I explored the nearby aspen forest on horseback. I rode Rolling Thunder by a pasture where more of MaKenny's horses were grazing among wildflowers such as Alberta's pink wild rose and bright red Indian paintbrush.

We rode out of the forest toward a wetland area that is part of the Harvey Conservation project. Here the birds have really taken over the area. Just before us, MaKenny pointed at the undulating, forested hills, where a historic migratory route for the Stoney Indians runs from Eden Valley up to Morley Flats. Before the homesteaders moved in, it was the Stoney (Assiniboine, which means "Stone Sioux," relatives of the Lakota and Dakota tribes), Blackfoot (related to the South Piegan band in Montana) and Sarcee (related to the Apache and Navajo in the American Southwest) who inhabited this area. In the wintertime, the Stoney made the hard, five-day ride up to Morley Flats, where the tribe had a good grazing area for the horses. In the summer, when it was hot, they traveled through the tough terrain back down to the more lush Eden Valley.

"I could never understand why they used that route rather than go a mile farther east and then go over," MaKenny says. "But the elders explained to me that if you went a mile east, you were on Blackfoot territory, and you just didn't tread on their land ... the Blackfoot were very ferocious. They're big people. They're six foot tall, when most people were five foot, so when you fooled with them you better be ready for a fight."

Back at the ranch, I toured the homey ranch house, where up to 14 guests may bunk. The warm kitchen smelled of homemade cookies, muffins and biscuits. One of the guests, who had taken a break from riding, was getting a lesson in baking.

The walls in the kitchen are papered with photographs that visitors have sent to MaKenny after staying at the ranch. It's a memory wall. As I looked at all the recent travelers who stayed here before me, I saw that a great many had made good memories here in this rough and hardy enclave of Alberta.