Al-Marah Arabians: A Legacy Continues
From the Arabian Nights Dinner Show to farm tours and interactive experiences at Al-Marah Farms to The Black Stallion Literacy Program, learn about the ways you can get involved with Al-Marah Arabians and their legacy.
By Karen Prell
Once upon a time in a beautiful sunny place called Florida, there was a special, magical place where families could gather to see some of the most beautiful horses in the world doing amazing things. This "house of horses" was there to entertain visitors.
I am writing about the Arabian Nights Dinner Theater show, created from the inventive mind of a man named Mark Miller, the son of the late Bazy Tankersley, owner of Al-Marah Arabians.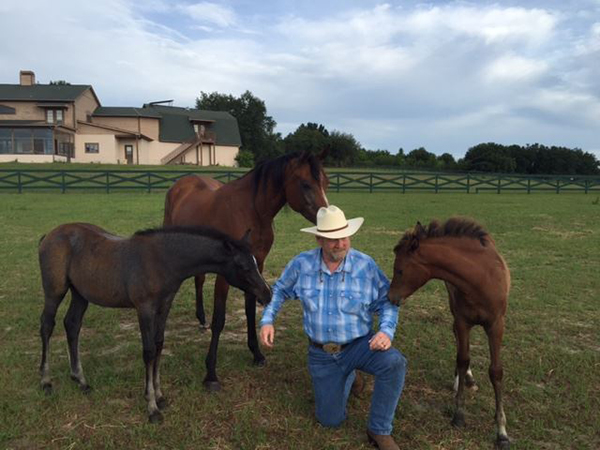 A few of the foals loving on Mark!
The history, Intrigue and End of Arabian Nights
For twenty-five years this attraction in the heart of central Florida entertained young and old alike with the wonderful shows centered around the beautiful horses and talented riders who came to call Arabian Nights their home. Every night you could see a kaleidoscope of horses of many breeds doing their best to tell the stories of a Prince and Princess and the adventures surrounding them. One of the highlights of every show was the presentation of the Black Stallion! If you remember reading Walter Farley's series of books as a youngster, getting to see The Black Stallion, also called the Black or Shetan, in person was a wondrous thing.
But, alas as with all good things–– sometimes there comes an end. After entertaining thousands of visitors from all over the world for a quarter of a century, Arabian Nights came to a close. Mark Miller, the man behind this vision had decided it was time to move onto other things.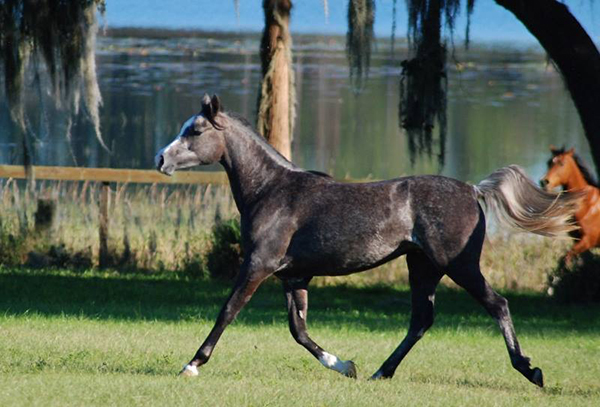 Al-Marah touts itself as the oldest, continuously bred, privately owned band of Arabian horses in the world.
Fortunately for the horse loving public, the man behind this vision was already heading down the road to the next idea, and again, it involved the very horses with whom he had been raised!
The Al-Marah herd has been held in private ownership longer than any other herdroughly 200 years (give or take). From their desert origins in the Middle East to the hands of the Crabbet Stud in England and finally to Bazy at Al-Marah, these horses are like a time capsule of the Arabian breed. To see them is to get a glimpse of the horses once owned by Abbas Pasha, a ruler in Egypt and Sudan in the mid-1800's and an avid Arabian horse breeder and the people throughout history whose very lives depended on these beautiful creatures.
To anyone who saw the Arabian Nights horses perform and who thought that with the closing of that facility we had to say goodbye, well the good news is you were wrong. Mark Miller just had a better idea!
Plans for Al-Marah Arabians
I had the great good fortune to speak to Mark over several conversations in May of last year and he spoke of his plans for Al-Marah Arabians, now that the torch has been passed to him as guardian of this very special herd of horses. His mom, Bazy Tankersley has carefully and thoughtfully bred this herd into a force to be reckoned with in the show ring and the breeding shed and Mark has been involved in the decisions from a very young age.
Bazy always thought beyond just the next generation of foals coming up. Her breeding plans saw far into the future, many generations down the line and what she wanted to preserve and improve upon when she could. Growing up in all of this has made Mark Miller into a man who does not take the preservation of this herd lightly. Having been involved in so many of the decisions from an early age, he, like his mother has a vision for where they are going and an appreciation for where they came from and where they have been in terms of breeding and safe guarding the ancient blood of Al-Marah Arabians.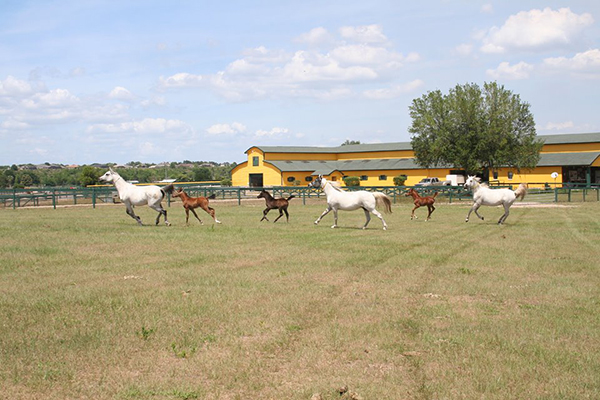 Horses running at the 80 acre Florida farm, which has lakes on two sides, 22 barn stalls and 60 beautiful Arabian horses.
When we spoke, Mark was busy with horses at the Regional Show in Georgia so you could say he was doing what he does best, multi-tasking. At the time, Mark was having to make a decision on exactly what horses to bring back to Florida from the Al-Marah facility in Arizona. This was no small task. With the herd in Arizona comprised of over 300 horses, I asked Mark how on earth he would decide who to take back to the farm in Florida. He said he would be looking at the bloodlines to see what he needed on the farm to preserve & improve upon what they already had & to continue on and take Al-Marah in the direction he was going.
Knowing his mother's active support of all things "performance" and Mark's undeniable talent in marketing and breeding, I was excited to learn from him that the farm would be concentrating more of their efforts in the Dressage arena. Not content to show the Arabian ability at just the breed specific shows, Mark made it clear they would be taking the Al-Marah team on the road to some of the biggest and best open shows, taking on top show horses of all breeds and introducing his beloved Arabians to a whole new audience.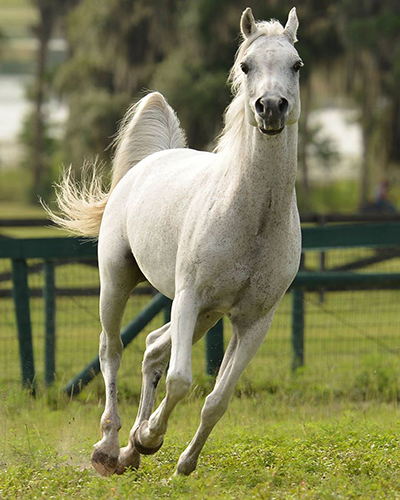 During a VIP barn tour, guests get up close to the farms horses.
This should come as no surprise to anyone who enjoyed the Arabian Nights shows, when night after night the Al-Marah team performed at the highest, crowd pleasing levels. The audience may not have known what Dressage was when they came in to see the show, but they sure knew a little more about it before they left.
That same ability to please a crowd has already been exhibited under Mark's direction at the Clermont Farm. At the time we spoke, it had not been decided exactly when the horses he chose from the Arizona herd would be arriving here in Florida. With the same showmanship and wow factor that has colored everything Mark Miller does in the Arabian world, this homecoming was destined to be something special.
Coinciding with the arrival of the girls from Arizona, Mark threw open the gates of Al-Marah and held an open house, inviting the public and media for this long awaited occasion. That homecoming turned into a reality this past December when the trailer bearing the precious cargo of mares from the Arizona farm arrived at the Clermont, Florida farm.
See the celebration in this video.
There are not many things that you can say have been around over 200 years and not only endured but thrived, and been guarded and handed down to like minded guardians over that period. When you see these mares released into the green pastures of Al-Marah/Florida you are literally seeing history gallop in front of you. Contemplating that as you watch this video, if that doesn't bring a lump to your throat–– well, you need to go back and check your pulse!
FOX 35 News Orlando
How You Can Learn and Enjoy Al-Marah Arabians
In line with the desire to expand the horizons of the Arabian breed and introduce more new people to the breed, there are many ways to include Al-Marah on your list "must do" items when you decide to visit Florida. There is, of course, the wonderful Open House that Mark schedules on a regular basis, open to the public and all horse lovers, horse owners and anyone else who has ever dreamed of riding top class horses. The Al-Marah lesson program is open to anyone who wants to get started in riding, brush off dormant skills or train for competition. Mark and his crew have a program to fit anyone who is interested, from beginners all the way up to someone who wants to take it to the ultimate level of elite equine athlete.

You might even want to look into the unique program the team at Al-Marah has put together where they will pair a rider who commits to an extended period of training with one of their many equine champions with the ultimate goal of reaching eventual competition at the national level.
If you've ever had competing at the top level of equestrian competition on your bucket list, this is the place to put it all together. By putting in the time and effort with a horse that's already "been there/done that" you've just jump-started your career in the pursuit of equestrian excellence.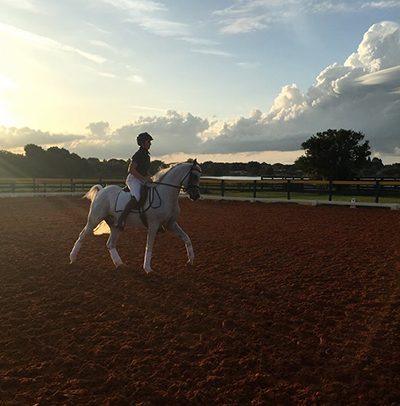 Practice at Al-Marah Arabian Horse Farm. The farm works to breed horses that are safe, affectionate, and willing.
If you happen to be lucky enough to actually own an Al-Marah horse and that horse is at least 50% Al-Marah blood, you can also be evaluated by the Al-Marah team and go on to train with them if that is your goal. There is an old saying that if you want to be a champion you need to think like a champion. At Al-Marah, that is not just a saying it's a reality. Mark has created a program to fit pretty much everyone who wants to learn. From farm tours to riding lessons to breeding to one of their champions, the farm is a destination every horse lover should put on their vacation list. How cool would it be to tell everyone where you spent your summer vacation?
As befits the philanthropic and educational direction of Mark Miller and his mother before him, it comes as no surprise that The Black Stallion Literacy Program is well supported by Mark and everyone associated with the farm. At the Arabian Nights Dinner Theatre, the moment that everyone in the audience waited for was the appearance of the black stallion.
For thousands of people who grew up reading The Black Stallion books, the thrill of seeing the Black was no less with the passing of years. We have Al-Marah Arabians to thank for that. Now through this wonderful literacy program the torch is passed to the next generation of young readers.
These children will come to know and love the Black as much as their parents did, and perhaps some of them will dive a little deeper and discover the Arabian breed and find their way to a magical farm in sunny Florida called Al-Marah Arabians.

How you can go: Learn about visiting Al-Marah in Clermont, Florida for riding lessons, a VIP Tour or the Interactive Horse Experience.

About the Author: Karen Prell, aka "Triple Crown Karen," came from a very non horsey, working class New Jersey family and started riding at age three. With over thirty years experience as a riding instructor, Karen is passionate about developing beginners into confident riders and compassionate horse owners. A favorite expresion heard often by her students is "It's ALL about the horse!" A lover of all things "horse," she is especially passionate about promoting the retraining of retired Thoroughbreds and adoption and rehoming of unwanted horses. Her ultimate dream would be to see the US Equestrian Team mounted on these great reclaimed athletes. Her career in media focuses on the everyday equestrian adventure and how a horse lover of modest means CAN make a difference for even ONE horse.