Akindale Thoroughbred Rescue with Stephanie Cowser
Stephanie Cowser shares her story of how her love of Thoroughbred horses led her to visit Akindale Thoroughbred Rescue in New York. She was so inspired by the horses and people that she became a part of their team. Learn more about ATBR's mission and the daily commitment needed to care for ex-racehorses awaiting their forever homes. Find out how you can help or adopt off-the-track-Thoroughbreds.
Stephanie Cowser and her OTTB, Joko Motion
Raina Paucar for Equitrekking: Stephanie, what is your background with horses?
Stephanie Cowser: As a typical horse-crazed girl, I began riding when I was very young. I started with riding ponies and did everything from barrel racing to hunter paces––even a little driving, but I was always partial to hunter/jumpers. I concentrated solely on that from the time I was around 12.
Equitrekking: How did you get involved with Thoroughbred ex-racehorses?
Stephanie Cowser: My parents bought me my first ex-racehorse when I was 13. His name was Hell's Beam. He was off-the-track from Saratoga and while he was quite a handful, I was hooked from then on. He was so smart and he had more heart and drive than any other breed I had ever ridden. In the years since, I have yet to find a breed that compares and cannot imagine owning anything other than an OTTB.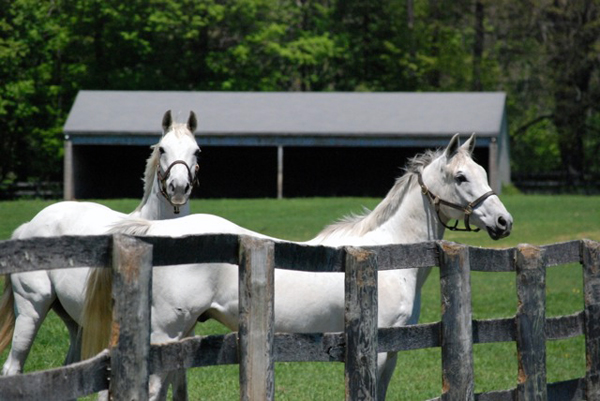 Evening Attire, who was donated and his half-brother Tacticianor, rescued from the kill pen, now enjoying retirement
Equitrekking: Who founded Akindale Thoroughbred Rescue and why?
Stephanie Cowser: ATBR is a 1000-acre farm in Pawling, NY owned by the Hettinger family. John Hettinger was a renowned owner, breeder and philanthropist. In addition to owning Akindale Farm, Mr. Hettinger was the Chairman Emeritus of The Grayson Jockey Club Research Foundation, Founder of Blue Horse Charities, member of the Board of Trustees of NYRA and principal partner in Fasig-Tipton. Prior to his death in 2008, Mr. Hettinger was instrumental in bringing the issue of equine slaughter to the forefront. He was one of the nation's leading advocates for the humane treatment of horses. John was the first person to join the Animal Welfare Institute's national campaign to end horse slaughter in 2001. He never wavered in his determination to end horse slaughter.
Akindale Thoroughbred Rescue is committed to the rescue, rehabilitation and re-homing of Thoroughbreds no longer able to race. We also have a wonderful retirement program for the more fortunate OTTB's that come to us through caring owners, trainers and fans.
Equitrekking: What is your role at Akindale and how did you get involved with the rescue?

Stephanie Cowser: My role as a volunteer at ATBR is ever changing. I handle the social media, some marketing, PR, fundraising, photos... anything else to help take a little bit off of manager Erin Pfister's plate so she can concentrate on the most important things––the horses and running the farm. There are never enough hours in the day. It's tough since I do have a "paying" job as well. I never get as much accomplished as I would like. We're hoping that our fundraising plans take shape in the next year. That's our big goal.
My original involvement with ATBR began back in 2006 a few months after they opened. I was just becoming aware of the equine slaughter issue and was researching the topic quite a bit. My husband and I love the fact that our girls are involved with horses and that it is their primary extracurricular activity. But, our rule has always been that their love and appreciation for the horses comes first and if they begin to take all the luxuries for granted or ever show poor sportsmanship, we would discontinue their riding. They have been very fortunate spending their time at horse shows and tracks like Saratoga and Keeneland.
When I learned what was happening with racehorses going to slaughter, I wanted them to see how things can end if owners aren't responsible. I had read an article on Akindale Farm rescuing "A Horse." The girls were in a horse show in Vermont that July and since Pawling, New York was on the way, I made an appointment to stop and show them a different side of the horse world.
We met Erin at Akindale and I thought she was amazing. She spent hours with us and I soon realized that while ATBR had only been in operation a few months, they had already saved almost 70 horses. One of the first horses we met there, that to this day is one of my favorites, was a 7 year old big, gorgeous, bay named Gentleman Jerry. He was rescued from New Holland. Jerry had raced 17 times with 10 wins, 3 places and 2 shows, but he also had the biggest, ugliest knees I had (and have) ever seen. We all fell in love with Jerry that day. He and Erin sealed our commitment to ATBR. It makes me incredibly proud that my kids believe in this cause and are involved with this rescue. Next to my family, nothing gives me greater pleasure or more satisfaction than being a part of this amazing farm. It has been a true gift.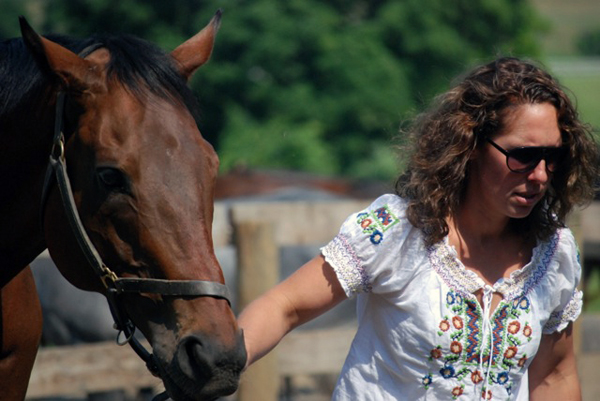 Akindale Thoroughbred Rescue manager Erin Pfister with Brave Sir Robin
Equitrekking: Who currently manages the daily operations at Akindale and is it difficult at times?
Stephanie Cowser: Erin Pfister manages ATBR and has since its inception in 2006. Before that, Erin worked for Akindale Farm in the racing and breeding arm of the operation, so she has been with the Hettinger family throughout her entire career.
To answer your question, yes, it is very difficult running a rescue. Erin should be commended on a daily basis for the outstanding job she does. We have far more horses than most rescues–– at the moment about 150. Erin oversees the care and well being of each horse; controls who we can accommodate; manages a very minimal staff; handles vets, farriers, dentists, shipping, adoptions, facility maintenance and everything else that goes along with the day-to-day responsibility of running a farm.
In addition to incredibly hard manual labor, with a rescue, you often see the worst case scenarios and grow quite attached to horses that you will (with any luck) be sending off to new homes/ careers. But the most difficult part, and the one thing that keeps us all up at night, is worrying about where we will get the funding to pay for the never-ending need for this rescue to exist.
Equitrekking: What is a typical day like with the horses at Akindale?
Stephanie Cowser: At ATBR, the day starts around 6:00am. It takes hours just to feed and rotate horses in and out of all the fields and barns on the 1000-acre farm. The stalls are all mucked, water buckets cleaned and refilled, medications administered, appointments with vets, farriers, chiropractors and dentists attended. Horses are checked for loose shoes and any injuries they may have incurred during the night and fields and herds rotated where necessary.
The trainers come to work with the horses currently in our re-training program. Then we have prospective adopters come to evaluate horses, potential donors come to evaluate the program, and fans and supporters have scheduled farm tours. Deliveries are made from the track and often from the auction lot while horses are loaded to leave ATBR to go off to their new homes. By then (mid afternoon), it's time for the second feeding. Of course, every day is interrupted with dozens of phone calls regarding horses needing homes, events, equine emergencies, feed company deliveries, etc. Night check is done as late as midnight.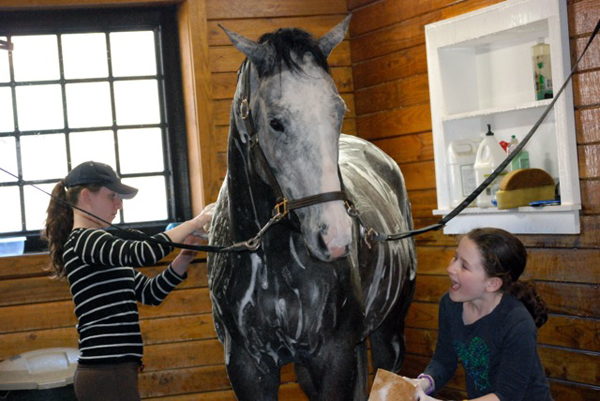 Stephanie's daughters giving Joko a bath
Equitrekking: You have your own OTTB, Joko. Can you tell us how you found him and why you wanted to adopt him?
Stephanie Cowser: Joko Motion is a 2006 Medaglia D'Oro/Georgialina and is pretty perfect! I always knew I would adopt an ATBR horse at some point, but I definitely wasn't in the market. I was happy volunteering for Erin and becoming more involved at ATBR, but my kids were knee deep showing their ponies. It wasn't the right time for me to be taking on a project.
But, I got a call from Erin one late November morning and she told me she just found my horse. We had worked together closely for a while, so she definitely knew my sucker buttons and this horse hit every one. He was a 17 hand, 3 year old with an incredibly kind eye and a real "Dennis the Menace" personality. I was taken within 5 minutes of walking into his stall. Joko sold with a hefty price tag at the Fasig-Tipton yearling sale, but was injured in a workout following his first and only race. He spent 3 1/2 months on stall rest, followed by 3 months of hand walking, then to round pen and small paddock. He had almost a year of "being a horse" in a 60 acre field with 20 of his closest buddies.
I started riding him at ATBR, but needed to move him closer to my Connecticut home, so I could work him more often. He has since been in a re-training program at The Pavillion Farm with Grand Prix rider Eric Hasbrouck. Joko loves having a job and seems to really enjoy jumping. Yet, he knows when my 9 year old is on his back and he transforms into an old trusted school horse. It's probably still not the right time to take on a project, but not a day goes by that I am not thankful for such an amazing blessing.
Equitrekking: Please share an adoption story that you will always remember.
Stephanie Cowser: There have been so many that are unforgettable and my response might change on any given day. I am currently highlighting one amazing "success story" for the newsletter, so this one has been top of mind for a while now.
The horse's registered name is Pardner and his "forever mom" ( I do believe it really will be forever) is Lori Reed. Pardner (now named Wilson), was our very first adoption back when ATBR was founded in 2006. Bev Strauss from Mid Atlantic Horse Rescue, famous for being a pioneer in OTTB rescue, pulled Wilson from the kill pen at New Holland in June 2006. She called Erin and asked if she could send him to ATBR as she was full. While we took Wilson in, Bev wrote an article about him in The Chronicle of the Horse, which garnered quite a bit of attention. Long story short, Wilson was adopted by Lori in October of that year. They did everything together, from Natural Horsemanship Clinics to beach rides to horse shows––even trail rides with Lori's eight year old son, Brett.
Lori, an eventer, was eventually told by her vet that Wilson could never jump again as his right front would not hold up. This is where we would often get horses returned to us, but Lori would not give up on Wilson even at the expense of her jumping passion. She decided to take up dressage more seriously, so that she and Wilson could work together.
Since then, Wilson has developed an avulsion fracture, which has sidelined him from work for a while. Lori remains optimistic and completely devoted to Wilson. She will do whatever it takes to make him happy and comfortable. She often expresses how lucky she is to have him and feels that she owes it to him to give him a great life, since he was chosen over others in the kill pen that day. Listening to Lori speak with such adoration and respect for our very first ATBR adoption is quite emotional for all of us. She is a wonderful person and Wilson is a very lucky boy to have been found first by Bev and eventually by Lori. We are blessed to have been part of his story.
Equitrekking: What makes OTTB's great adoptees?
Stephanie Cowser: Aside from Thoroughbreds being very intelligent, willing, agile, well-socialized and athletic––OTTB's, have a great work ethic. The majority of the horses we get are quite young and have had a fair amount of race training. They are used to working, being in busy environments and are handled by multiple people. They ship, clip, and are accustomed to vets and farriers.

Many show horses I see aren't that well-adjusted, so qualified people looking for tremendous potential would be very wise to consider an OTTB. They display enormous heart, trust and loyalty even when they were horribly mistreated previously. That trait alone speaks volumes.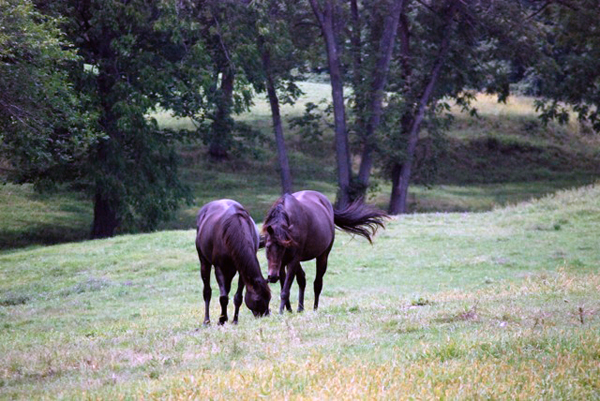 Akindale rescues enjoying their time in the field
Equitrekking: Any advice for people who are considering adopting an OTTB?
Stephanie Cowser: My friend Lisa Molloy wrote a brilliant piece on tips for potential OTTB owners. It touches on the many items that people perhaps don't consider before adopting or purchasing an OTTB. We have a thorough screening process for potential adopters at ATBR, so I'd like to think that they are well educated before making that big decision.
Do your homework and rely on the rescue or adoption program to guide you and help to evaluate which horse is going to be the best fit for your individual needs and experience. Just because you always wanted a big chestnut with lots of chrome doesn't mean the one you saw in a picture on the website is going to be a good fit for you. Be prepared, this is a long-term commitment.
Equitrekking: How can someone adopt and ex-racehorse from Akindale?
Stephanie Cowser: We ask that everyone start by filling out the adoption application on the Aikendale website. From there we can evaluate your requirements and work to put together a list of horses, which could potentially be a good fit. The next step is to come to the farm and meet the horses!
Equitrekking: Is there anything else you'd like to share?
Stephanie Cowser: There is a common misconception among potential adopters with respect to Thoroughbred rescues. Often times people choose a particular horse for the wrong reasons, but think they have nothing to lose as they can always just return him if it doesn't work out. We urge anyone considering adoption to do so only if they feel they are well informed and confident in the decision they've made. We try to set every partnership up for success and ask the same from potential adopters. We have been very lucky at ATBR with wonderful adopters who have become good friends and in many cases, even repeat customers. That's what makes it all worth it at the end of the day.
Donations are greatly needed and most appreciated. 100% of every dollar donated to ATBR goes toward the horses. Donations can be made online at the Aikendale website by Paypal or mailed directly to the farm: ATBR 323 Quaker Hill Road Pawling, NY 12564.
We also have a number of horses that, due to medical or other issues, are not adoptable and will live out the rest of their lives at ATBR. Sponsors are needed for the ongoing care of these residents. Sponsorship information can be found on our website. We appreciate every dollar and are so grateful for our wonderful supporters, donors and sponsors.

You can follow ATBR on Twitter @AkindaleTBR and visit their Facebook page.
Considering adopting your own ex-racehorse? Here are some great rescue organizations with horses looking for their new home:
---
About the Author: Raina Paucar is an adventure loving equestrian and female jockey. She likes to ride and compete in many disciplines, explore new places, read great books, gadget hoard, play games, take pictures and write. She currently exercises racehorses and works with her own off-the-track-Thoroughbred (OTTB). Her career in media focuses on equestrian lifestyle. You can add her to your Google+ circles, subscribe on Facebook and follow on Twitter.