Horse Adoption Story: Angie Sanchez and her ex-racehorse Harley
Equitrekking is featuring a new series called, "Horse Adoption Stories." This month we profile Angie Sanchez and her OTTB (off-the-track-Thoroughbed) Harley. Angie shares their yearlong journey of recovery, retraining and new career goals.
Learn what it's been like for Angie and Harley from the racetrack to the farm.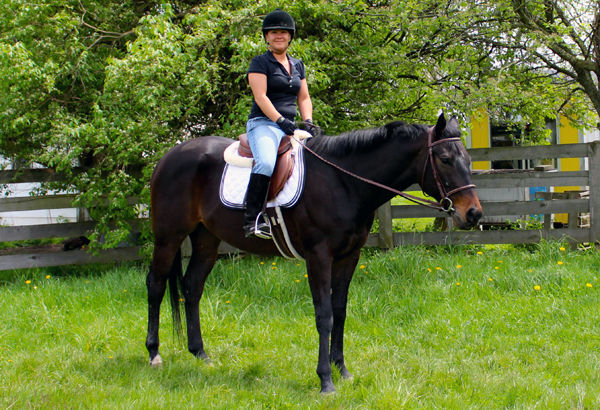 Angie and her OTTB, Harley / ©Raina Paucar
by Raina Paucar
Raina Paucar for Equitrekking: What is your background with horses?
Angie Sanchez: I have loved horses ever since I can remember. When I was little my dad would take me to the racetrack every weekend. That is when I first fell in love with horses. I started riding when I was about eight, when my parents started me with riding lessons.
I rode and showed for several years. When I reached my teenage years, I took a break. I didn't get back into horses until my early 20's. My dad bought a Quarter horse for the family. However, I never really bonded with this horse as much as my dad did.
He was more of my dad's horse than mine. We never really got along, and I got tired of showing this horse. I gave up on that horse and of ever having a good relationship with him. I really gave up on the dream that I would have my own horse. Little did I know, the next year my dream would come true.
Equitrekking: What is your current experience with horses?
Angie Sanchez: I'm learning a lot, since there was such a gap in between the years that I was away from horses. I forgot many things, and there were also a lot of things I didn't know.
All of the horses I worked with in the past were "dead broke." So having a young "hot" horse was new to me. My trainer, Sara Boyd, has helped me learn so much. She didn't just take my horse from me and train him. I was included during this process.
Harley would not be the horse that he is today without her help. I am a much more experienced horsewoman, and I have a lot more knowledge about horses. I didn't know what to do with an OTTB (off-the-track-Thoroughbred), but my trainer has worked with several OTTB's in the past.
She has done a great job helping Harley and me become a team! We used the "slow and stay" approach, and it worked great for him. Now, he is easy to handle, and a joy to be around. He knows voice commands; walk, trot, canter, back up and whoa. Harley is very quiet under saddle and has never offered so much as a buck. We are still learning together, but I can see great things in the future for us.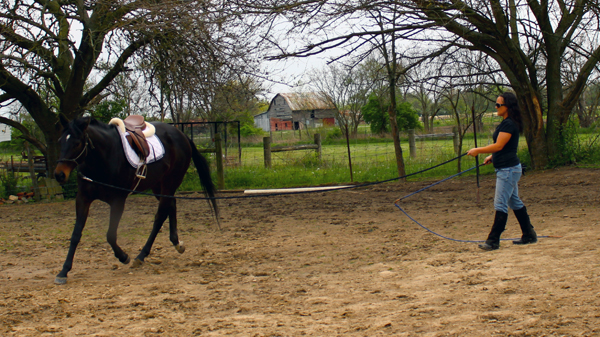 Angie working Harley on the lunge line before riding / ©Raina Paucar
Equitrekking: What made you decide to adopt an OTTB?
Angie Sanchez: It wasn't so much a decision to adopt an OTTB as it was a great opportunity. I wasn't looking for a horse at the time. It was just something that was meant to be. Harley has changed my life so much. I am a much happier person now that I have him. I'm so glad I could give him a forever home. There is nothing like the bond I have with my horse. I go everyday to see him and spend time with him.
Equitrekking: How did you find your OTTB?
Angie Sanchez: Harley was found through a trainer on the race track. My husband works for this trainer, and I knew he had nice horses that were well taken care of. My husband came home from work and asked me if I wanted a horse, and my answer was, "No." I didn't even think twice about it. I didn't want the added expense.
A few days later, we went to the races. Afterwards I went to the barn area to feed the horses with my husband. While I was back there, the trainer asked me if I wanted to see the horse. So, I go in to see him. Immediately, I fell in love. He was gorgeous and so sweet. When I got home, I called my trainer and asked her if she would come look at him with me and tell me what she thought about him. It was a yes from her and about a week later we picked him up.
If I had not gone back to the barn area that day, I probably would have never thought twice about taking him. I probably would have forgotten about him. Needless to say, I'm so glad I went back there that day. I have my dream horse, and I couldn't be happier.
Harley working under saddle at the trot / ©Raina Paucar
Equitrekking: Why did you choose this OTTB?
Angie Sanchez: I choose Harley because he seemed to have a good head on his shoulders. He was very good looking, and he was a good size, about 15.3 or 16 hands. I was told great things about him from stable employees and my husband. Everyone liked him. They mentioned that he was always a professional on the racetrack and that nothing phased him. The farrier even gave him compliments on is behavior.
I was really excited about this horse. It was just a waiting game after that to see if the owner would let me have him. After a short time, which seemed like long days of waiting (very impatiently), my husband came home with the answer. It was a yes, and I could pick him up whenever I wanted.
Equitrekking: How long was the adjustment period for your OTTB from the racetrack to life at your barn?
Angie Sanchez: The adjustment period for Harley was a long one. He came to me with an injury from the track that required several weeks of stall rest. He was not allowed to be hand walked or to do any activity outside of his stall. He was like a ping-pong ball in the beginning. I couldn't blame him, as he was confined to the stall all day and night. But, I thought to myself, This horse is nuts! I wondered if I made a mistake taking this horse. After weeks of rest, he was finally ready to go out. Let's just say his first time being turned out was very interesting.
I picked him up from the track at the end of March, and we did not begin riding him until late July. This was after much ground work and lunging under saddle. He has done everything we have asked of him and does not have a mean bone in his body. He is now a very happy and healthy horse.
Equitrekking: What are your goals with your OTTB?
Angie Sanchez: Harley is now 100% sound. He is feeling and looking better than ever. My goal is to continue training him and start showing this spring and summer. He will be showing in HUS (hunter under saddle). At some point, I may consider doing some low jumps and take him on some trail rides.
Harley cooling out at the walk after his training session / ©Raina Paucar
Equitrekking: Any regrets?
Angie Sanchez: I have absolutely no regrets about getting Harley. He has turned out to be a wonderful and loving horse. I could not imagine my life without him. He is a completely different horse than he was a year ago. He is very respectful and sweet. I can trust him around my eight year old son. Harley is very gentle with him. Adopting Harley was one of the best decisions that I have ever made.
Equitrekking: Anything you'd like to share with someone considering adopting an OTTB?
Angie Sanchez: For someone who is adopting an OTTB, I would strongly advise them to give the horse time to adjust to his or her new surroundings. It takes these horses a while to get the racetrack mentality out of their head.
This will allow the horse to settle in comfortably and have their minds relax instead of just jumping right back into training. This time may vary from horse to horse. Some horses may only need a week or two. Your horse will let you know when they are ready. You should be able to see a big change in your horse's behavior once they have figured out that they are not on the track anymore.
I would also like to suggest to people who adopt OTTB's to be patient with these horses. You will have to completely retrain them. All they have ever been taught is to go fast. It's kind of like starting with a clean slate, which isn't a bad thing.
In my opinion, they know you are giving them a second chance. Sadly, we know many of these horses may have been on their way to slaughter. These horses deserve a second chance. I can't stress that enough. There are good trainers out there that will take the time to properly place these horses in good homes after they are done racing. Kudos to them! OTTB's are great horses. You have to put the time in and work with them. You will be very happy with the results.
Equitrekking: What are your favorite training methods?
Angie Sanchez: I've been using Clinton Anderson's natural horsemanship methods with my horse, Harley. His training methods are easy to understand and use.
If you have an adoption story you'd like to share, we'd love to hear from you! Please contact us at Equitrekking
Considering adopting your own ex-racehorse? Here are some great rescue organizations with horses looking for their new home:
---

About the Author: Raina Paucar is an adventure loving equestrian and female jockey. She likes to ride and compete in many disciplines, explore new places, read great books, gadget hoard, play games, take pictures and write. She currently exercises racehorses and works with her own off-the-track-Thoroughbred (OTTB). Her career in media focuses on equestrian lifestyle. You can add her to your Google+ circles, subscribe on Facebook and follow on Twitter.