A Visit to the National Cowgirl Museum and Hall of Fame in Fort Worth, Texas
by Karen Braschayko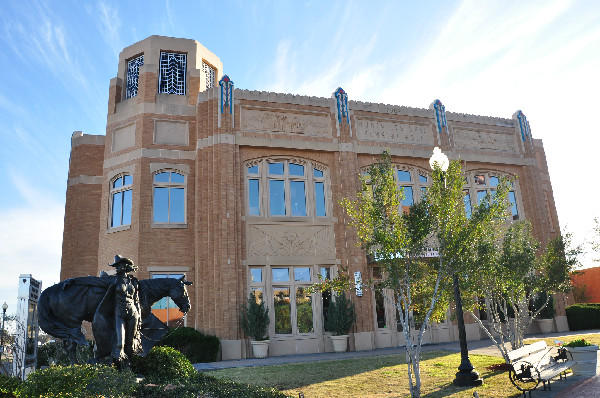 Ever since watching Darley Newman's visit to the National Cowgirl Museum and Hall of Fame on Equitrekking, I'd been raring to see the sparkling saddles and mechanical bronc for myself. So when I knew I'd be near Fort Worth on a business trip, it was the number one destination on my list, and I was more awed than I could have imagined.

What You'll See on Your Visit — Cool Cowgirl Exhibitions and History

What I found was much more than the interesting artifacts, touching stories and intriguing photos I had expected. Linked together, the exhibits connect the courageous women who shaped American history. The museum as a whole provides a cross-slice of the female experience in the American West and beyond.
It's a chance to enjoy the lighthearted, such as sequined hats and pulp fiction Westerns, but it's also a deeper look into the struggles and strength of women. You'll see trick riding saddles, performers' costumes, trophies, belt buckles, boots, tack, sculptures and books, but you'll also get a wider sense of the cowgirl's contribution to America's story.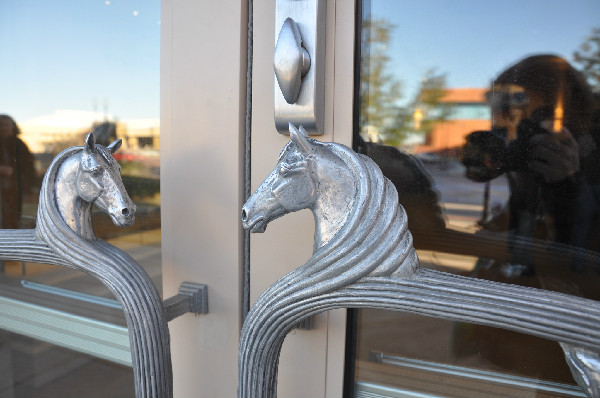 There are horses at every turn, from the door handles to the chandeliers.
Give yourself plenty of time to absorb, because from cowgirl fashion to equine art and historical narrative, there's a lot to take in. I developed a new appreciation for all of the women who formed the West and changed our society. Stories of women traveling on the first rodeo circuits, fighting for stronger roles in Hollywood, achieving notable firsts, and managing pioneer ranches are also the tale of how hard women have worked for equality.
Women fought not only anti-female but also ethnic prejudices to remain beautiful, feminine and tough. Born out of necessity as families tried to make a living on the range, the cowgirl became an advertising image so fascinating that it has been used to sell countless products for many decades.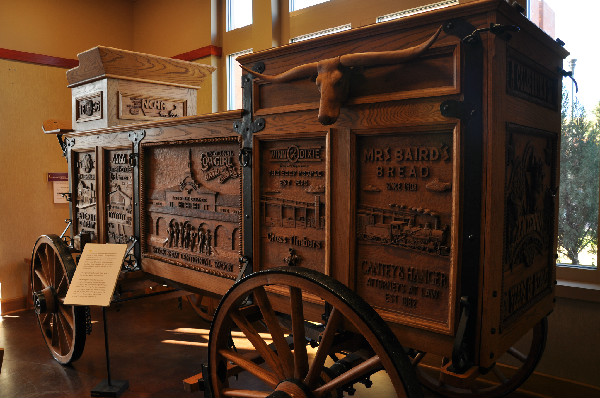 This hand-carved, commemorative wagon took more than a year to complete.
Bringing the Kids to Play Cowgirl... or Cowboy

The National Cowgirl Museum is fitted for all ages and engages visitors in many hands-on experiences. In an area dedicated for children, young cowgirls and cowboys can act out camping on the range, play games, read books and relate to cowgirl characters they know, such as Jessie from Toy Story 2. "And when she grew up she became…" is a feature that shows life-sized photos of several cowgirls as children, an inspiring reminder that with hard work we can accomplish our goals just like they did. Sit on a saddle to watch films in the "Reel Cowgirls Theater," ride the mechanical horse, and don't miss the outstanding gift shop teeming with temptation for anyone who loves the West.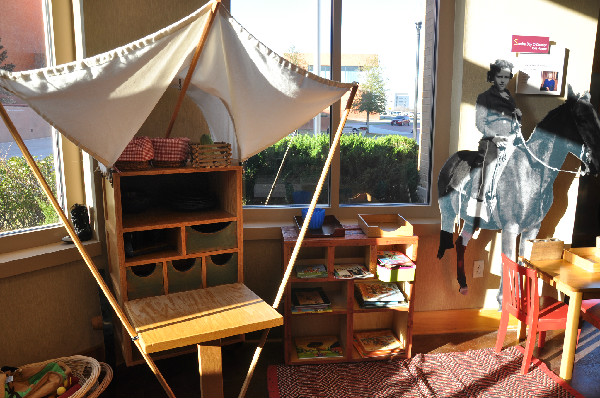 There is room to play out camping, ranching and performing in the children's corner.
If you'll be near Fort Worth, I highly recommend a stop. Filled with inspiring quotes about human strength and female determination, the museum explores the cowgirl as a metaphor for the power we have to change our lives. Enjoy the fun or delve deeper — you may even inspired to take on the challenges in your own life.

How you can go: The National Cowgirl Museum and Hall of Fame is located in the Fort Worth Cultural District at 1720 Gendy Street, Fort Worth, Texas 76107. For more information, visit www.cowgirl.net, or call (817) 336-4475 or (800) 476-FAME.

Karen Braschayko is a freelance writer and horse lover who lives in Michigan.