A Unique Montana Ranch Experience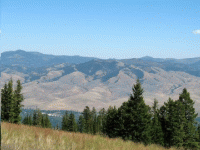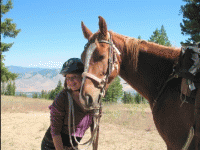 by Susan Seligman
Ten minutes south of the bustling Montana college town of Missoula is Dunrovin Ranch, a hidden equestrian haven offering a one-of-a-kind Big Sky experience…a create-your own riding vacation on magnificent smooth-gaited Tennessee Walking Horses.
Located adjacent to the Lolo National Forest in Montana's beautiful Bitterroot Valley, with a mile of private river, Dunrovin Ranch is owned by SuzAnne Miller, an amazing dynamo who makes anything and everything happen that has to do with enjoying horses and the outdoors in her native state. Along with terrific trail riding, SuzAnne organizes incredible expeditions to immerse guests into Montana's natural and cultural history. Local experts accompany the expeditions adding an experiential aspect to each journey.
A legendary outfitter leads trips into the Bob Marshall Wilderness, an astronomer explains the night sky on a camp-out, and an historian rides with you along the Lewis and Clark trail.
Photographers, artists, naturalists, expert anglers, professors, all become a special part of your expedition. How about a 19th century English aristocratic safari complete with a high tea along a mountain stream? Durovin is all about creating a memorable experience with generous doses of fun and fantasy with wildlife sightings thrown into the mix! .
You won't find rustic cabins with cowboy kitsch at Dunrovin or a gaggle of guests. There are only two "French cottage" guest facilities with full kitchens, a hot tub, fire pit and a private deck overlooking the gorgeous gardens and the river. You can prepare your own food or take advantage of the many great restaurants in vibrant Missoula, just minutes away.
Fill your evenings with top-notch theater at the nationally reputed Montana Rep, enjoy a symphony or lectures at the University, an art walk, or just cozy up with a book in your cottage.
Traveling with a non-rider? Prefer a day off of your horse? Hiking into the Lolo National forest is right out your door, and some of Montana's best fishing for blue ribbon trout can be had at the ranch's private mile of the crystal clear Bitteroot River. There's also the "Dunflowin" swimming hole with its sandy beach and cool, spring-fed waters. Canoeing, rafting or inner-tubing are all fun river adventures enjoyed from the ranch.
Dunrovin is growing into an amazing community venue and overnight guests are invited to join farm to fork buffets, art exhibits and concerts at the ranch. Winter activities include riding horses along snowy trails, cross country skiing and snow-shoeing. The Bitteroot Valley is located in Montana's "banana belt" and weather here is excellent for outdoor winter sports.
I loved my full day late summer ride up into the Bitterroot Mountains. My horse Romeo was a dream. I practiced in the arena to get him into his "walker" gait, and once on the trail, gaiting was a complete blast.
SuzAnne hadn't ridden that trail all year, and as we hit impassable areas with overgrown brush, she whipped out a saw and cleared our way through. We climbed high into the mountains through sun-dappled forests to our picnic with a panoramic view of Missoula and the Bitteroot Valley. What a memorable ride! I'm returning next year for a wilderness adventure in "The Bob" (Bob Marshall Wilderness). Stay tuned.
Susan Seligman is an adventure travel writer and equestrian who rides and writes from her home in New Mexico.
Learn more about exploring your world on an equestrian vacation through EquitrekkingTravel.com, which features horse riding vacations hand-picked by the Equitrekking team, and search for horse vacations in Equitrekking's Vacation Guide, a comprehensive resource for dude ranches, riding holidays, cattle drives and equestrian escapes.