Horse Pack Trips in Banff - History in the Saddle
A Horse Pack Trip with a Modern Tom Wilson and a mule named Sharon Stone.
by Darley Newman as published in her column in True West magazine.
I welcome travel in areas where no vehicles are allowed, because it means fewer of us and more of the "wild" out in the wilderness.
In Banff National Park, the oldest national park in Canada, you won't run into a lot of people as you ride the trails. This was certainly the case during my Banff horse pack trip aboard a horse named Tumbleweed, led by guide Barry Ferguson on his mule named Sharon Stone. Yes, Ferguson prefers riding a mule to witness the park's most spectacular views, first seen by pioneers like Thomas E. Wilson, who blazed many of the trails enjoyed by contemporary travelers.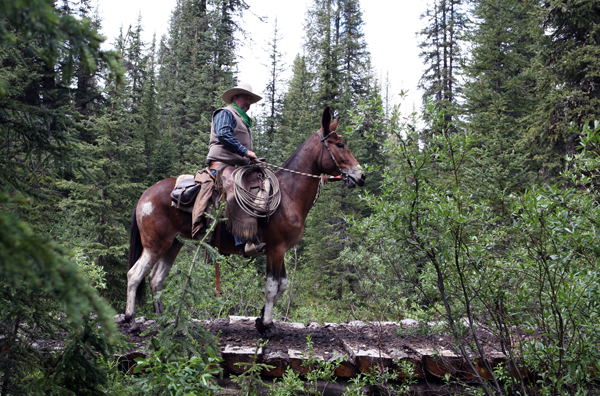 Barry Ferguson crosses an old log bridge on his mule Sharon Stone.
For thousands of years Banff was home to the Stoney Indians. Though trappers and explorers encountered Banff by the 18th century, its unique beauty was not widely reported until the 1880s, when the Canadian Pacific Railway (CPR) was being built.
The area's glacier-fed lakes and towering snowcapped peaks attracted scientists, adventurers and elite American and European travelers. Guides like Wilson—a former CPR surveyor, who is credited with forging a trail from Laggan up to Lake Louise in August 1882—took people into the wilderness to experience Takakkaw Falls, Twin Falls, Emerald Lake and other stunning natural monuments.
A view from the trails in Banff National Park, Alberta, where no motorized vehicles are allowed.
Wilson shared his fond memories of trail life in a 1924 edition of the Alpine Journal: "Good old days on the trail and evenings around the campfire and when the coffee pot upset just as it was beginning to boil and the sugar and salt got wet, and sometimes the beans went sour and the bacon musty and the wind blew smoke in your eyes, and ashes and sparks on your blankets, and the butt of the biggest bow hit the small of your back, and the mosquitos almost crowded you out of the tent, and you heard the horse bell getting fainter and fainter, and you knew damn well they would be five miles away in the morning—but just the same, O' Lord, how I wish I could live them all over again."
I found no sour beans, musty bacon or ashy blankets on my pack trip into Banff. I ate home cooked roast beef with baked potatoes. The sleeping bags and bedroll I rented from an outdoors store in downtown Banff kept me warm and dry in my tent. With my tent on a riser, I slept under the stars, without being on the cold, wet earth. Early travelers would have been able to buy or rent equipment too, from none other than the "T.E. Wilson's Outfitters of Banff" store.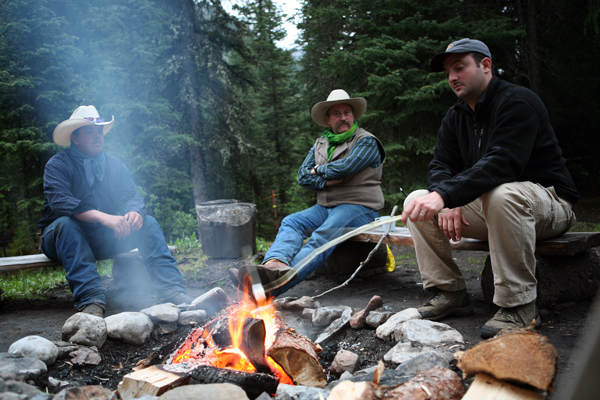 Cooking s'mores by the campfire at Mystic Camp in Banff National Park.
After the Banff Springs Hotel was completed in 1888, an influx of tourists sought out guides to take them into Banff. Wilson served as the official guide for the CPR-owned hotel, advertising himself as "Tom Wilson, the guide to the CPR."
He went on to teach legendary guides, who would go on to train modern-day outfitters like Ron Warner, owner of the horse pack company guiding me on my trip. Warner had worked for Claude Brewster, whose family runs an outfitting company that is allegedly the oldest still operating in Alberta, called Brewster Mountain Pack Trains. The Brewster brothers purchased their outfitting operation from Wilson. The legacy of Wilson, who died in Banff in 1933, lives on in these packers.
Along Banff's rocky and sometimes muddy trails, Ferguson guided me to Mystic Lake, a turquoise-colored, glacier-fed mountain lake surrounded by grand snowcapped Mount Ishbel. Neither of us said a word; the beauty stood for itself.
Beautiful Mystic Lake, a great place to ride to on horseback in Banff.
Learn more about horseback riding in Banff National Park in the Equitrekking Vacation Guide.