A Wilderness Photography Workshop on Horseback
By Michael W. Church
Why you should consider a wilderness photography workshop.
Why take a photography workshop during a horseback riding wilderness adventure? The answer is simple: Those of us who take horseback riding vacations not only love riding horses in the wilderness, we also love to take pictures of these adventures to preserve our memories and to share them with family and friends. But when we get back home and look at our photos, we are frequently disappointed--because of the motion blur caused by the moving horses; the uninspired composition and poor exposure of our photos; our inability to capture scenes at dawn and dusk; the fact that we don't know how to do close-up photography of colorful flowers and insects; or our inability to photograph the awe-inspiring starry nights and the Milky Way that shine so brightly in the wilderness skies. What better way to solve these problems than to choose a horseback riding vacation that includes a photography workshop?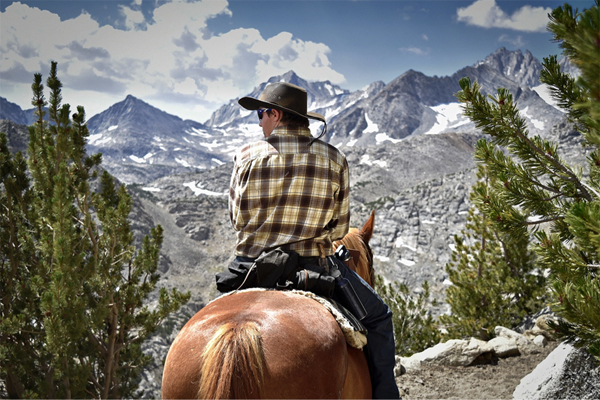 Ascending along the trail to Mono Pass. Photo by Michael W. Church.
Fortunately, I stumbled across a five-day horseback riding adventure in the Sierra Mountain Wilderness that focused on photography. The trip was called, "Pioneer Basin Trail Ride with a Photography Workshop". It is one of the many wilderness riding adventures into the Sierra Mountains that is offered by Rock Creek Pack Station out of Bishop, California. The website describes the adventure like this:
"Bring your camera and work with professional photographer Ken Lee to improve your skills…Our destination is Pioneer Basin, one of the most scenic settings in what John Muir aptly named 'The Range of Light.' Truly a photographer's paradise, this remote location is not so easy to access. Fortunately, we will have our equine companions to help us with the heavy lifting as we ride into this magnificent alpine environment. Alpenglow, golden hour, blue hour…these are the conditions that produce portfolio images…Your level of photography experience is not as important as your desire to grow your image making abilities."
The experience:
After reading their description (and because I'm both a photo enthusiast and horse lover), I was sold. The trip more than fulfilled my expectations. I came away with many new photography skills. Let me share my experience and photos with you.
Our group met at the Rock Creek Pack Station, which is located on the eastern slope of the Sierra Mountains near the tiny town of Tom's Place, a small establishment lying somewhere between Bishop and Mammoth Lakes, California. Our group gathered at the pack station at seven o'clock in the morning. The five guests--three wranglers and one professional photographer/instructor-- got acquainted with each other over breakfast served at the pack station. Our lady wranglers were Kailey and Penny. Penny also doubled as our cook and was accompanied by her dog and faithful sidekick, Ruby Tuesday. Our gentleman wrangler was Jackson.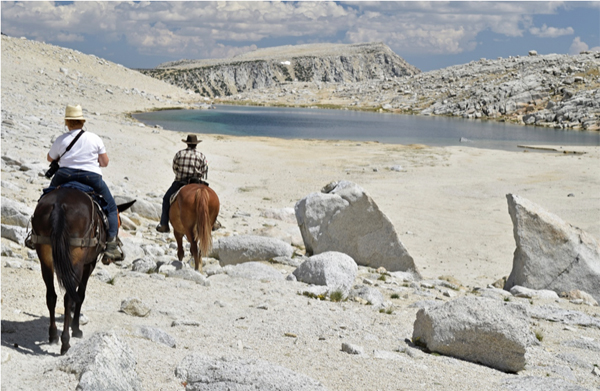 The stark moonscape of Mono Pass and Summit Lake. Photo by Michael W. Church.
After breakfast, we mounted our horses and headed to Mono Pass, followed closely by a string of trusty and surefooted pack mules that were carrying our supplies. Our group rode westward and up into the mountains, passing a series of pristine blue lakes, babbling brooks, lush-green forests, mountain meadows, and the majestic Mount Starr. As we continued climbing the mountain trail, the verdant sylvan scenery gave way to a stark and stunning rocky moonscape as we ascended above the tree line. We eventually climbed to Mono Pass and Summit Lake at an elevation of 12,000 ft. As we descended from Mono Pass, we stopped to eat lunch at Trail Lake. We then proceeded further down the mountain pass to Pioneer Basin where we recaptured forests and meadows. We set up a base camp there. The day's ride took about six to seven hours.
Even though our base camp was at Pioneer Basin, each day we would ride out to another location to do our photography assignments. On these day rides, we went to places like Recess Lake #4 and Golden Lake. We would eat lunch there, do our photography assignments, and then head back to base camp.
Every night after dinner, our professional photographer Ken Lee would give us a lecture on a photography topic such as how to shoot at dawn or dusk, how to capture alpenglow, how to photograph flowers up close, or how to photograph the Milky Way and star trails at night.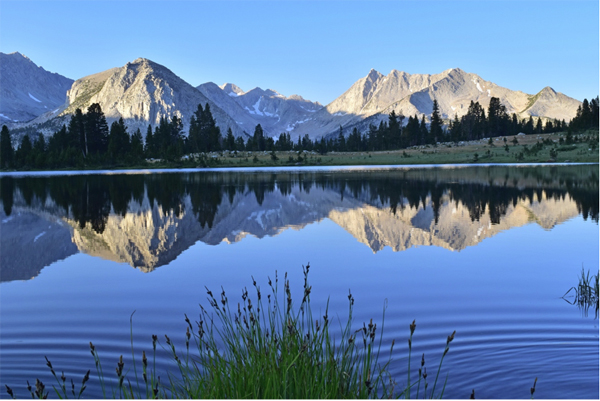 Ripples in the water, Pioneer Basin Lake at dawn. Photo by Michael W. Church.
For the "at dawn photography assignment", I took a picture of Pioneer Basin Lake. The sun had yet to peek over the mountain tops, and the scene was darker than the photo that was captured by my camera. Some of the key elements of this photo were to have the camera on a tripod to eliminate movement artifact, a high aperture setting to get both near and far objects in focus (e.g., F=22.0), and a modestly slow shutter speed of 1/20th of a second to help smooth the water surface and to increase the light exposure. Taking the lake shot in the early morning meant that the lake's surface was relatively smooth due to the lack of wind. Along with the slow shutter speed, this enabled me to capture a mirror-like reflection of the distant mountains on a smooth-as-glass lake surface. The symmetry and repeating patterns of the mountains in the background and their reflection in the lake, along with the ripples in the water and the grass reeds in the foreground, are all elements that add to the composition of the photo.
Another assignment was to take close-up photos of flowers and insects. Again, a tripod is useful to steady the camera and to hold it close to the flower. For close-up shots, one employs a wide-open aperture (e.g., F=5.0) to blur the background, making the flower "pop" out of the photo as if it were a three-dimensional object. I discovered that one could make such photos with a hand-held camera if one uses a fast shutter speed to eliminate motion blur (e.g., S=1/800 sec).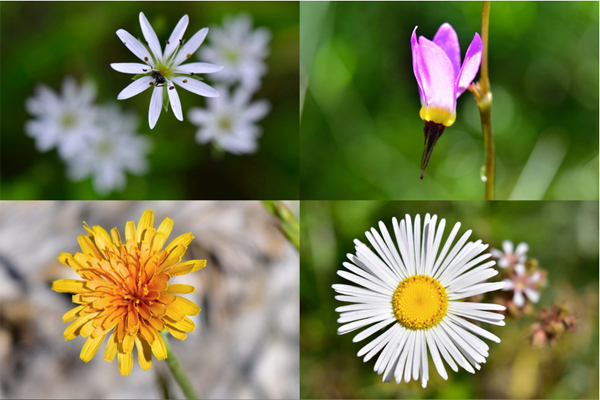 Close-up photos of alpine meadow flowers. Photo by Michael W. Church.

Taking nighttime pictures of the Milky Way and star trails were our most complicated and challenging assignments. First, of course, you need to be in the wilderness far away from city lights to see the Milky Way with brilliant clarity. You also need to manually focus on "infinity" during daylight hours and mark that spot with colored tape placed on the camera's lens barrel for reference at night time. A tripod is essential because the exposure times should be about 20-30 seconds. Use a wide-angle focal length of 18mm or less, a wide-open aperture of F=4.0 or so, and an ISO of 2000-16000. All of these will enhance exposure to better capture the light emanating from the Milky Way. You should also engage the camera's "Long Exposure Noise Reduction" and deactivate the "Active-D Lighting" feature. Ken Lee pointed out that changing the white balance (WB) setting could have interesting effects on our night shots. A WB setting of "incandescent" will give a blue sky with white stars, a WB setting of "daylight" will give orange stars, a WB setting of "shade" will give orange-red stars, and a WB setting of "auto" will give white stars with a dark sky. Post-processing with Photoshop or a similar program is also needed to brighten the photo further. Though complicated, you can see how wonderfully interesting and rewarding photography can be at the same time.
Milky Way at Pioneer Basin Lake and old log at Recess Lake #4. Photo by Michael W. Church.

A handy hint: To reduce the problem of motion blur associated with a moving horse, merely use a shutter speed of 1/125 or 1/180 seconds rather than the standard shutter speeds of 1/60 and 1/90 seconds.
A side trip to the ghost town of Bodie, California
Those of you who have read my previous equestrian Sierra Wilderness articles know that I'm a big fan of taking photos at the nearby ghost town of Bodie. It's a magnificent place to utilize your newly acquired photographic skills. Be sure to add an extra day to the back end of your trip so you can visit and photograph Bodie. You'll be ever so glad you did.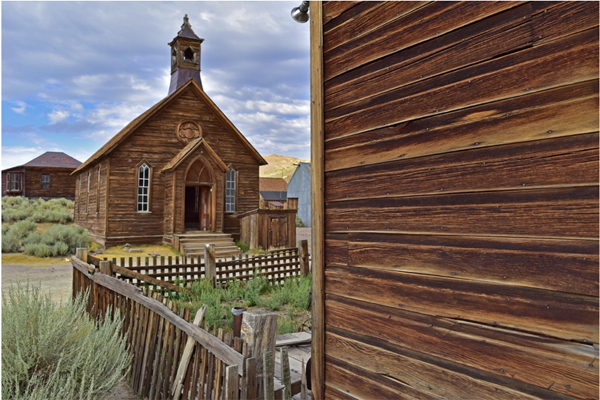 The Methodist Church in the ghost town of Bodie, California. Photo by Michael W. Church.
Travel information
This trip is conducted by Rock Creek Pack Station of Bishop, California. For more information about their wilderness horseback riding vacations in the Sierra Mountains, visit their website: [url=http://rockcreekpackstation.com]http://rockcreekpackstation.com[/url].
Wishing you happy trails,
Michael W. Church