A Spectacular Arizona Horse Drive at Sprucedale Guest Ranch
Some things just surprise you. That's the best part about life. Being around something so much, and somehow it can still give you an experience you never saw coming...
"It's the way you ride the trail that counts" - Dale Evans
Going on a horse drive, I didn't realize it to be an item for my bucket list until I actually finished the drive. Being around horses on a daily basis makes one sometimes forget that you cannot achieve all possibilities within a sport's discipline because of your location. Some things are bound to culture and environment. Our mixed traveling group consisting of five, both either Dutch or American, all having met in a Dutch riding school about two years ago.
When our American friend, who was working in the Netherlands at the time, went back to the USA, the idea arose to visit her. To make a long story short, our visit to Sprucedale Guest Ranch near Alpine, Arizona was soon added to our to-do-list; simply because there isn't enough wide open space to drive horses in the Netherlands.
The endless fields leading up to the White Mountains, Arizona
The Sprucedale Guest Ranch offers horse drives in spring and fall each year. It's one of the many horse riding opportunities they plan during the summer season. For the spring drive, we arrived on Sunday afternoon and we were kindly introduced to their property during the remainder of the day. We were shown our cabins and dinner was prepared for us and other guests in the common room. There, we were introduced to the ranch manager Billy, to Katrine, who was one of the wranglers who'd be accompanying us, and to our fellow guest riders and other wranglers for the week.
They broke down the basics of what to expect during the drive. We'd be riding horses for four days. Our first ride was on day one. It was a two-hour-trail to get used to our assigned horses and to triple check that all tack was okay for both horse and rider.
I was matched with this magnificently beautiful tovero black paint gelding, Stetson. The other three days, we'd be spending on the road with 80 horses covering over 60 miles. Initially, we'd spent two nights out in the woods in tents. However, due to the weather, we returned to the ranch for the second night out.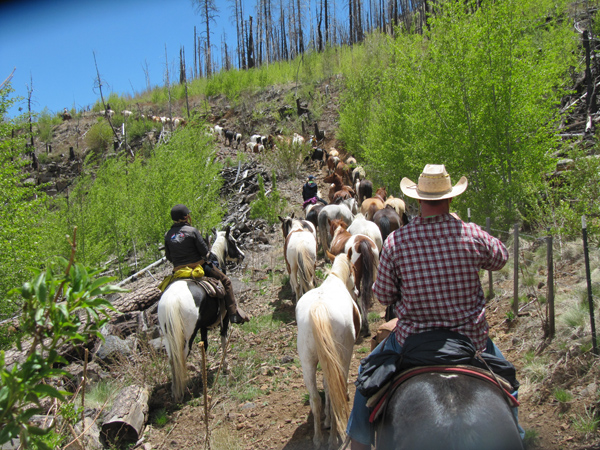 Going up the mountain and cliff wall
There are no words to describe the feeling when the herd is first released from the corral near Lyman Lake. Out of the 80 horses, around 20 were ridden during the drive. Nevertheless, it's still such a thrill to see 60 horses leave their confinement into the vast and open landscape that the White Mountains and surrounding areas have to offer. At times, it feels so surreal, especially when you're from a country where hills don't even properly exist. To be riding in such an environment is breathtaking, even if there hadn't been a herd of horses. To ensure the riders' safety, but also those of the horses, the stallion and the mares with foals, were brought back to the ranch by trailer.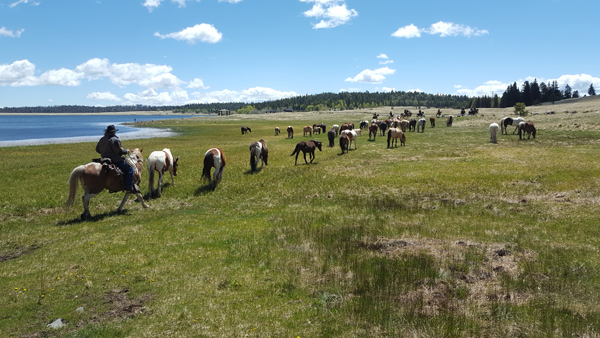 Driving the herd past Big Lake
During the drive, you're exposed to such a diverse display of nature that Arizona has to offer from open fields as far as you can see, to climbing up cliff faces to get up the White Mountains; from crossing rivers and creeks, to walking in line, a very long line of 80 horses, through valleys. Each day is different and that's what makes this drive so amazing. I reckon all of us had had it at some point during the drive for whatever reason: being sore or cold (we've seen all sorts of weather in a very short span of time), because they're long days in the saddle, even when you are riding at least three times a week. But every morning, I'd be giddy to get back on Stetson and see what a new day would bring.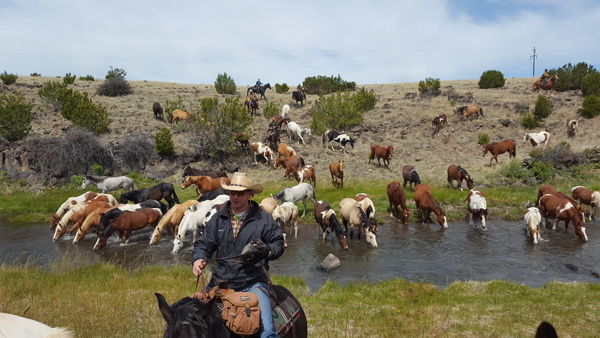 Crossing the Little Colorado River near Eager, Arizona
It is very fascinating to learn about herd dynamics just by looking at them. Even when you're not working with horses daily, everyone knew at some point which horses didn't like each other, which would either always be in front of theherd or all the way back. You were taught the dangers of being in the wrong place within the herd (never be in the herd!), of cattle grids (don't let them go near them!) and of crossing herds of wild horses or cattle (don't let them mingle!).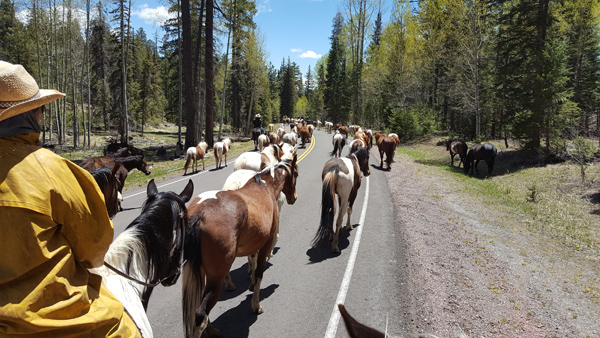 Driving the herd on the freeway, AZ-261
t's difficult to choose between so many magnificent and indescribable experiences to pick one highlight of this trip. Going up a steep cliff wall is high up on the list, but also encountering wildlife such as wolves, elk and coyotes. Herding horses on the freeway is definitely more common in the US than in the Netherlands (it just doesn't happen there at all).
Cars stopping on the side of the road, filming us herding horses as if we are doing this all the time. The latter is quite hilarious come to think of it. Tourists filming tourists. Being surrounded by nature and animals, eating the most delicious food given the circumstances and all of this organized by this wonderful and lovely group of people that is Sprucedale Ranch. It was just a treat, worth travelling half the world to get there and to experience the freedom and vastness that the West has to offer.
Sprucedale Guest Ranch is about a 5-hour drive from Phoenix, AZ in the northeast of Arizona.
About the Author: Sophie loves to travel and ride horses. Working various jobs (mainly catering) in a local riding school in the Netherlands and teaching teens English, she works to travel the world. Her journeys can be followed here or via Facebook or Instagram.