A Mongolia Horseback Riding Vacation with Stone Horse Expeditions
Should you go horse trekking in Mongolia? Is it difficult? Dangerous? What kind of equipment do you find? How's the food? How difficult is the riding? Nancy Diehl takes her daughters to ride in Mongolia and answers those questions and more in this traveler review of Stone Horse Expeditions & Trekking.
by Nancy Diehl

A Mother Daughter Trip to Mongolia

I wondered if it would be okay to be with my two daughters, ages 14 and 12 in the cold. My daughters love riding and animals, and I hoped not to slow down the group. Unfortunately our school holiday didn't exactly meld with the Stone Horse schedule, but they were able to arrange a 5-day trip and then continue on with the others.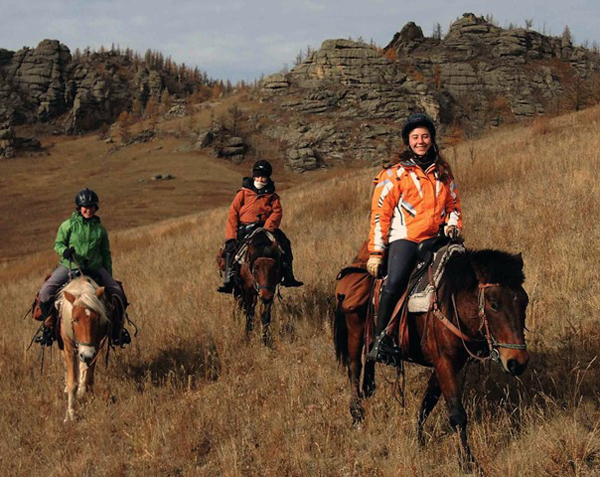 Nancy and her daughters riding in Mongolia.
Details to follow below, but our overall experience was of a trip that I think will be remembered for a lifetime. Since moving overseas in 2007, we've taken many adventure and cultural trips to different countries. This riding trip with Stone Horse was something truly special. Why? It's difficult to piece apart, but some of the components are the amazing beauty of Mongolia, a connection with the natural world, wonderful horses, the teamwork of all the staff, and the sense of being truly "away." We were able to connect with the horses and each other in a very special way.


Planning a Mongolia Riding Vacation

With a skype conversation to answer questions, and a thorough packing list, we thought we were ready for our adventures equitrekking. When the food preference questionnaire included options of always meat, some meat, seldom meat, vegetarian and vegan and beverage choices included red or white wine, our expectations shifted.

Travelling to Mongolia from Hong Kong was surprisingly simple. We flew from Hong Kong direct on MIAT, and the flight was excellent with good service. We were met at the airport, and adventured on our own the first evening in Ulan Baatar. The following morning we met our fellow riding guests and then drove out to the staging area.

As I had not done much riding (but for 2-3 hrs) in the past 30 years, Keith advised that some knowledge and love of horses and a sense of adventure and willingness to try new things was all that was necessary. I was hopeful, and a bit apprehensive.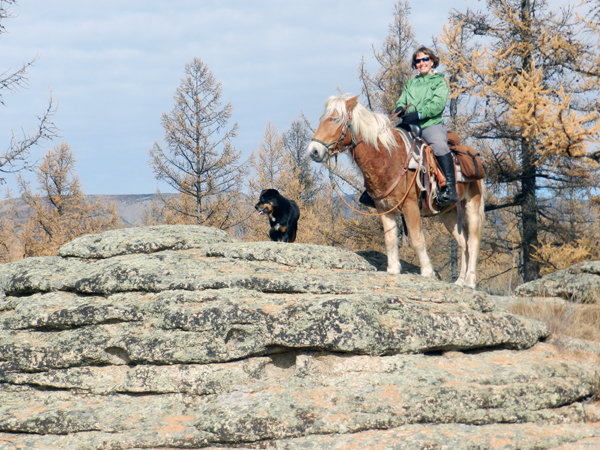 The author, Nancy Diehl, riding Mongolia.
Mongolia Riding Tour's Day by Day

The cabins in the staging area were so beautiful, the surrounding areas gorgeous, and fresh salads and lunch were delicious, it was hard to imagine it would get better. We were introduced to our horses here. The girls quickly demonstrated horsemanship skills and were cantering around the area, while the rest of us gently warmed up to the ride and tested our skills. After lunch we repacked into the waterproof bags and saddle bags provided and headed off for the grand adventure. The horses are amazingly well trained, strong, and eager and friendly. Apprehension completely alleviated.

We rode for several hours each day, with the terrain and the campsites different. Crossing rivers, plains, going up and down mountains, seeing all kinds of different animals and the occasional ger or collection of them. There was time enough in the evening to read a bit or play games, but mostly we were engaged with camping and riding and talking. The timing was great. We didn't feel rushed at all, nor was there too much idle time. Wake up, breakfast, pack, and head out for the day. Surprisingly my riding came along quickly, and soon I'd canter off with the girls as they raced with Ben and Jerry across the plains.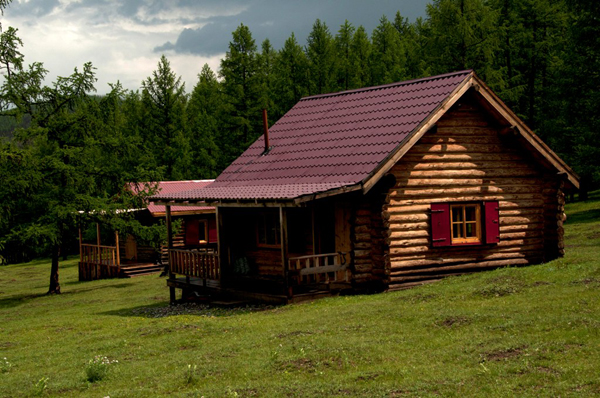 Cabins at the staging area.
Keith and Sabine managed to make the trip entire delightful, fun, and fascinating for everyone. They made sure to spend time connecting with all the guests. With a maximum group size of 6, this can be done daily. From the outset, it was clear that we were in amazing hands, and that we could enjoy the trip stress-free. The equipment was of very high quality and in excellent condition. They were clearly sensitive and knowledgeable about camping with minimum impact and local culture. Additionally, they were willing and able to make accommodation for the groups requests. One party casually mentioned a trip with hot water for a wash-up in the morning, the next day there was a huge bag of warm water. My daughters enjoyed riding fast, at first Sabine would go ahead with them, but as their riding was confident and competent, they had freedom to go off by themselves.

The scenery was amazingly beautiful, and though we were there at the end of the season¬¬–– many shades of yellow and gold¬¬–– its easy to look at pictures and see that the beauty of the area would be incredible any time of the year. Waking to frosty manes on the horses and the crunch of the frosted grass the first morning gave us an even greater appreciation of the quality of the three layers of sleeping bags provided. The blue skies (aptly named motto of Mongolia) were beautiful… and the amazing stars in the night sky were unforgettable.

We enjoyed creating our own jobs. Although help is available for any task, once the tent set-up is demonstrated, if you like to do that on your own, it is available. Megan was quickly in charge of tent set-up and take down.The expert horsemen get the kitchen tent (usually equipped with a warm fire) ready and before you have sleeping bags unrolled, there is hot water and a snack ready. Food was delicious, a very impressive feat for cooking camping! Our daughter is a vegetarian, and the variety and quality of the meals was great.

Between Keith and Sabine, the depth of their expertise about Mongolian language, customs and traditions, park preservation, camping, horses, and anything about nature (I am sure we only touched the surface of what they know) they were able to chat, and answer questions but never lecture-ish. It was incredible to have these kind of experts also be the wood gatherers, guides, chefs, wilderness medicine people, etc.


Riding Off the Typical Tourist Path
Our daughters really loved the experience of camping and riding with Stone Horse. They felt free, safe, and enjoyed each other, the horses, and the experience. They climbed trees, scampered up rocks, snuggled with the cuddly sweet dog called Stinky and fell in bed happy and tired from riding several hours a day and clean fresh air. They had freedom to explore their limits in many different areas and also absolutely fall in love with the horses. Phoebe woke up early every morning to ride bareback around the campsite. Her greatest challenge of the trip was saying goodbye to Ben and Jerry when we left.

There are always some glitches–– often making the trip more memorable. As we were riding back from the countryside to the city, the Russian water-land vehicle had some trouble. While the driver ably unpacked his tool bag and went to work, the girls climbed more trees and collected beautiful yellow pine needles and fairly quickly, we were on our way again. I share this incident as an example of the depth of the expertise of everyone with whom we interacted. Problems occur (one horse had trouble) but with extensive knowledge this was treated and an alternative horse shifted tasks to step in. At every stage, any situation was handled in a calm, knowledgeable, and responsive fashion.

I feel that it is impossible to compare this experience to other riding trips, as this is not a tourist outing, but it feels like Keith and Sabine (who go on EVERY trip) want to share the beauty of the country, riding, and the quiet calm of the national park. You are truly the guests of internationally renowned experts/consultants. All of us (ages 44, 15, 12) had an amazing and memorable time. The Mongolian horsemen who took care of the horses and many other tasks were super, and we also enjoyed watching their interactions with each other. Our last two nights we stayed in a ger and appreciated the hospitality. It was hard to believe that it takes a family only an hour to dissemble this lovely, memorable, and beautiful home.
We had some fantastic adventures and left Mongolia wishing to return to all the people and animals at stone horse again soon!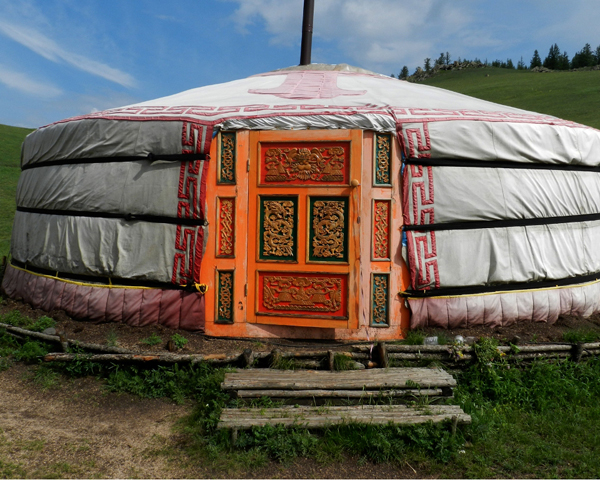 A traditional Mongolian ger.
A final thanks to Oggie for helping us sort things out on the last night after a long day in the car. Her help in the State Dept. Store and getting a taxi back to the hotel were much appreciated, and it was well-beyond the end of the workday. Now that it is winter and cold back home, we are appreciating our cashmere blanket and sweater. It does keep you warm!

Learn more about Stone Horse Expeditions & Travel's riding vacations in Mongolia on their page in the Equitrekking Vacation Guide or on the Stone Horse Expeditions' website.