A Luxury Equestrian Vacation at Salamander Resort & Spa, Virginia
Equitrekking's Caroline Maffry takes her daughter on an equestrian escape in Virginia Hunt Country at Salamander Resort & Spa in Middleburg.
by Caroline Maffry
Virginia Hunt Country has a new luxury resort located in an oasis-like setting in the historic village of Middleburg. The Salamander Resort and Spa is the place for every equestrian enthusiast, equipped with a state of the art spa, and amenities equal to some of the best hotels and resorts in the world. Unique to Salamander Resort & Spa is the equestrian theme throughout the resort. Whether you are just a horse lover curious to learn more about this enchanted animal or a true equestrian looking to bring your equine partner to the resort for some r&r together, the resort has something to offer. There is a stable on site and they have developed their own equestrian programs and activities that appeal to families, individuals of all skill levels and corporate groups.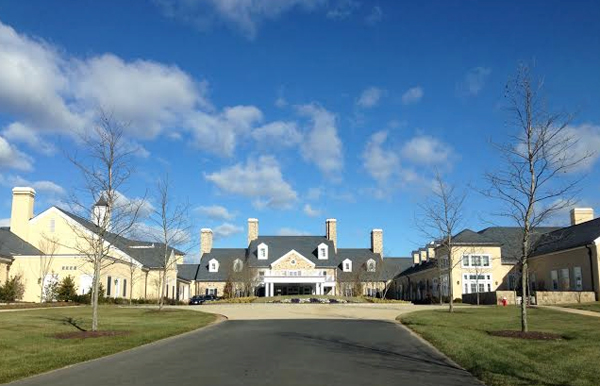 Salamander Resort & Spa is designed to look like a Virginia mansion. Photo by Caroline Maffry.
As we traveled away from Washington, DC, the Capitol Dome faded into the distance and the city skyline of the nearby Northern Virginia suburbs disappeared. It was replaced only an hour later by endless picket fences and stone walls, fall foliage, and quaint towns that line John Mosby Highway (Route 50) out to Middleburg, VA, where the resort is neatly tucked onto its own 340-acre estate. With my daughter joining me for the weekend trip, we made our way past the shops and weekend visitors going about their business in the village and proceeded just minutes from the center of town to the resort.
As the Salamander property came into view, it was as if we had been transported into another world, one of tranquility and peace. We were looking forward to a little bit of pampering over a weekend spent relaxing amid Virginia's late autumn beauty.


Ariel view of Salamander Resort & Spa. Photo credit Jim Hanna.
Salamander Equestrian Center
Our first stop on the property was the 25-acre on-site equestrian facility. Entirely dedicated to the equestrian program, the facility has nine paddocks and a 22-stall stable, an outdoor riding arena and miles of trails. We were greeted by Equestrian Director Sheryl Jordan as we were led into the stable. For those readers who spend many hours in a stable, you'll appreciate the attention to detail exhibited in the stable design. My teenage daughter remarked, "it looks just like the Breyer Stable that she had when she was little". Everything one needs to prepare the horse and rider is immediately on hand and sparklingly clean and neat. It's how we wish we could organize our own stables.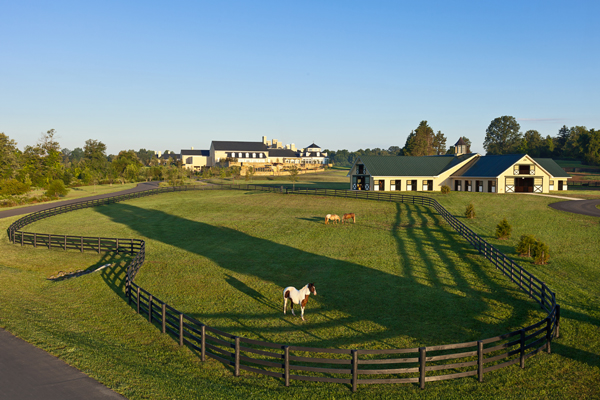 The Stable and Paddock at Salamander Resort. Photo credit Justin Kriel.
Touring Salamander's Equestrian Facilities
The luxury of the stables rivals that of the Academy of Equestrian Arts in Versailles, France! With wide spacious isles, the 14,000-square-foot stable features 22 stalls that are faced with tongue and groove knotty pine wood. For a look of simple elegance, the stable is equipped with brass and black iron features, while still achieving optimal function for the true equestrian. The stable's design also includes a loft hatch over each stall allowing hay to be dropped directly into every stall at feeding time. Conveniently located only steps from the stalls are two large wash stalls.
One feature I particularly like is the built-in laundry room, with it's own industrial sized washing machine for cleaning horse blankets and saddle pads. The tack room houses both English and Western equipment. For visitors and guests of the Resort, helmets of all sizes have been stocked and neatly line the shelves, all color-coded by size for quick visual reference. Extra paddock boots, gloves, and rain ponchos await your trip for visitors without their own equipment. The Equestrian Director's office directly overlooks the stable itself, allowing her to keep an eye on the horses at all times.
Salamander Resort and Spa Equestrian Center Director, Sheryl Jordan
Sheryl Jordan began her equestrian career over 40 years ago in the countryside of Northern Virginia riding bareback upon her first pony, Prince. Since then, she's made it her mission in life to facilitate understanding between horses, humans, and nature. She has done so by managing high-end equestrian facilities, giving classical riding instruction, teaching clinics, participating in public speaking opportunities, and creating her unique program, Equine Connection, now known as The Equi-Spective Experience at Salamander.
Before stepping into her current role as Director of the Equestrian Center at Salamander Resort and Spa, she was the Director of The Ford Plantation Equestrian Center, where she worked with the exclusive members of the Plantation and provided top quality care to the equine residents. Sheryl is a Certified Instructor with the American Riding Instructors Association and is also certified with the Certified Horsemanship Association as an instructor in English, Western disciplines and as an Overnight Pack Trip Guide.

Sheryl was eager to share her knowledge with us. With a wealth of activities and experiences available, she is devoted to her mission for the current and future Equestrian Programs that Salamander has to offer.
For unique venue ideas, the stable can be transformed in to a banquet area for social and corporate gatherings, weddings, and parties for all types of events. Where else can you dine in style with horses?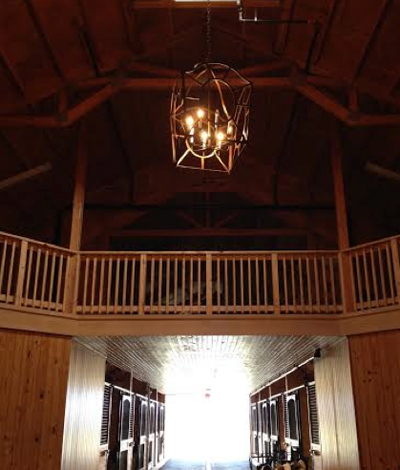 Inside Salamander's Stables, the starting point for the variety of classes, instruction and trail rides offered by the equestrian program. Photo credit Caroline Maffry.
Luxury Horse Accommodations and 'Equine Spa'
The Salamander Resort & Spa would not be living up to its name if its luxury accommodations were only for humans. Our equine friends have top-notch accommodations as well, with overnight boarding in the luxurious stable for the resort guest's horse or horses. Guests are welcome to bring their horse during their stay and explore Salamander's trails with one of the guides or even choose to venture out solo. The boarding package includes full service boarding at no less of a standard than what is offered to the human owners. Daily feedings, stall cleaning and turn out per the owner's request will allow you piece of mind while at the resort.
In addition, so your horse doesn't feel left out while you relax in the spa, Salamander has a la carte 'equine spa' services available. Pamper your horse with hand walking, body clipping, bathing, and braiding to name a few of the services available.
Dogs Are Welcome, Too, at Salamander
Dogs are not left out while staying at Salamander Resort & Spa! In-room dog amenities include a comfy bed, food and water bowls, organic treats, a special toy and waste bags. On-site dog-sitting services are provided when your dog may be unattended and can be scheduled through the concierge.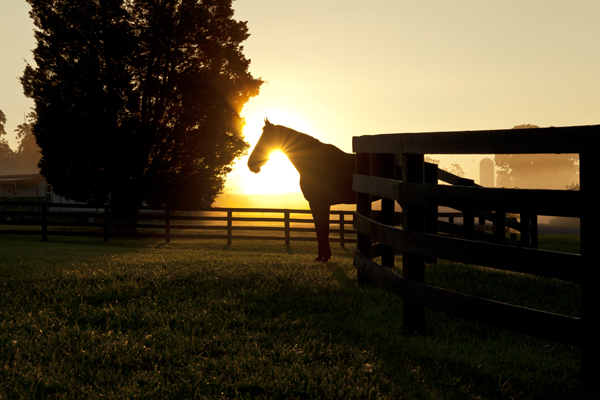 Horse heaven in Virginia Hunt Country at Salamander.
Equestrian Programs at Salamander
After our tour of the equestrian center, it was time for us to try out some of the programs ourselves! Our horses were saddled in English tack, per our request, and we mounted and headed over to a spectacular 28,800 square-foot outdoor riding arena. Sheryl was excited to show us the ThorTurf footing in the ring and explained the equine programs to us, as we walked and trotted around the ring and got to know our horses.
Salamander Resort & Spa's Equestrian Program objective "is to develop complete equestrians according to each rider's individual goals and capabilities." Sheryl went on to explain the programs, which currently consist of lessons for all ages, including pony rides and children's lessons, trail rides through scenic Virginia countryside, Human/ Horse Synergy Rides, and the Equi-Spective Experience.
For those who do not wish to ride but who would like to learn about horses, Salamander offers a program that does not require any prior horse experience. Appropriately named 'Horses 101', the experience involves learning about grooming, leading, and equine safety, while providing an equine communication demonstration in the arena's round-pen, and an optional bareback ride. This serves as a great first time introductory equine experience or refresher course to anyone wanting to get back in to riding. Clinics, Demonstrations & Equine Topic Classroom Presentations are also available at the facility for non-riders.
Salamander Resort & Spa features a 25-acre equestrian facility with nine paddocks and 22-stall stable. Photo credit Justin Kriel.
Mindfulness Trail Rides at Salamander Resort
Before we were ready to explore the area trails, Sheryl wanted to be sure that we could indeed ride and that we appropriately matched for trail rides, so she evaluated our skills while still in the arena. The "Mindfulness Trail Rides" Program is offered at the resort and allows horse and rider to have a more harmonious ride. Salamander's team is on hand to guide and offer riders basic instruction before you head out on the trail.
Sheryl started with an equine stretch with each of us, rotating and opening our hip joints and extending our legs. We both immediately felt a difference and continued with some breathing and posture exercises, something from which all levels of riders can benefit.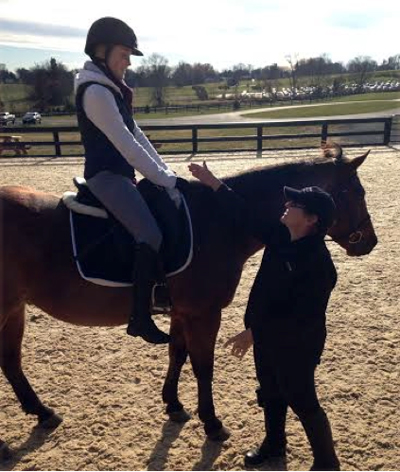 Alexis and Sheryl demonstrating an Equine stretch prior to our trail ride. Photo credit Caroline Maffry.
As my daughter and I are both skilled and advanced riders, we were ready to head out into the serenity of the woods and meadows with Kaelin Creange, Salamander Resort and Spa's Stable Supervisor, as our guide. Kaelin has extensive experience in promoting correct riding while building confident, successful horses and riders by developing a harmony and understanding between the pair. With a focus on eventing and show jumping, as well as dressage, Kaelin has twice competed on the winning show jumping team at the United States Pony Club National Championship, with an individual national title in 2009. Most recently she was the Equestrian Center Assistant Manager for The Ford Plantation, an elite residential sporting community in Savannah, Georgia. During her time at the Ford Plantation, Kaelin was the lead trainer, a primary riding instructor and trail guide, and was responsible to oversee all aspects of the club's as well as club members' horses wellbeing.
Until Salamander's Fall 2013 opening, riding through Virginia's Horse Country remained mostly private and impossible to do unless you owned property or were lucky enough to have friends that could invite you out for a ride. Now that Salamander is offering these trail programs, the historic area and horse county is available to guests and friends of the equestrian center to now experience, too. Salamander Resort consists of 340 acres with 200 placed into conservation easement.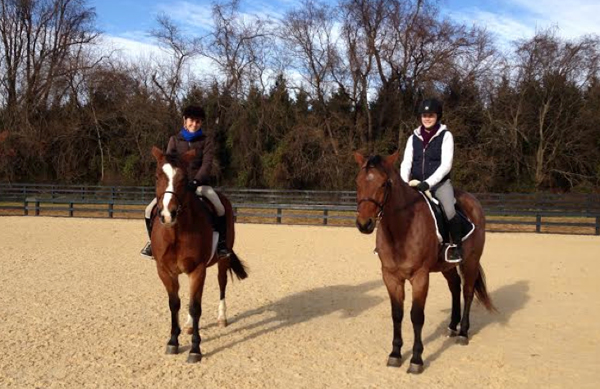 Caroline Maffry and Alexis Spencer at Salamander Resort and Spa Equestrian Center.
The estate and neighboring trails include a wide variety of terrain and scenery. As we rode towards the resort, Kaelin explained how the guides handle less experienced equestrians, with basic novice trail loops. Kaelin further explained that for safety reasons, they must ride to accommodate the lowest level of rider in the group. She showed us one of the basic trails as she guided us back behind the resort and into the nearby wooded section, and up and down a leisurely trail, as we followed the babbling creek that meanders throughout the property.
More challenging trails, with a greater diversity of terrain such as steeper hills, and more rocky terrain and open fields, are available for the experienced horse person. Riders are allowed to pick up the pace on the trails after demonstrating their skills in the arena and only in the sections of trail where it is safe to go faster than a walk. These areas include the nearby fields, however most of the current trails are in the woods and are safest taken at slower speeds due to grade of the hills and footing.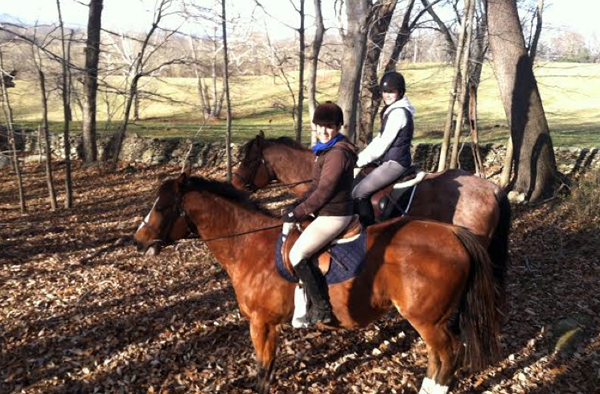 Caroline Maffry and Alexis Spencer riding at Salamander Resort. Photo credit Kaelin Creange.
Kaelin went on to say that although they have quite a few trails already, they are actively expanding their trail system even further throughout the property. Their goal is to make all aspects of the property accessible for trail rides so guests may enjoy a new experience every visit. For equestrians that decide to bring their own horses for a stay, there are approximately 500 acres at their disposal to ride on at their leisure. The Equestrian Center requests that all levels of equestrians use an experienced guide on their first ride out, so that they can be shown the property lines. After that, they may ride on their own at their own risk.
Kaelin's patience and ability to handle all levels of riders on the trails was evident. She was friendly and knowledgeable about the area, which made for a great conversation about the local hunt that frequently comes through the property. She mentioned the possibility of offering guests fox hunting clinics in the future, allowing for a unique opportunity for them to learn and experience the area's longtime traditions while visiting the resort.
We continued our conversations along the relaxing ride, all the while delighted by this lovely way to see the area and experience Virginia Hunt Country. As we looped back to the resort, we ended the ride back at the stable.


How you can go: Learn more about visiting Salamander Resort & Spa, which is located in Middleburg, Virginia in Virginia Hunt Country and the various programs for equestrians and their horses.