A hay-filled, horse dream leads to a mustang makeover for Kobi
Author, horse trainer, and teacher Heather Hamel shares the story of Kobi, a mustang she rescued that turned her into the rider he deserved.
Horses have been a part of my life for as long as I can remember...until I became a teenage girl and discovered boys. Then boys ruled my life for the next 15 years or so until I woke one morning from a hay-filled, horse dream.

I remember looking at my boyfriend and telling him, "I need a horse."
He didn't say much at the time, but a few weeks later he had a lead on a black mustang for sale. At the time I had no desire to go see a plain, black horse – I had my eyes set on a Paint, but since he was being so supportive, I went to look at the mustang. Neither one of us had any idea of what would happen next.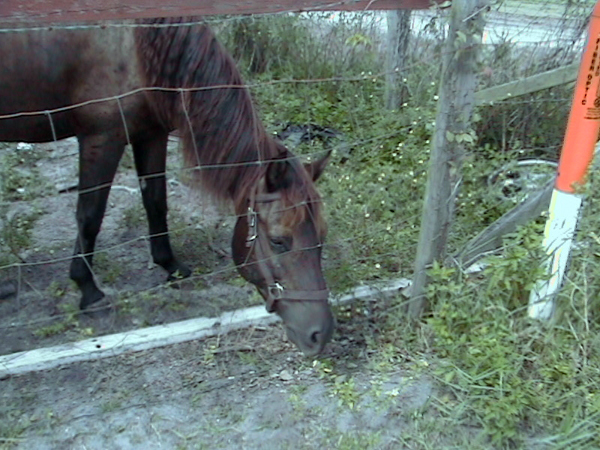 Kobi before Heather Hammel adopted him.
The little black mustang was the most pitiful creature I had ever seen. There were three horses kept on less than one dry, sandy acre with a ramshackle house planted in the middle of the property. There was not a blade of grass in sight, and they were forced to eat hay of questionable quality out of the back of a pick-up truck.
My heart broke for these three proud, majestic creatures forced to live this way. I decided then and there to buy the 14.2 mustang and train him for my 6'4" boyfriend. I was still holding out hope that I would find my dream Paint, but had to rescue this horse in the meantime. We chose the name 'Kobi', a Comanche Indian word meaning Wild Horse.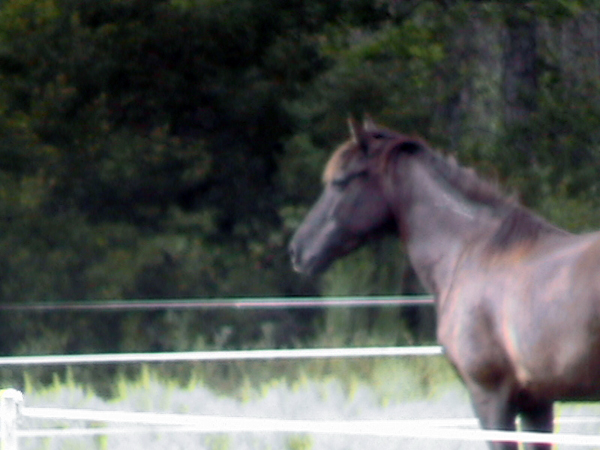 The Kobi stare.
I figured growing up riding horses gave me enough experience to train a wild caught mustang. Wow, was I wrong! I had no idea the sweat, tears, and broken bones that were in my future. And I was fortunate because Kobi wanted to learn. Something deep inside this wild horse, who had no reason to trust humans, wanted to please me.

I'm sure his willingness made it easier, but it didn't feel like it at the time. I spent every afternoon and weekend with him, trying to 'make' him be a sensible, reliable horse. The harder I forced my will on him, the more it felt he was pushing back against me. Every time I tried to be heavy handed with him, I ended up on the ground.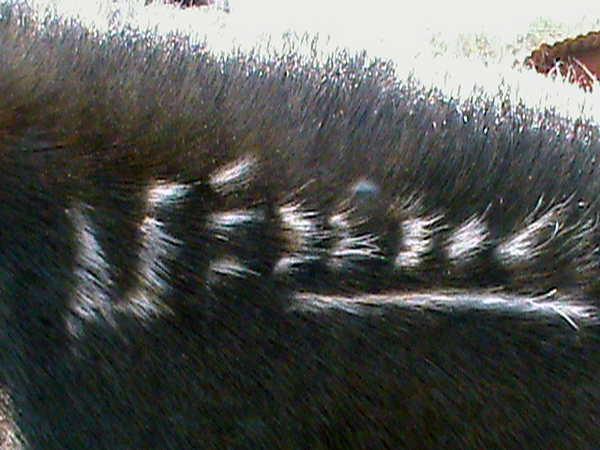 I knew we needed help. There was something in Kobi's eyes and the set of his head that made me realize I would never find another horse like him. He was a once in a lifetime animal; I just had to figure out how to tap into his potential. All thoughts of a flashy paint flew out the window– Kobi was the horse I would ride! I heard once a mustang bonds with a person, they are bonded for life. I'm not sure if that's true– but I knew I was deeply bonded to him, and he was the only horse for me.

I found a trainer in our small town that was willing to tackle both a rusty rider and a wild caught mustang. I'm a teacher, so our first summer together I was able to work with the trainer every morning, and then come back each evening to ride again and reinforce what we learned.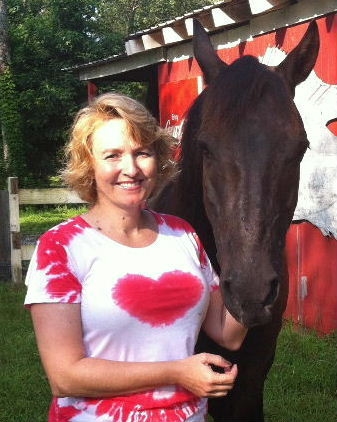 Kobi and Heather Hammel.
Eventually, all of our hard work and sore muscles started paying off. I learned how to communicate with Kobi in a way he could understand. I learned to ask him to do things instead of demand it. But most importantly, I coaxed the potential I saw out of that small, black mustang.

Kobi showed Dressage for over a year, competing against highly pedigreed horses and their even higher pedigreed owners. At first, everyone considered him 'cute', until he started earning their blue ribbons. I'll never forget the day I overheard people complaining because 'that mustang' was there when they looked over the class list. It still makes me smile.

We may compete again one day, but I felt that I proved it to myself that this small, black mustang was capable of so much more than surviving off of moldy hay from the back of a truck. He has been the most incredible horse I've even had the pleasure to ride, and I'm proud to say he's turned me into the rider he deserved!

About the Author: Heather Hamel is an author, horse trainer, and teacher. While working her way through college, she discovered a passion for storytelling, while working as a ghost tour guide in the historic and haunted town of St. Augustine, Florida.
Later, after teaching for a few years, she felt something was missing from her life. That something was horses. Growing up with horses made Heather feel confident around them, and she felt she was up for the challenge that a wild mustang named Kobi would bring. She learned quickly that when you own horses you become a part time vet, part time nutritionist, and full time equestrian.
Continuing to teach people and horses, Heather could not shake storytelling. Today, she herds words, horses, students, and still finds time to teach and tutor students with dyslexia. She has written on-line horse articles, two middle grade novels, and is currently working on a four book crypto-zoological series for her middle grade readers.

You can learn more about Heather on her website: www.HeatherHamel.com. There you can see more pictures of Kobi, follow her blog, or learn more about her multi-award winning book Kobi: Memoirs of a Mustang.