A Caribbean Equestrian Vacation in Jamaica
From swimming with dolphins to sunsets, top things to see and do at Jamaica's Half Moon Resort on your equestrian vacation.
by Caroline Maffry
Morning breakfast was served on our private porch overlooking our private beach. Still basking in delight from our swim with the horses, today we were off on a short bike ride from our room, down the resort path to dolphins' lagoon. Barefoot and only in our bathing suits, there was no need to bring anything else along, truly the ultimate vacation from this world we live in today. With our bikes placed against a nearby tree, we were given a short training and orientation and taught signals we would be asked to use.
The Dolphin Lagoon, located on the resort's property and privately reserved for guests, houses five dolphins ranging in age from 5-30 years old. All have been born in captivity and have spent most of their lives at Half Moon Resort. The dolphins all looked well cared for and in fact, our trainers, Dennis and Jhenelle, told us that at high tide sea levels actually exceed the surrounding wall. The dolphins could choose to leave at any point should they wish to but decide not to depart.
Offering several different options, we went with the Swim Encounter, a 45 minute hands on swim, starting with some gentle touching on specific parts of the dolphins as we were introduced to three of the dolphins named Rose, Chicky and Secret. We learned the kissing command with our hands atop our vests. Rose decided she liked this very much and our trainer had to give some extra commands to distract her. Next some dancing (which was not easy for us humans to do while treading water), handshakes, and belly rides, where the dolphin was given the signal and suddenly appearing face to face within inches of ours, we stretched out our arms to be pulled up and onto their bellies, as the swam vigorously backward and upside down. The grand finale though was the dorsal pull, where we each swam out into the lagoon in turn and facing backwards, was suddenly told to "grab hold" as two dolphins simultaneously swam up both the right and left side and without a pause, we were being pulled around the lagoon at quite a pace while holding on to the two dolphins. Such an amazing experience and such wonderful dolphins and staff to make the experience an unbelievable memory.
(Bikes are available for loan to all guests at the resort and can be conveniently parked outside your suites or villas; photos and video of the encounter are taken during the swim and available for purchase immediately after.) For more information on the dolphin swims visit http://halfmoon.rockresorts.com/discover/dolphin-lagoon-en.html
Seaside discoveries and coastal marine life in Jamaica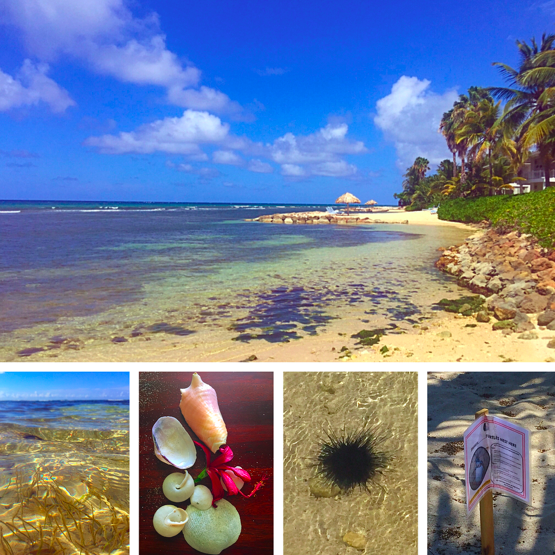 View from our private beach; sea grass; shells collected from our beach with a hibiscus flower from the horse swim; a sea urchin and sea turtle hatching watch notice, watch your step!
There are many ways to explore Jamaica's northern coast near Montego Bay: the beaches and seaside itself harbor stunning views and natural beauty, but take a closer look and discover so much more. Having spent my summer swimming in the fridge cold waters off New England's shores or Europe's North Sea, I quickly came to appreciate the warm temperature of the Caribbean. The first foot in water was a surprise and almost seemed unnatural as I was expected the usual shock of the icy ocean from the north. We looked for seashells on the beach that was just feet from our suite, while listening to the slow wind through the palm tree leaves.
The sound of the water lapping gently on a beach of fine grains of golden sand, almost an oatmeal texture rather than other beaches I have explored before. Crabs scurried on the rocks at the sound of our approach, hermit crabs went about their business looking for food, little fish (and some long and slender ones too) would surround us just in a foot of water. We did stay away from the sea urchins, though such a marvel to look at. A shiny black glistering beauty of sea life, just there below the shallow clear water. In order to explore the deeper waters, the resort offers 30-minute glass-bottom boat tours from Sunset Beach, adjacent to where we swam with the horses.
One morning, after delighting in another white-linen breakfast served on our porch, we took off on our bikes for Sunset Beach to get a closer look at just what is beneath the water's surface. A coral reef stretches the two-mile length of the resort so the glass bottom boat was an idea way to get a close look. Beautiful reefs below, Sting Ray buried in the sand, sea turtles, and a hill like terrain never imaginable from the surface. As we motored along the 2-mile stretch just perpendicular to the beach, the view back to shore showcased the grandeur of the resort's white washed villas quaintly dropped on the edge of the sea with the Blue Mountains of Jamaica watching over them from behind.
Sunsets and Evenings at Half Moon Resort
Being just east of Montego Bay, we were positioned facing directly north looking out on the Caribbean Sea. This created the most ideal setting for watching the sunrises and the most incredible sunsets I have ever seen. Late afternoons were spent reading on our porch as the sun decided to turn in for the day followed by evenings dining on the property, with picture perfect scenes of the sun setting into the sea.
As we went to bed that night listening to the waves, I wondered if we would be lucky to get that "watch-list" call, awaking us to come and see the freshly hatched baby turtles taking to the sea. A unique service to guests, inviting those interested to an alert at any hour of your stay, to come see the turtle eggs hatching. Unfortunately, Mother Nature was not ready to have those eggs hatch just yet. Next trip for certain!
About Half Moon Resort

Just east of Montego Bay, Jamaica, the Half Moon Resort is situated on 400 spectacular acres with 2 miles of private white-sand beach. Half Moon is also the leader in the Caribbean in ecological projects with preservation programs that include recycling, waste management, composting and energy conservation. A first in Jamaica hoping others will follow.
The Half Moon Resort has been open to guests since the early 1950's as as a destination for families and friends to relax and leisure. Taking its name from the crescent shaped beach, Half Moon has continued its legacy with three remaining founding families still involved in its operation. Its open lobby and foyer draws you right out to the ocean and at once you feel welcome with a beverage placed in your hand as you check in. The walls are adorned with memorabilia and historical photographs of founding family members, several British Royal family members who have made Half Moon Resort their home away from home while visiting Jamaica over the decades, including Her Majesty Queen Elizabeth most recently in 2002, HRH Prince Charles in 2008 and recently Prince Harry, who just last year, stayed in a 5 bedroom villa on the property. American film stars to American Royalty have also spent time as guests, including Jack and Jackie Kennedy in 1962 along with a young Caroline who is shown in one of the photographs playing in the water with her mother along with a copy of Jackie's had written Will displayed on Half Moon stationery.

Overseen today by General Manager Sandro Fabris, who originally from Italy and a seasoned veteran of luxury hotels and resorts around the world, Half Moon Resort is well looked after and guests are being offered the highest of standards while they vacation. With accommodations detailed in elegant native island style, your stay can be tailored to fit your needs and budget, with choices ranging from double guest rooms to 14 bedroom villas with private pools and exclusively staffed with a cook, housekeeper and butler. For more information and how to book visit Half Moon's website.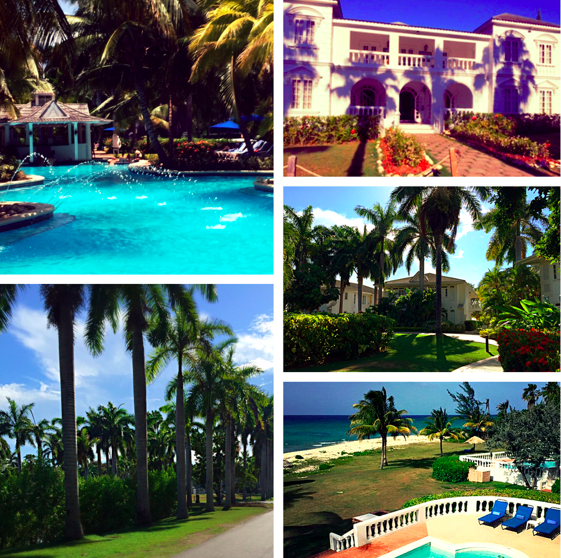 Hibiscus Pool and swim-up bar; Half Moon Resort Villas and private pool, Royal Palm lined paths
After having a tour of the property with Laura Redpath, manager of Marketing Communications, I quickly realized why Half Moon Resort would be the perfect getaway for families and friends. Where other Jamaican resorts might cater to honeymooners or groups of friends looking for a weekend of rum and festivities, Half Moon creates an ambience of style and elegance and although all are welcome, this resort is better suited for those looking for a peaceful hideaway in paradise. Families and children of all ages are welcome and there is plenty to do between the kid's camps, children's center and village, mini golf course and watersports. While groups parents and adults gathered in the lobby with evening drinks in hand, children of all ages were just a glance away playing chess or cards while they filled the room with laughter.

Since I was vacationing with my daughter who was about to begin her college adventures at the week's end, we both decided to set out and discover what Half Moon had to offer us.

Beyond Half Moon Resort

Although it is difficult to pull yourself away from the amenities at Half Moon Resort, Local tours and excursions by Jamaica Tours, LTD can be easily arranged at their tour desk, just off the main lobby. Travel to Dunn's River Falls, take a Black River Safari, experience Brea Rafting, enjoy a bike tour of the Blue Mountains, or visit a coffee and pineapple plantation, just to name a few of the excursions offered. We tried out the Luminous Lagoon night tour, just outside of Falmouth, Jamaica. A "spectacular wonder" describes this phosphorescent lagoon, when disturbed, the water glows. A friendly tour guide and coach picked us up right at Half Moon and saw that we arrived and returned safely from our excursion. The tour was conveniently billed right to our room so no need to exchange monies when off the resort. For more information about the tours offered, visit http://halfmoon.rockresorts.com/discover/exploring-en.html
For more information on the Resort, view the Half Moon Resort's website.
Read Part III- Exploring Half Moon Resort in Jamaica
Read Par I- Horseback Riding in the Ocean at Jamaica's Half Moon Resort