Horseback Riding in Iceland: The Viidalstungurett Horse Roundup
You might not have thought to put Iceland at the top of your list for a horseback riding vacation, but it's worth considering. In a lava-strewn landscape reminiscent of Vikings and a rugged, bygone era, Iceland's unique five-gaited horses furnish deep pride to the local community.
By Susanna Baxter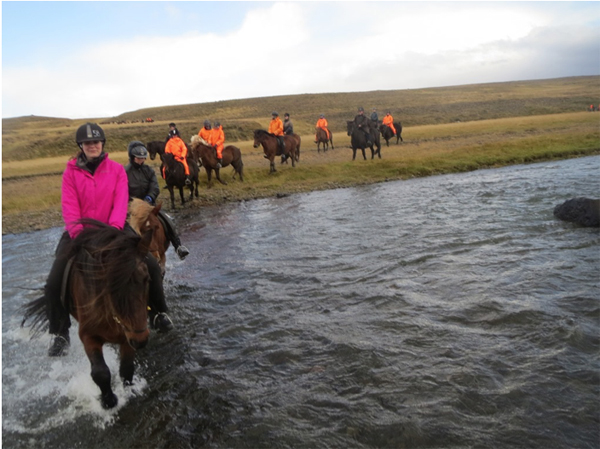 Crossing one of the many rivers we forded during our trek on Icelandic horses. Photo courtesy Susanna Baxter.
Every summer, the farmers of Viðidalur, a region in the northwest of the country, blend their horses into one large, free-roaming herd that grazes the lush hillsides of a nearby mountain. Come winter, the owners round up all the horses and drive them down from the hills for an annual sorting that doubles as a regional party.
Though small in stature, Icelandic horses should never be called ponies! They might be shorter than average, but these powerful steeds more than make up for it with hearty endurance and sure-footedness.
Meeting the Icelandic Horse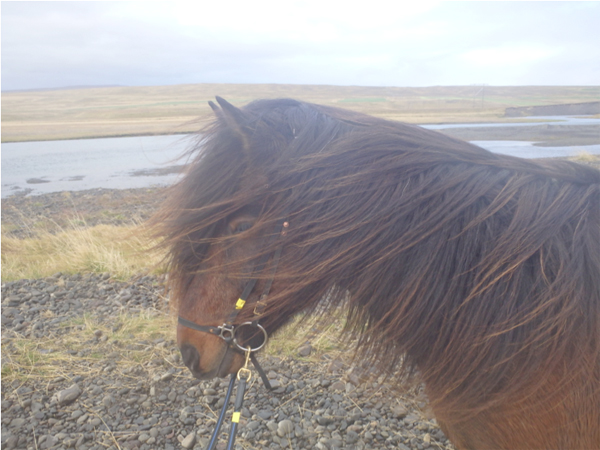 My favorite mount from the trip, Seiðr. Photo courtesy Susanna Baxter.
Iceland is surprisingly accessible from both the US and Europe. My red-eye flight from Seattle took a mere seven hours and landed me at Keflavík Airport in time to soak up the sunrise during a forty-minute bus transfer to Reykjavík, Iceland's capital city.
I didn't have to wait long to meet the Icelandic horse. Our group convened at the nearby Islandshestar for a quick test ride before embarking on our multi-day trek.
After a brief interview about my riding experience and skill level, I swung up onto a gorgeous silver dapple sporting the classic Icelandic saddle with its comfy quilted seat. And off we went!
Riding Icelandic horses isn't anything like your standard ranch trail ride. There was no single file or really any spacing between horses. The Icelanders maintain their horses in a manner very close to nature. They live in herds, and since they're quite small, they often even share stalls with their herd mates. Because of this, they're comfortable in close proximity to one another.
Our ride left the corral at a quick clip, horses picking up the trot as soon as they'd cleared the gate. And moments later, my mount all but disappeared beneath me, his hooves clippity-clopping in a flash as the motion of his back smoothed to an imperceptible glide.
This was tölting! What heaven! The tölt is a four-beat running gait unique to Icelandic horses that allows them to cover ground with surefooted speed.
I could totally envision trekking vast distances on a horse at this gait as we sailed through fields of moss-strewn lava, and so I would in the days that were to come.
Riding With a Free Running Herd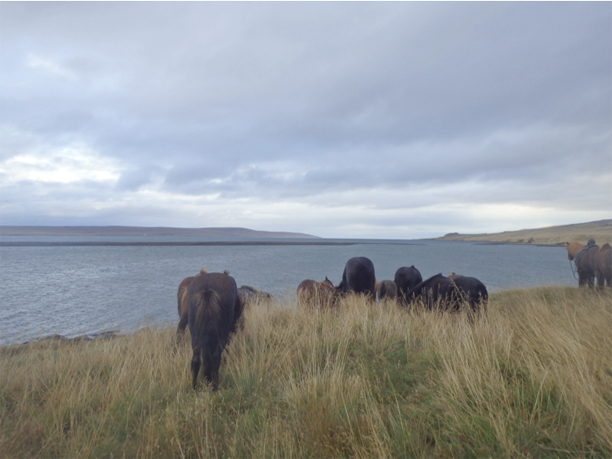 Our free-running herd pausing for a quick graze by an Icelandic lake. Photo courtesy Susanna Baxter.
Horse roundups in Iceland take place in the late fall. October is really too cold for outdoor camping, so we'd be riding from one bed and breakfast to another, covering about 25-35 kilometers per day. Since we'd be traversing long distances, we'd need to change horses mid-ride each day.
And that's why we'd be riding with a free-running herd of around sixty horses strung out between two groups of riders. These horses were completely at liberty having no halters, ropes, or restraints of any kind as we trekked over roads and through rivers.
Bjargshóll Farm, several hours to the north of Reykjavik, was our starting point. The horses were gathered in a small paddock, milling about in close quarters. Each person was assigned a horse, handed a bridle and told to go find their mount in the melee. Some had distinctive markings or a freeze-branded number. Mine did not.
I finally located him, a dark bay with enough mane for three horses, at least.
Once we tacked and mounted, it was time to ride! I couldn't believe the air of freedom riding along through open countryside with horses in fenced pastures on either side, dashing up to greet our band. The free-running horses played and frolicked about, pausing to snatch a bit of grass here, trying to surge ahead there.
Halfway through our day's ride, we stopped all the horses, dismounted, pulled our tack and hunted down our next assigned mounts from the milling herd.
The Weather in Iceland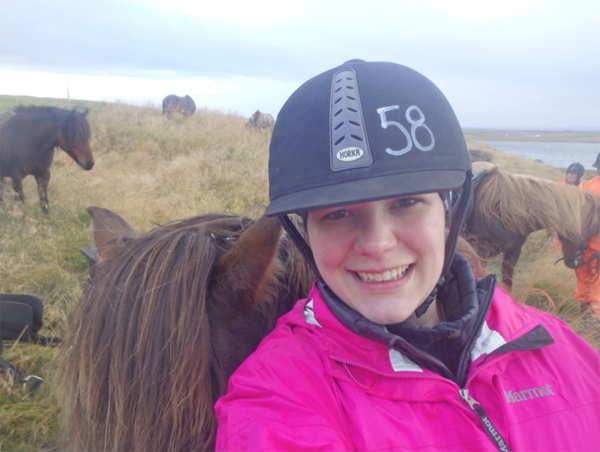 Pausing for a snack and a horse selfie mid-ride. Photo courtesy Susanna Baxter.
Icelandic weather is dramatic, fast-changing and arrives nearly sideways owing to the lack of trees on the island that allows for high winds. During our ride, we encountered periods of sun with bright rainbows framed against stormy skies, piercing hail that stung our faces, and softly drifting snow slipped under our horses' feet.
I'm all for fashionable clothing, but personally, I don't care how cute I look if I can't move or if I'm wet and freezing, so I spent most of the journey wrapped in layers of wool and down, covered by a glowing pink rain slicker.
Waterproof boots were essential as we crossed numerous rivers and wet toes would have made for a miserable experience.
If you plan a horse riding vacation in Iceland, be certain to research the typical weather for the time of year you'll be visiting and dress accordingly! Or, better yet, scoop up some of the locally produced woolen goods. Icelandic wool is renowned for its ability to keep you toasty even under the wettest, windiest conditions.
The Roundup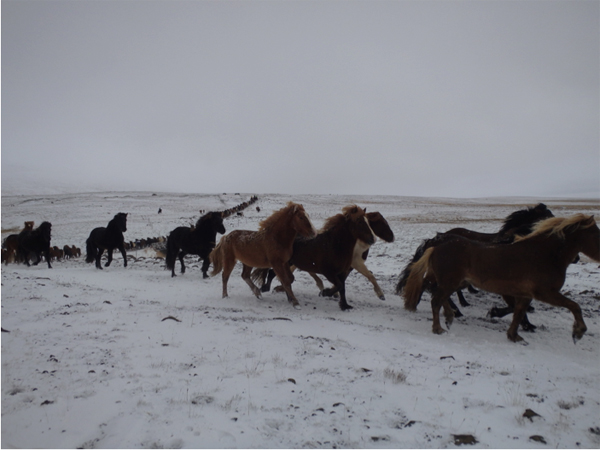 Nearly a thousand Icelandic horses trekking down from their summer grazing fields in the mountains. Photo courtesy Susanna Baxter.
On roundup day, farmers spend the morning searching out the horse herds in the mountains, gathering them into one massive group before driving them down from the hillsides.
Our tour trekked up the hill in time to watch them drive nearly a thousand horses down to the village. Halfway up, we paused to partake in a warm lunch. An older farmer with a jovial twinkle in his eye passed around a bottle of local Brennivín, a sort of clear schnapps that delivers a dagger of warmth to your insides.
Once we reached the top of the hill, it was impressive watching these multi-colored horses dash past by in the hundreds, some mares running both with their yearlings and the baby's older sibling.
Conditions are frigid and snowy up at the high altitude, so after all the horses are penned up in temporary corrals, everyone gathers at a local farm for snacks and warm drinks.
Sorting the Horses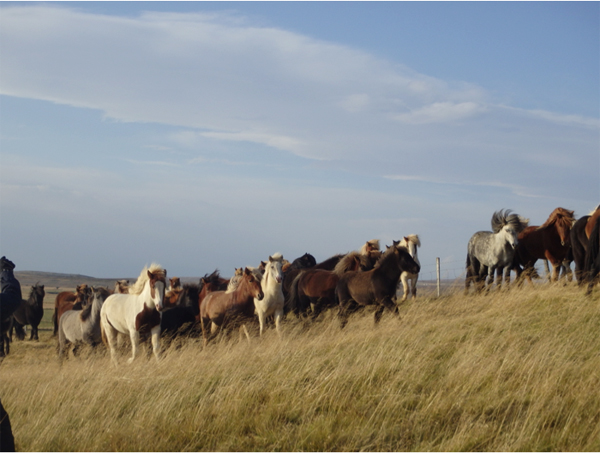 Icelandic horses being driven into a corral for their annual sorting and auction. Photo courtesy Susanna Baxter.
Gathering the horses is only half the work. They then have to be sorted into groups and returned to their rightful owners. This is accomplished by driving several horses into a round corral surrounded by wedge-shaped pens. Each pen has a door that opens to the central corral emblazoned with a family name.
As the horses run in, farmers identify the ones that belong to them. Workers on foot in the corral separate the horse from the group, get him near the appropriate door and, when ready, someone opens the door so he can be ushered in.
This process takes hours, but much beer is drunk, singing can be heard and a general air of merriness wafts about. There's a small cafe where warm drinks and snacks can be purchased as well as locally produced handicrafts.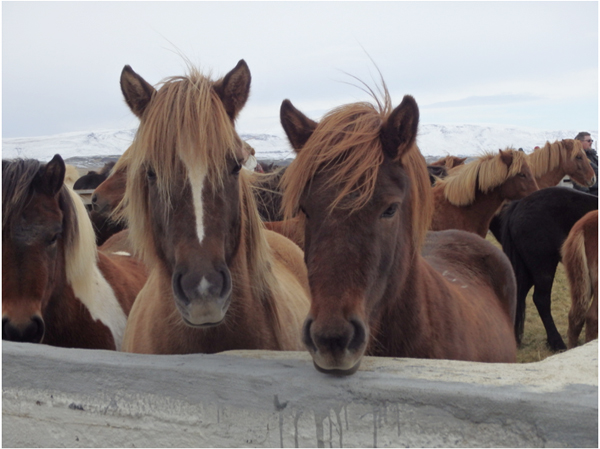 Horses in the corrals waiting to be sorted back to their owners. Photo courtesy Susanna Baxter.
After the sorting, we enjoyed one last ride on our horses, taking them back to Bjargshóll Farm. I'd fallen in love with my first bay mount, the energetic and slightly wild Seiðr. After I pulled his tack, he stood with me for a moment, gazing into my eyes.
I'd like to think he was saying goodbye, but he was probably just hoping for a treat.
About the Author: Susanna Baxter shares her equestrian adventure travels and the comedic journey that is gentling a wild horse. Follow her exploits with horses both wild and not on Instagram!