The Ups and Downs in the Life of 2nd Generation Jockey Frankie Lovato, Jr.
Learn about the life journey of a successful, second generation jockey and how he's helping aspiring riders and jockeys today.
by Raina Paucar
Frankie Lovato, Jr. is a horseman of many talents. As a professional jockey, he has won over 1,600 races with more than $41 million in purse earnings. Even after his retirement, he remains active in the equestrian world. He's invented the Equicizer, created a jockey camp and developed a website called Jockey World. Find out what inspires Frankie to help equestrians become better riders and aspiring jockeys to achieve their dreams.
Raina Paucar for Equitrekking: Can you tell us how you became involved with horses?
Frankie Lovato Jr.: My father was a jockey and for as long as I can remember, it's all I ever wanted to be. I was the youngest of four children and the only one that had an interest in horses and racing. When I was about four years old, we had some friends over. One of the guests was a jockey and I remember going in the closet to get my "tack bag" to show off. It was an old leather bag my dad used to travel with to carry his racing equipment from track to track. I was the proud owner of that bag. I had collected my dad's old equipment that was no longer usable such as a saddle, boots, goggles, and pants. To me, it was a bag of treasures. I remember telling everyone I would be a jockey and they thought it was cute, but I was dead serious.

First win picture with my Father at 7 years old, Pimlico Race Course, 1970.
Equitrekking: As a jockey, what is your most memorable win?
Frankie Lovato Jr.: When I was 14, I worked at a farm in Ocala. There was another farm that would occasionally hold an unrecognized race. Most of the races were on Quarter horses, but on this day they had a Thoroughbred race at 6-1/2 furlongs, about a lap and a half around the track. I was hopeful someone would give me a chance.
At the time, one of the better known Thoroughbred farms in Ocala was Cardinal Hill Farm owned by Norman Casse. I got so excited when I saw the Cardinal Hill horse van pull onto the grounds. For me, this was the big time! My boss, Wayne Fesmire knew Mr. Casse and got me the mount for the thoroughbred race. It was a three-horse field, and the other riders were very experienced Quarter horse riders. One of the riders tried to squeeze me into the rail as we were head and head down the backstretch. He put me in a very dangerous place, but I held my ground and maintained my position. I won the race. It was the most amazing feeling I had ever felt in my life, and I will never forget it. I feel blessed to say there were many wins in my career that I will never forget, but that could be a book in itself!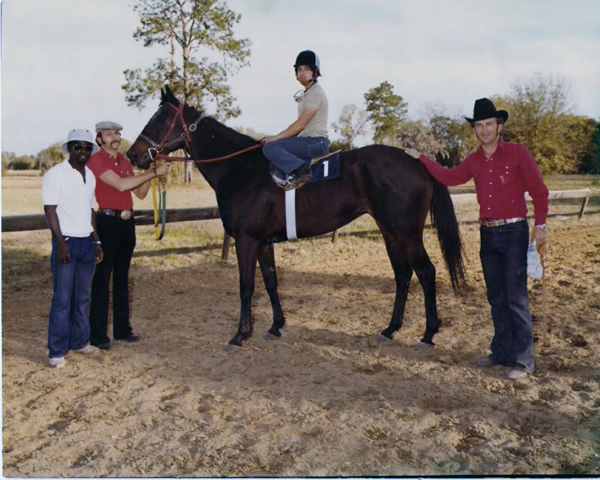 My very first win at 14 years old, Ocala Florida, 1977

Equitrekking: Can you share your most memorable story in your career as a jockey?
Frankie Lovato Jr.: This was the 1981 Jockey Club Gold Cup at Belmont Park. I was aboard a 50 to 1 long-shot horse named Peat Moss, who was kind of a Cinderella story himself–– an everyday gelding that made his way up from the claiming ranks to win stakes races, but not until he 6 years old.
The secret to his success was that Peat Moss needed to run long distance. Not just the typical distance races either, but races that were over a mile and a half. These types of races were not common, especially with the higher class graded stakes races.
This story started when an average gelding, Peat Moss, was claimed for $10,000 at the Meadowlands, which were some of the bottom claimers. His new connections saw that he was bred for distance and the next week entered him into the Grade III Kelso Handicap at Aqueduct at a distance of 2 miles. This was very bold, moving him up this high in class. Peat Moss was one of the long-shots in the race. They needed a jockey for Peat Moss and most of the joeckeys refused the mount, because his chances looked so bleak. My agent took the mount, and I was not excited about this opportunity.

As the race unfolded, there was half a mile to go, mid pack. I felt Peat Moss running fast with a dead aim on the leaders. As we hit the top of the stretch, Peat Moss accelerated for me and we passed everyone as if they were standing still. He went on to win handily. Still, I wasn't sure if it was a fluke. Aqueduct hosted another stakes event December 31st, called the Display Handicap at 2 1/4 miles. Peat Moss crushed his opponents in an easy victory.

During that winter, there were other marathon events that were called Starter Allowance races. The last race of the series was 2 miles, and Peat Moss was weighted at 145 pounds, the most heavily assigned weight I ever rode in my career. Peat Moss carried me and a saddle full of lead, but he still crushed the field, breaking the track record at these unusually long distances. One of his track records still stands at Aqueduct with me from 30 years ago.

Race day. The 1981 Jockey Club Gold Cup, at 1/1-2 mile. We went once around Belmont Park's enormous racetrack. I rarely say anything if I feel I have a chance to win a race. I told my wife Sandy that morning, I really think I can win this! This was the biggest and most competitive race of the year. The purse was $500,000. At that time, it was one of the largest purses in America. This was the best field of horses in the country, comparable to what the Breeders' Cup Classic is now. Peat Moss and I were the longest shot on the board at 50 to 1 odds. No one thought we had a chance. This was also my first year as a journeyman jockey and I was still proving myself, though I won the Eclipse Award for Outstanding Apprentice the year before.
As we head into the first turn, we dropped back to last, but this was expected. After the first half a mile, Peat Moss and I dropped back so far in last place, I was beginning to worry. I was smooching, hollering, tapping him with my whip and asking him to get in gear. It was like Mike Smith on Zenyatta in the 2010 Breeders' Cup Classic. I was so far behind. I was not sure if I could catch them.
As we neared the final turn, I was beginning to catch Pleasant Colony and Temperance Hill, who were the two favorites that were laboring, but I still was not caught up to them, still in dead last turning for home. Finally, I feel Peat Moss hit his gear. He found his rhythm, and as though they were all standing still, one by one. I was picking them off as though they were Shetland ponies, but these were the best horses in the country. I found a seam in all the traffic at the eighth pole. I had it measured. I was picturing myself in the winners circle for the photo. I imagined the speech I was going to make on national television about how this was going to put me in the racing history books. I felt I had this race won. One horse left to beat, and I was gaining every stride on the great John Henry with the legendary jockey Bill Shoemaker.
As Shoemaker was whipping left handed, he drifted out to the six path in mid stretch. I made a run at him with plenty of room to the inside. John Henry was still 6 or 7 lengths in front of me, but I knew I had him beat. Just as I got within two lengths of him, Shoemaker switched his whip back to his right hand, and began drifting back in from the six path, then to the four and three path. I had to angle Peat Moss in to compensate, but I had momentum.
Just as we passed the 1/16 pole, with less the 100 yards to go, Shoemaker was now in the two path. The hole got smaller between John Henry and the inside rail. I was within 1/2 a length of John Henry, and Peat Moss started clocking the situation in an apprehensive manner. His right ear pointed at John Henry, something most horses would do. Then by surprise, the rake marks on the track, where the track workers raked out the tire marks from where the starting gate was at the beginning of the race. About 25 feet from the finish line, Peat Moss pricked his ears up and hesitated for just one stride, and the race was over. John Henry's nose crossed the finish line just in front of Peat Moss. My world fell apart completely at that moment. After the finish line, Peat Moss opened up on John Henry effortlessly, like a rocket, but the race was over.
It was noted that if Peat Moss and I won, it would have been the biggest upset of the decade. It would have changed history. Would John Henry have been voted Horse of the Year that year? What if Shoemaker didn't drift to the inside? Did rake marks on the track change history? Would wining this race have changed my career and lead me to winning races like the Kentucky Derby and other classics? There are so many "what if's."
It's something I have not stopped thinking about for the last 30 years. Peat Moss and I are remembered by many fans for this moment in horse racing history, even after all these years. Shortly after this race, the Kelso Handicap at two miles is back up at Aqueduct. Peat Moss and I crushed the field for the second consecutive year, but this time, we were not 50 to 1.
A few days later after our win, I was riding at the Meadowlands and a filly flipped over on me in the post parade and badly fractured my leg. I was out for over half a year recovering. Ironically, this was also when I created the very first Equicizer. After a couple of big efforts with other jockeys riding Peat Moss while I was injured, but no more wins since he and I took the Kelso, Peat Moss also sustained some set backs that winter and was given time off. We both reunited the next summer, but Peat Moss was not doing as well and was retired. We surely had a good run.

I never saw Peat Moss again and wish I could have tracked him down years back. He would be around 38 years old now. I am sure he has long passed.
I received some very special and happy news, about six years ago. I had a woman named Bonnie Grueninger, who is the program director from Jamestown New Horizons Therapeutic Riding Center in Missouri. Bonnie contacted me to order an Equicizer, and she wanted to name it after Peat Moss. I could not believe it after all those years had passed. It was a very emotional thing for me when I finished building it and putting the name plate on the Equicizer. This Equicizer's job is to work with children with disabilities. What a great tribute to such a great race horse!
Equitrekking: Could you tell everyone what the Equicizer is and what sparked the idea to create it?
Frankie Lovato Jr.: The Equicizer is a non-motorized mechanical horse used for exercise, training and therapy. It can be used in your home much like an exercise bike, treadmill, or any other exercise equipment. It works the specific muscles that equestrians use; no other exercise machine can do this, which makes it perfect for horseback riders of all disciplines.
The idea to create the Equicizer came about as a frustrated kid who wanted to practice being a jockey. I grew up in the suburbs and there weren't any horse farms around. I wanted to ride, so I would make contraptions out of wood and pretend I was riding. These early prototypes weren't extravagant.
When I was 13, I started working on a farm breaking yearlings. The riding skills used for that type of riding are the opposite of race riding skills. To improve my race riding and techniques, I used to line up bales of hay, place a saddle, and straddle them.
Two years into my professional career as a jockey, I had that racing accident that severely fractured my leg. The injury required surgery and an extensive rehabilitation process. I had to learn to walk again, but the doctor wasn't sure if I would ever be able to ride a horse again as a jockey. This was very unsettling for me––the exercises I was doing for rehabilitation were nothing like riding a horse. I knew I had to find a way to exercise that mimicked riding and it needed to be more than a bale of hay.
I approached a friend of mine who was a handyman, and I asked for him to build something for me. I made sketches, and together we made the first wooden horse; I named it "Johnny Dance." It was the name of one of my all-time favorite racehorses that I used to ride. The wooden horse was amazing on so many levels. I could simulate riding races on my wooden horse for 3 months before the doctor gave me clearance to ride a real horse. I was fit, strong and confident when I returned to riding horses.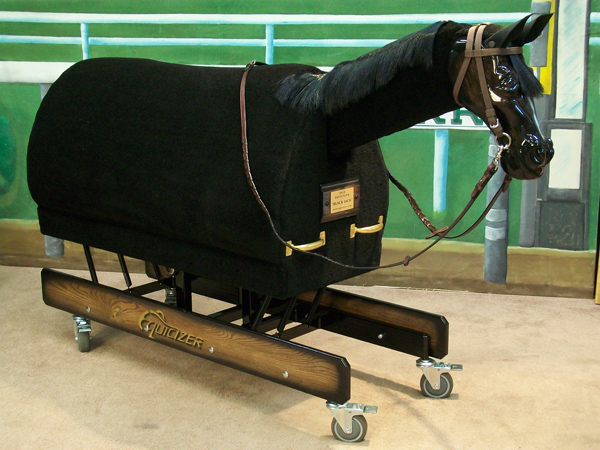 The Equicizer
Equitrekking: Can you explain how the Equicizer will benefit riders of different disciplines?
Frankie Lovato Jr.: It didn't take long for other jockeys to see and understand the benefits of the Equicizer. I thought other riders could benefit as well, but I wasn't sure. At the time, I didn't fully understand what other riding disciplines needed for their training, so, I didn't pursue it. I was still racing professionally and building Equicizers as a hobby.
Around 1990, I was contacted by someone who worked at a therapeutic riding program on Long Island that specialized in helping children with disabilities. They had a particular student, about 9 years old, with Cerebral Palsy. The physical benefits from riding horses would be very good for him, but he feared riding, and it caused too much anxiety. We brought out an Equicizer for him to try. Within minutes of using it, he improved both physically and psychologically. He had confidence now and was eagerly awaiting riding horses again.
We had several riders that spanned all disciplines from Western to English, who were in need of a device to exercise, train, rehabilitate, or use for instruction for their students. Many organizations and industries have found creative ways to successfully use the Equicizer, including: rehabilitation centers, hospitals, museums, and the movie industry. The Equicizer was used to train actor Tobey Maguire for his role in Seabiscuit. It helped Tobey with technique, fitness, and weight loss. During the racing scenes, actors were riding Equicizers for the filming of tight head shots.
Equitrekking: You recently created JockeyWorld.net. Can you share with us the goals of your new website?
Frankie Lovato Jr.: I have always had a desire to share my knowledge, offer guidance, and help people. Since I had the Equicizer as a training tool, I would let apprentice jockeys come to my home and practice. I would show them some techniques and help them with their position and form. I worked very hard with my first student, Marjorie Clayton. I was 19 years old, but I had already established myself for 3 years as a professional jockey. She did become a great rider and won her share of races, but weight was a problem for her. Later, she retired from being a jockey, got her trainer's license, and married Hall of Fame Jockey Angel Cordero to start a family.
Besides the physical aspect of being a jockey, there is also the mental aspect and making good decisions. There are already enough risks involved concerning safety. If I could help someone make one better decision... I just think. What if I could save or change their life for the better with a few moments of my time? It's a very powerful, and rewarding feeling to know I can make a difference.
My world started growing, because of the Internet and social media. Many kids from all over the world would come to me for help and advice. I still manufacture the Equicizer alone, and it is more than a full-time job. I realized that I had to find a way to manage my time. I often get repeat questions from messages. To help with this, I set up a forum type of environment where questions and topics are categorized, discussed and archived. I also wrote an extensive article. A few years ago called "What It Takes To Be A Jockey." This is something I could easily share with kids who want to get into the business of horseracing.
Two years later, I took it to the next level creating Jockey Camp and my DVD also called "What It Takes To Be a Jockey." The first DVD of it's kind made in the history of racing. I have also written a Racing Terminology booklet with 450 racing terms that any fan can enjoy. This booklet is pocket-sized and fits inside the DVD case. It is also filled with over 50 photos and captions from my personal racing photo collections.
All these tools and resources I have created needed a home, one place where all the forums, learning tools, etc., can be accessed. This was the birth of JockeyWorld.net, "A horse racing community network for learning and sharing." I am not the only one offering knowledge within the site's forums. I have recruited other's I refer to as "Jockey World Experts" who have much experience and knowledge in many areas of working with horses and racing.
Equitrekking: What will people learn at your Jockey Camp?
Frankie Lovato Jr.: I try to cover everything in horse racing from a career perspective. I get a lot of interest and participation from fans that want a better understanding of horse racing. I do have a complete agendum, and timeline, but depending on the person, we may spend more time on certain segments. Real horses are not used. The whole course is set up in my back yard. I have three workstations set up. We have the media tent with tables, chairs, and a large flat screen TV with the races playing or recorded segments. It is very close to a classroom setting. We also have our meals, phone interviews, and movies (after hours) in the media tent.
The next station is set up with Equicizers to ride where I give evaluations and riding lessons. We also have a large flat screen TV set on the horse racing channel along with recorded videos for lessons. The third station is a scale size, one mile model racetrack that's actual distance is 200 feet, complete with inside and outside rails, gaps, and furlong markers. We do a vast set of mental and safety exercises, which include simulations of all racetrack situations from morning training and racing. I spend time with each individual student. At the end of the course, I offer them and their families my best recommendation on how to proceed with their ambitions and goals.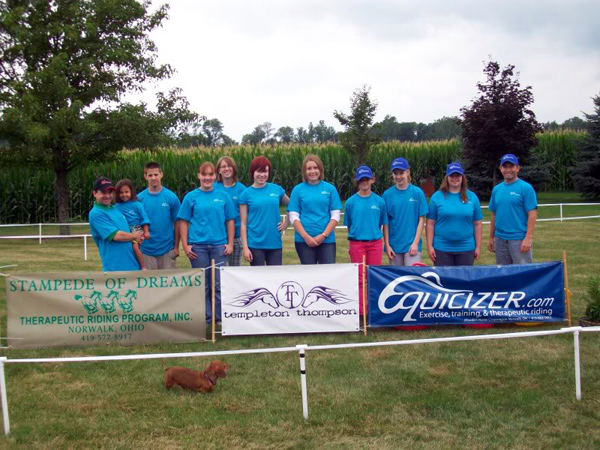 Jockey Camp
Equitrekking: As an accomplished horseman, are there any changes you'd like to see in the horse racing industry?

Frankie Lovato Jr.: Now that I am retired from racing and I am looking at it from a different perspective; I would like to see racing's image improved. Because of the Equicizer business, I am surrounded by horse people of all kinds and all breeds. Racing often gets a bad rap with a harsh reputation surrounding abuse and cruelty. There are bad apples out there in every organization. Racing has many beautiful and amazing stories to be told about horses and their lives before, during and after their careers. So many Thoroughbreds have an amazing life, treatment, and retirement. Yet, there are some unhappy endings, but I am seeing that everywhere.
With the horse industry as a whole, I would like to see more responsible breeders and owners. Within the horse racing industry specifically, I would like to see more owners, breeders, jockeys, trainers, race tracks, and betting public, etc., have some system in place that with just pennies each, could help contribute to the Thoroughbred rescues and retirement facilities around the country.