9 Great Arizona Ranch Vacations- Hideout Ranch
The first pick on our list of outstanding Arizona dude ranches is Hideout Ranch in the San Bernardino Valley, a working cattle and guest ranch.

by Darley Newman
Located in Portal, in Southeastern Arizona, Hideout Ranch welcomes all levels of rider and non-riding companions to explore history, nature and adventure in and out of the saddle. With a newly renovated Red Dog Saloon, guests enjoy home-cooked meals after a day on the trails or touring the nearby historic sites of Tombstone, Bisbee, Douglas, or Silver City. Want to know if Hideout Ranch is a good fit for you? Below are their answers to some of the basics on their ranch and who should join them to ride.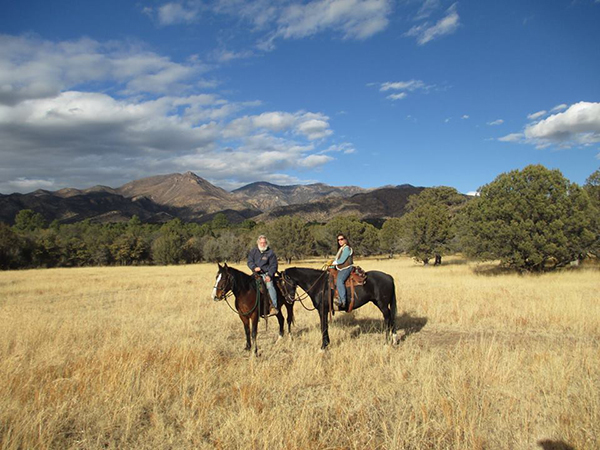 Straight From the Ranch
First Time Riders/ Beginners
Hideout Ranch attracts the first time rider by taking the time to introduce them to horses and riding. Guests may begin in the round pen, progress to ranch roads, then venture out on mountain trails. We tell our guests up front our goal is for them to leave riders – no matter how they arrived.
For the Experienced Horseman or Horsewoman
We attract the experienced rider because we ride. We have horses for every experience level, and trails to breeze along or meet the challenge. Every horse teaches you something – about horses, about yourself. Every ride deepens your experience. Our horses are the best in the business, and our riding is incomparable.

Famous Ranch Features
Hideout Ranch was founded with the sole intent to ride our amazing horses in Southeastern Arizona's riveting, pristine Apacheria wilderness, and riding is what we do. We are the only ranch in Arizona with a permit to ride the Coronado National Forrest, as well as a National Park Permit for the Chiricahua National Monument and Historic Fort Bowie. As Hideout Ranch owners, we are heavily involved in the day-to-day operation – because we are sharing a lifestyle with our guests. It needs to be authentic.

Learn about other quality Arizona guest ranches that have met the high standards of the Arizona Dude Ranch Association and check out Special Travel Discounts and Deals at Arizona ranches.
Check out more great ranches in the Equitrekking Vacation Guide and at Top20Ranches.com and top Travel Deals.


9 Great Arizona Ranch Vacations- #2 Circle Z Ranch.