9 Great Arizona Ranch Vacations- Circle Z Ranch
The oldest continuously operating dude ranch in Arizona is next on our list of nine great Arizona dude ranches.
by Darley Newman

Sixty miles southeast of Tucson, Arizona and four miles South of Patagonia, the historic Circle Z Ranch boasts over one hundred miles of trails for riders, ranging from desert lowlands to grasslands to canyons. Dating back to the 1880's, the Circle Z began its dude ranch operations in the 1920's and to this day is family-owned, welcoming travelers to experience Arizona dude ranch history from the comfort of a Spanish-style adobe guest cottage.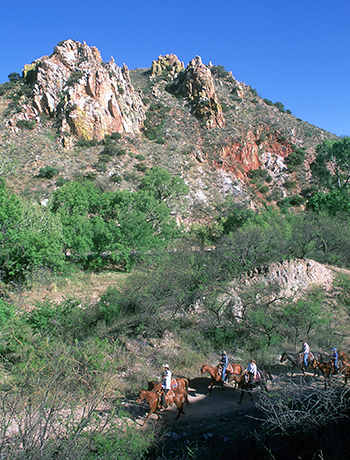 Straight From the Ranch
First Time Riders/ Beginners
Circle Z Ranch attracts the first time rider because our ranch foreman, George, has been matching first time riders of all ages with the perfect mount for forty years. We have a round pen where first time riders will get used to their horse and learn the basics of horsemanship. From here, we have a variety of beginner trails that allow each rider to test their skills learned in the round pen, becoming confident in their abilities. Many of our horses are bred and trained on the ranch, and have extensive training for meeting any level of abilities.


For the Experienced Horseman or Horsewoman
This ranch attracts the experienced rider because of our excellent horses and our advanced riding programs. We offer fast rides with long stretches of loping, with the most thrilling being the lope through Sonoita Creek on a hot afternoon. We have over 80 head of horses to meet the desires and abilities of lifelong equestrians.

Famous Ranch Features
The Circle Z has the most scenic horseback riding trails in Southern Arizona. We have hundreds of miles of trails in all directions from the ranch, from breathtaking mountain summits to the lush riparian area that traverses our property. Our vistas are as wide open today as they were when the ranch was founded in 1926.

Learn about Circle Z Ranch and other quality Arizona guest ranches that have met the high standards of the Arizona Dude Ranch Association and check the Circle Z's Special Travel Discounts and Deals.
9 Great Arizona Ranch Vacations- #1 Hideout Ranch.