9 Great Arizona Ranch Vacations- Tombstone Monument Ranch
Modeled after an 1880's Western frontier town, Tombstone Monument Ranch beckons travelers to enjoy a historic Wild West adventure.
by Darley Newman
If you're a fan of Old West history and always wanted to step back in time, you might want to check out this Arizona guest ranch just three miles outside of Tombstone in the heart of Cochise County. This area of Arizona was named after the Chiricahua Apache war chief Cochise and is rich in history, which carries over to the ranch's design. Each room at the ranch carries its own Western theme and travelers can ride horses, but also become more attuned to their equine friends through ground work, natural horsemanship and horse communication sessions. Read the below information to see if this Arizona dude ranch is the right fit for you and check out the Arizona Dude Ranchers' Association for special deals at this and other Arizona ranches.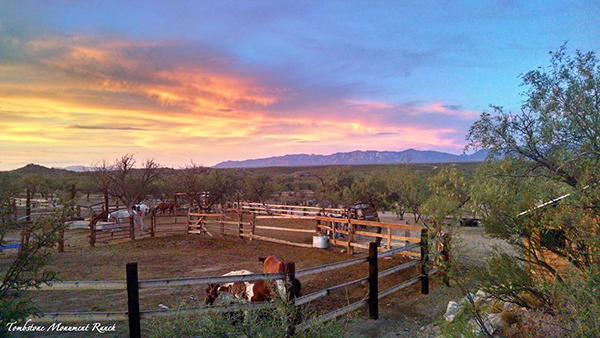 Photo by Jodi Witt.
First Time Riders/ Beginners
This ranch's variety of ride options and horses cater to all levels of rider, but for first time riders or novices, Tombstone Monument Ranch has horses for beginners, and offers trail rides, that while interesting with a variety of destinations, are appropriate in terrain and length for a guest getting their "boots wet". As beginners get more at ease, they often take lessons to help them advance on to longer or faster rides. Lessons are also a good way to gain confidence in the saddle.

For the Experienced Horseman or Horsewoman
More experienced horses for those more experienced riders, paired with fast and long rides, offer variety and challenge.

Famous Ranch Features
Tombstone Monument Ranch is just 2 miles from the West's most iconic town. This unique ranch is designed as an "Old West" town and located on a hill looking across the valley to spectacular views of the Dragoon Mountains. Guests at our ranch don't just feel like they got away, they feel like they went back in time.

Learn about other quality Arizona guest ranches that have met the high standards of the Arizona Dude Ranch Association and check out Special Travel Discounts and Deals at Arizona ranches.
Check out more great ranches in the Equitrekking Vacation Guide and at Top20Ranches.com and top Travel Deals.
9 Great Arizona Ranch Vacations- #2 Circle Z Ranch.