8 Reasons to Enjoy Christmas at a Guest Ranch
Why not live out a bit of the horsey holiday dream? Experience Christmas on a dude ranch.
by Karen Braschayko
I confess that I have a deep weakness for Christmas movies, especially the kind with snowy forests in the background and storylines that wrap up neatly with a sparkly bow. Festive decorations peek out of every scene, and the scents of peppermint, gingerbread, and spruce garlands seem to jump out of the screen. Families bond while ice skating and sipping hot chocolate around the fire.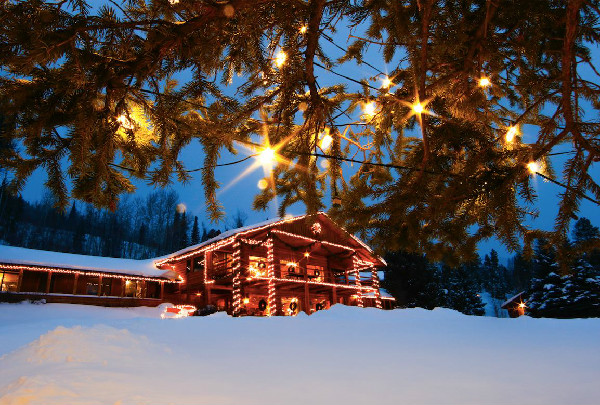 Decorations amid falling snow at C Lazy U in Colorado.
I start to wonder how these characters with busy lives have time to cook up gorgeous meals, bake Christmas cookies, hang lights, and decorate their homes with such detail. Of course, they don't. A production crew of many is what it actually takes to achieve that Christmas perfection, and few of us have the time or energy to create that level of holiday magic.
But you can have it all – beautiful Christmas décor, gourmet meals, holiday craft time, white mountain backdrops, winter merriment with family and friends – and a big slice of horsey fun to go with it. White Christmas or desert sun, active winter sports or fireside cocktails, guest ranches offer experiences you can't have at home, all packaged with expert hospitality and none of the work.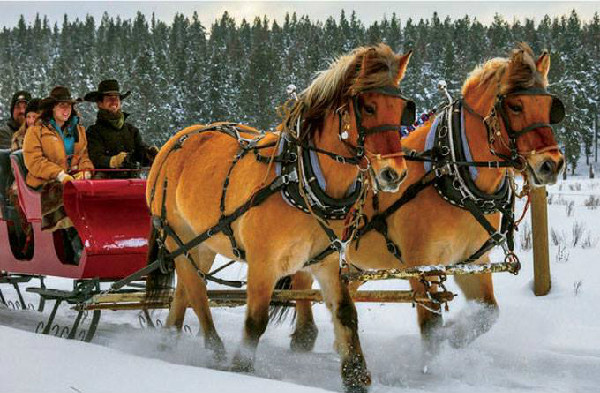 A stunning horse drawn sleigh ride in Montana at Paws Up.
Here are eight reasons and eight ranches to help you have a cozy and memorable holiday season.
1. Dash through the snow – on skis.
Several guest ranches are adjacent to top-notch skiing, and many have Nordic skiing available on-property as well. Tubing, snowshoeing, snowmobiling, sledding, pond skating, ice fishing, dog sledding, and more snowy fun are often available as well. If your Christmas enjoyment involves winter adventures, a guest ranch can make your white Christmas dreams into real life. The Resort at Paws Up in Greenough, Montana, is only 45 minutes from downhill skiing at Snowbowl, which features over 2,600 vertical feet of terrain. The ranch offers many winter sports, including skiing behind a galloping horse by taking skijoring lessons. Paws Up provides a luxurious holiday experience with brilliant Christmas lights, a gingerbread house building contest, private visits from Santa, gourmet meals, roaring fireplaces, holiday crafts, and sleigh rides.
Try something new, like skijoring lessons at the Resort at Paws Up.
2. Roast chestnuts on an open fire – or just read next to one.
Many guest ranches have wood-burning fireplaces in common rooms and private cabins, a cozy winter experience many of us wish we had at home (with none of the sooty cleanup, of course). At Triple Creek Ranch in Darby, Montana, enjoy the woodsy scent and warmth of a fire in your cabin perfect for roasting chestnuts, making s'mores, or curling up with a good novel. The ranch is decked out in its holiday finest and offers a cowboy Christmas with riding in the snow, ice fishing, dog sledding, skijoring, sledding, and skiing in the Montana Rockies. Decorate a real or artificial tree (your choice) in your cabin, and opt for a Montana-made cowboy boot Christmas stocking filled with locally handcrafted goodies.
3. Sleigh bells ring – as you take a true sleigh ride.
Many of us have only been on a faux sleigh ride, the kind with wheels for when the forecast isn't cooperating. But several guest ranches can offer the kind most of us only see in photos, the real thing with runners cutting directly through the snow. At C Lazy U Ranch in Granby, Colorado, not only are family sleigh rides on offer, Santa will show up in a sleigh complete with presents for you. The entire family will keep busy with the kids and teen program, indoor games, pond hockey, horseback riding, guided cross-country skiing and snowshoe tours, tubing, sledding, fat bikes, Snowcat downhill skiing, snowmobile tours, dog sledding, trap shooting, and downhill skiing at Winter Park Ski Resort. Trim the Christmas tree, sing carols, and decorate cookies to raise your Christmas cheer.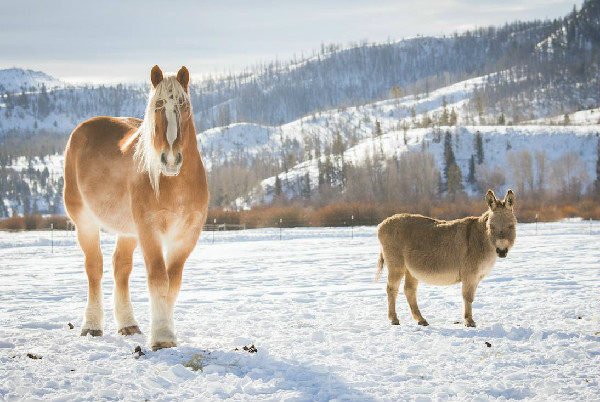 A Draft horse and a donkey in the snow at C Lazy U.
4. In the meadow we can build a snowman – in an Instagram-perfect mountain meadow, that is.
If you'd like to have a truly white Christmas, guest ranches in high snow regions can help. Vista Verde Guest Ranch in Steamboat Springs, Colorado, offers all sorts of snowy fun for kids of all ages, so bring your best snow gear. A myriad of winter activities such as dog sledding, snowmobiling, snowshoeing, horseback riding, sleigh rides, backcountry skiing, fat biking, and tubing keep guests active, with downhill skiing available at nearby Steamboat Ski Resort. Cabins with private hot tubs are available, and the ranch prepares three hearty meals per day, accommodating special dietary needs. The extensive children's program engages youngsters and gives grownups a break. Christmas celebration includes caroling and a huge holiday feast.
5. The stars are brightly shining – above your private hot tub.
The Home Ranch in Clark, Colorado, offers a luxury winter wonderland Christmas vacation complete with a hot tub on every cabin porch. This is ideal for easing tired muscles after a day of family adventures like Nordic skiing on groomed trails, backcountry skiing, tubing, sledding, sleigh rides, horseback riding, and snowshoeing. Also available nearby are dog sledding, fly fishing, snowmobiling, and downhill skiing at Steamboat Ski Resort. And like all Home Ranch meals, Christmas dinner is a mountain gourmet experience. This ranch takes pride in using seasonal, locally sourced foods, with some meats and produce raised right on the ranch.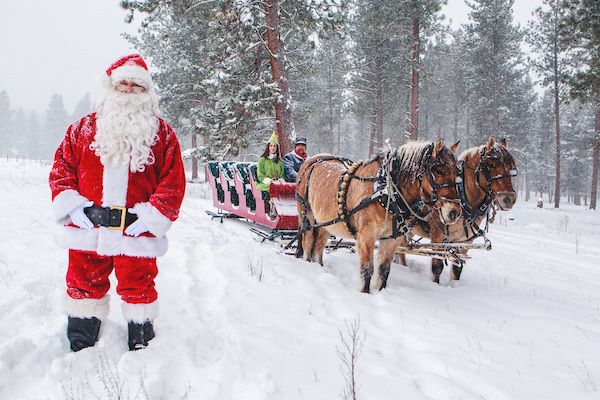 Santa makes an appearance at Paws Up in Montana.
6. Let Jack Frost nip at your nose – or stay far, far away from him.
Some of us who live in the northern belt have already had weeks of stinging winds, toe-biting cold, and scraping off our cars before work in the predawn, so we'd welcome a balmy break. Many ranches in Mexico and the American Southwest offer a warmer, cactus-themed brand of holiday fun. Elkhorn Ranch in Tuscon, Arizona, welcomes travelers to try a desert-style Christmas. Trim the tree, help decorate the dining hall, go caroling on Christmas Eve, and take a special holiday workshop. Go for sunny trail rides in Sabino Canyon, and take in the Baboquivari Mountain scenery. Ranch Santa brings gifts, and on Christmas Day enjoy the midday punch party and holiday feast.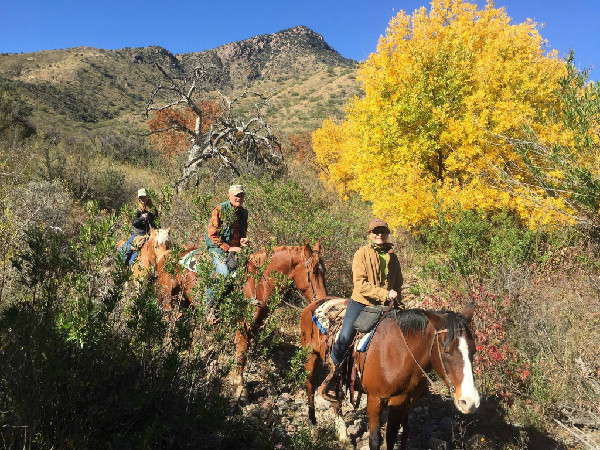 Riding in warmer temperatures and Arizona sun at Elkhorn Ranch for the holidays.
7. Deck the halls – with equestrian Christmas décor.
Many guest ranches have spent years developing their equestrian holiday décor, so you may spot ideas you'd like to incorporate in your own home's festive feel. The Ranch at Rock Creek in Philipsburg, Montana, is one such ranch boasting Western-themed holiday decorations such as cowboy hat tree toppers. Luxury accommodations and locally sourced cuisine also await guests. This ranch offers snowy adventures like horseback riding, snowboarding, downhill skiing, cross-country skiing, snowshoeing, ice skating, shooting, and mountain peak UTV tours. The Christmas fun continues with sleigh rides, a scavenger hunt, ornament making, cookie decorating, Christmas tree hunting, live music, and a visit from Santa and his elves.
8. Send tidings of comfort and joy – from the lap of luxury.
Salamander Resort & Spa in Middleburg, Virginia, offers a beautifully decorated and indulgent Christmas experience. Suites contain crackling fireplaces, and enjoy further pampering at the spa and salon. The historic hunt country of Middleburg offers many venues for unique festive shopping and dining nearby. Take a ride on miles of trails, or develop your equestrian skills with riding lessons. Have brunch with Santa and Mrs. Claus in the winter wonderland ballroom. Christmas Eve dinner is an elegant five courses with lobster, truffles, foie gras, and wine pairings. Bring the family together with movie nights, storytime with Mrs. Claus, and an elf scavenger hunt. Holiday cooking, crafting, and wine tasting classes are also offered.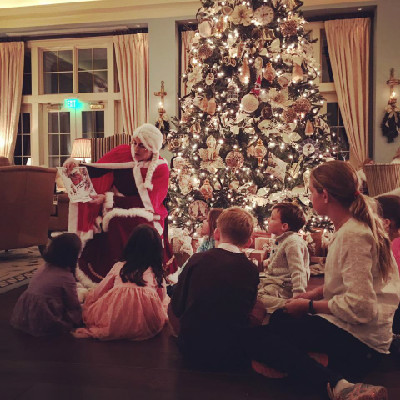 Christmas at Salamander Resort in Middleburg.
Learn about these ranches and more in the Equitrekking Vacation Guide and Top20Ranches.com.
Karen Braschayko is a freelance writer and horse lover who lives in Michigan.