5 Things I Love- An Equestriennes' New Year's Resolutions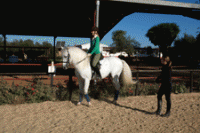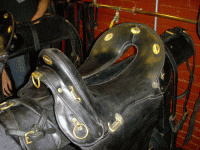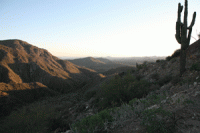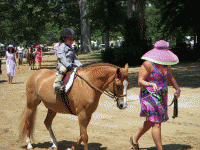 Here are five things I plan to do to become not only a better rider, but a better horsewoman in 2011.
by Darley Newman, Equitrekking's host & producer
In thinking about 2011, I have certain equestrian goals or shall we say "resolutions"- tis the season!
1. Take more lessons
It's harder to motivate as the weather gets colder, but with all of my time on the trails riding different horses, I definitely need some ring time once in a while. One reason that I love horseback riding is there's always something new to learn. Lessons and clinics are a great way to get a third party's take on what you need to work on to become a better partner to your equine friend.

2. Spend more time on tack and grooming
The time you spend getting your horse ready to ride is actually great for you as a rider too. Not only can you form a closer bond with your mount, but you also get to brush off some of the stresses that you're carrying with you that day. Attempt to arrive a little earlier to the barn, giving you and your horse time before you ride. You'll feel less stressed and enjoy the overall riding experience even more!
3. Research and discover new trails

Riding new horses in different destinations can give you special insight into a new area and the local people and better confidence in the saddle at your home stables. Whether you decide to take an equestrian vacation or explore a new trail with friends in your area, you're sure to learn something new and add some excitement to your equestrian life.
4. Cross train for better fitness in the saddle
Biking, running, swimming, lifting weights, yoga, pilates and other activities can make you a better, more balanced and stronger rider.

5. Attend more horse shows

Even if you're not a competitive rider, you learn a lot by watching others compete in horse shows and enjoy supporting your friends.
Other resolution ideas:
Volunteer for an equestrian cause
Learn to ride
Donate used tack or clothing to your local stable or equestrian charity
Join a local trail riding event
Better your jumping skills
Attend an equestrian clinic
Read a horsey book to learn about a new discipline
Take a horseback riding vacation
Work on flatwork
Chart your progress- track your progress and your horse's progress in an journal or on your computer
Have your own horsey resolutions? Share them with your friends. You just might start a trend.