5 Great Equestrian Communities- #5 Cave Creek
Looking for an area where you and your steadfast, equine companion can relax? A community specifically for horse lovers? An expansive retreat where you can ride away from the daily grind of a nine-to-five?
Look no further—Equitrekking brings you Five Great Equestrian Communities! These are some of the top horse towns in the USA. We've picked a diverse selection of horse lovers areas, so hold tight for these five great horse communities.
by Claire Caldwell

Cave Creek, AZ
The American Wild West and natural expanses with an arts and culture twist.

Dreaming of the Wild Wild West? Look no further than Cave Creek, Arizona in Maricopa County where views of desert horizons are unlike any other and a Western character is well-preseved.
An Arizona sunset on a trail ride with Cave Creek Trailrides.

Conveniently located near Scottsdale and Phoenix, this horse town offers a variety of multi-use trails and trail riding opportunities and even has an equestrian trail system that goes right into town. Cave Creek ranks in as one of the top five horse communities on our list.
Local Terry Smith leads Equitrekking host Darley Newman on a trail ride through Cave Creek.

Go to Cave Creek Regional Park or Spur Cross Stables for trail riding expeditions into Arizona's Sonoran Desert oases or the foothills of the Tonto National Forest. Windwalker Expeditions, which we tried and is featured in the Equitrekking Arizona episode, takes all levels of riders into a variety of Arizona horseback riding destinations around Cave Creek, including the Superstition Wilderness area, part of the Tonto National Forest, and includes the famous Superstition Mountain and Weaver's Needle.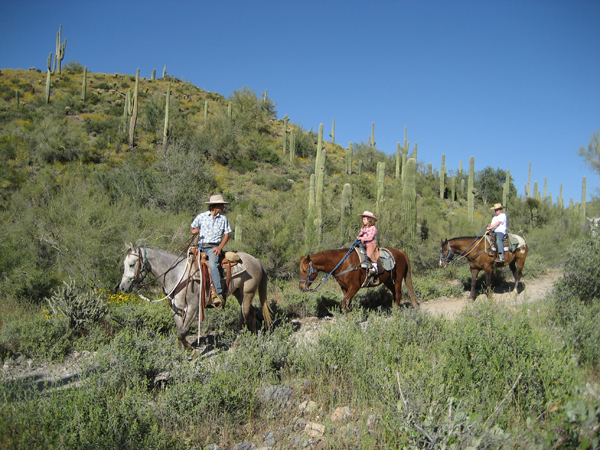 Riders with Cave Creek Trial Rides explore Sonoran Desert horseback riding near the historical areas of Cave Creek, AZ and Scottsdale, AZ.

You can join a guided tour at Cave Creek Trail Rides or MTM Ranch for scores of breathtaking views of the surrounding desert terrain and Saguaro forests. There are a variety of opportunities for outdoor recreation in Cave Creek.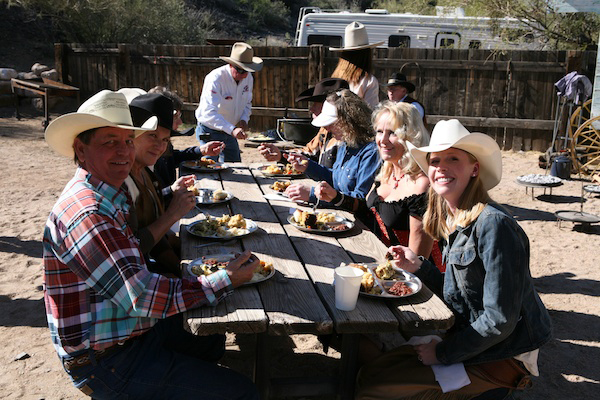 There are even horse friendly restaurants in Cave Creek! Equitrekking visited the Buffalo Chip while in Cave Creek for a Dutch oven meal. We rode our horses to this horse friendly restaurant.

This town also features a vibrant arts and culture scene. Get involved in theater classes with the Desert Foothills Theater, open to people of all ages. Or, if you are more musically inclined, don't miss the Arizona Musicfest, known for showcasing classical, jazz, and broadway musical genres.
Cave Creek maintains a network of trails that connect portions of the town and provides access to Cave Creek Regional Park and Spur Cross Ranch Conservation Area.

Though Cave Creek can heat up to 100 degrees in the summertime, this town has virtually no humidity and winter temperatures rest comfortably in the 40s.
Read about our #4 pick for equestrian communities-- Tryon, North Carolina.

Author Bio: Claire Caldwell is a freelance journalist with a Bachelor's Degree in English Literature and French language from American University in Washington, DC. She is an avid world traveler, having lived in the United States as well as Europe she has also spent time in the Caribbean and Northern Africa. While living in Paris, France, Claire blogged about the differences between linguistic and cultural traditions between America and France as well as about hot-spots and tips for traveling to the City of Lights. She has also worked for the women's travel site, Pink Pangea, blogging about safe ways for women to travel the world independently.