5 Great Equestrian Communities- #3 Aiken
For a great equestrian community, join the snow birds and head south to Aiken, South Carolina. Learn about opportunities for equestrians and their companions in this Southern horse town.
by Claire Caldwell
Aiken, SC
Equestrian paradise for the experienced rider, polo enthusiast and spectator looking for a great climate and laid-back Southern hospitality.

Hunker down in the heart of polo country in Aiken, South Carolina. There is no shortage of equestrian related activities in this historic Southern town.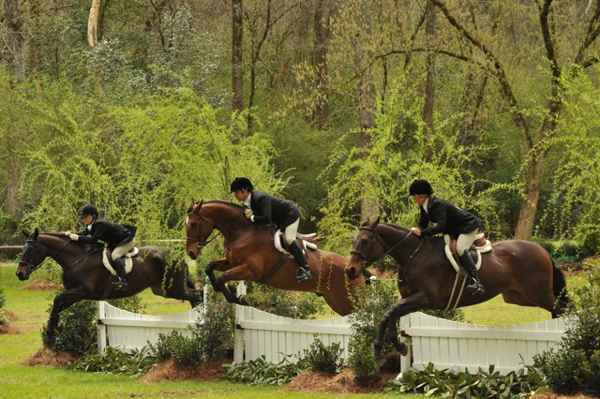 The Aiken Horse Show is an annual event founded in 1916 by Louise Hitchcock at Hitchcock Woods. Credit Shawn McMillen Photography.

If you consider yourself and all-around nature lover, visit Hitchcock Woods, which stretch across 2,100 acres of urban forests, one of the largest in the nation. There are 70 miles of sandy trails, great for runners, hikers and horse riders. In the spring, the Aiken Horse Show is held here and from October through March, the Aiken Hounds hunt every Tuesday and every Saturday, keeping up a long standing tradition.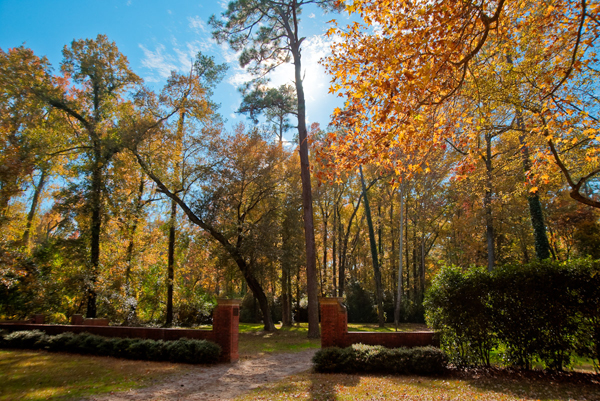 Memorial Gate in the Hitchcock Woods. It was built in 1926 to honor the memory of Francis Hitchcock, brother of Thomas Hitchcock, who owned the Woods. Credit Forrest Roberts.

Aiken is well known for its active Polo Club, founded in 1882. During the season, you can watch games every Sunday afternoon at Whitney Field, the oldest continuously used polo field in the country.
For event-goers, the Hippodrome, an open-air, 32-acre equestrian arena hosts some of the largest equestrian events in the Southeast, including barrel racing, horse shows, rodeos, and more. The Aiken Steeplechase Association hosts the Imperial Cup each March and the Holiday Cup in October, drawing more than 30,000 spectators.
If you are seeking riding lessons, several area stables, including Ashbrooke Equestrian Center, Jumping Branch Farm, and Devonwood Farms, offer instruction for all levels of rider. The Black Forest Equestrian Center boasts of four riding arenas (one of which is covered for riding year-round, rain or shine) and miles of riding trails. This center is an option for boarding privately owned horses.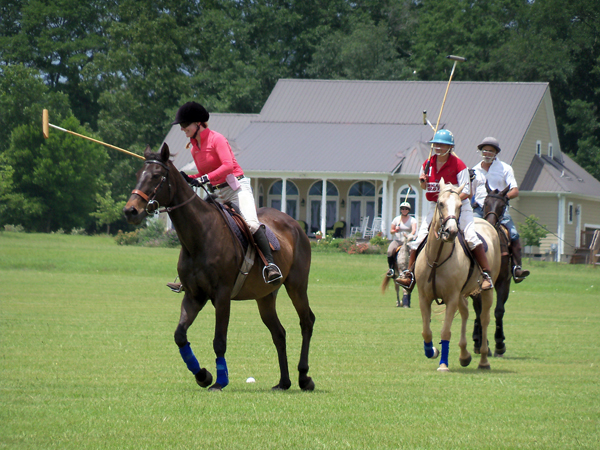 Polo players at Overbrook Farms, an equestrian lifestyle community in Aiken.

The climate is hot and humid at times. But you can rest assured that snowfall is rare! Therefore, equestrian activities are fun all year round, especially as an escape from sometimes colder Northern winters.


Read about our #4 pick for equestrian communities Tryon, North Carolina and our #2 pick Ocala, Florida.

Author Bio: Claire Caldwell is a freelance journalist with a Bachelor's Degree in English Literature and French language from American University in Washington, DC. She is an avid world traveler, having lived in the United States as well as Europe she has also spent time in the Caribbean and Northern Africa. While living in Paris, France, Claire blogged about the differences between linguistic and cultural traditions between America and France as well as about hot-spots and tips for traveling to the City of Lights. She has also worked for the women's travel site, Pink Pangea, blogging about safe ways for women to travel the world independently.