5 Vacation Stops for Horse Lovers- Where You Don't Have to Ride
Great cities, towns and villages where equestrian culture and activities abound for horse lovers.
Many modern day horse lovers don't regularly ride, whether it's because they are urban-bound, don't have the time or are suffering from a past injury. Whatever the reason, there are many great places to travel to enjoy horses where you don't even have to saddle up.
Here are 5 great vacation places where horse lovers can enjoy equestrian parks, shops, farms and even food. So read on and get Equitrekking!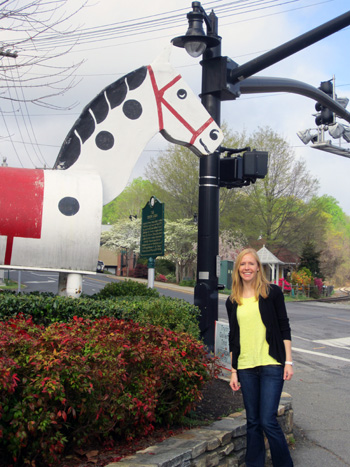 If you visit Tryon, North Carolina, make sure to get a photo with Morris the Horse.
#1 Lexington, Kentucky
Touted as the "Horse Capital of the World," Lexington, Kentucky is a great place for singles, families and groups to enjoy a variety of horsey excursions. See our top picks.

#2 Wellington, Florida
This Palm Beach County horse lovers destination is famous for its equestrian spectator events, especially polo. Check out equestrian Emma Perkuhn's top picks.
#3 Fort Worth, Texas
With a historic cowboy culture, world-class museums like the National Cowgirl Museum and Hall of Fame, Western events, shopping and food, this is a not-to-miss city for horse lovers. Check out my take on Fort Worth and Karen Braschayko's in depth look at the National Cowgirl Museum and Hall of Fame.
#4 Middleburg, Virginia
From exclusive stable tours to historic horse shows, equestrian shops and horse-themed dining, Middleburg is an upscale stop for the English set. Learn about what we suggest you see and do in Middleburg.
#5 Tryon, North Carolina
A lesser known horse community in the Carolinas, Tryon has a lot to offer true equestrians. Learn what not to miss and why to visit Tryon from longtime resident and equestrian Libbie Johnson, and get tips from my own visit to Tryon.

What have we missed? Let us know your recommendations and picks on Facebook or Twitter or connect with us on Instagram @equitrekking and @darleynewman.